How I Stopped Worrying and (Might) Let My Kid Snowboard
Thanks to Natural Selection, I am questioning many life decisions and texting a broad swath of friends, both snowboarders, and skiers, and wondering—did I blow it?
Heading out the door? Read this article on the new Outside+ app available now on iOS devices for members! Download the app.
I love skiing. I've built my life around it. My family—past, present, and future—is inextricably tied to skiing. Like my mother and father before me, I inherited skiing as an heirloom. That antique chessboard, that John Steinbeck novel with my grandmother's notes still in the margins, and skiing are three cherished birthrights. (Thank you, family!)
Skiing was passed down by "Grandad" to my dad and his five siblings. Up until his passing, Grandad would drive a banged-up minivan he bought specifically for day trips to Baker, raving about the PNW's snow with a fervor that bellied his age.
On our maternal side, "Presh" would load my mom and her brothers into the VW van during pre-dawn light in the 1970s—whisking them away from the Bay Area up to Squaw Valley—as much as she could manage as a single mother. Fast forward a few decades to when mum and pop rubbed pennies together and spread truckloads of peanut butter and jelly on white bread so my brother and I could learn to love skiing. I'm thankful.
Ditch the Energy Bar for Homemade Umami Rice Cakes
I love skiing. It's taken me around the world, it's given me cherished relationships, it's given me purpose. Skiing is the reason I can walk into a bar in the Tyrol and find someone to drink a Radler with and travel solo through Chile and connect with people despite a language barrier.
Because of that job at that ski shop I have friends in a smug mountain town whom I love, and because of skiing, I'll drive overnight during a whiteout to the Wasatch—navigating icy roads while gripping the steering wheel with white knuckles and powered by a copious amount of coffee. For 35 years, skiing has been a hub in my life, spokes poking out from the center like a bike wheel to other passions and pursuits.
Have the Hot Tub To Yourself at These 6 Remote Ski Town AirBnBs
Today, my wife and I are raising two boys in the mountains because skiing is that important to us. I revel in watching my boys identify on their own terms as skiers. Snapshots I'll never forget as our family spends time skiing together in the mountains include:
-The consecrated time with Duke, five years old, in the truck listening to Tool on the way to West Buttermilk's dirt parking lot;
-Hearing him yell "thank you" to every Ski Patroller we see from the chairlift;
-The endless amount of Skittles, hot chocolate, and wipeouts;
-That he calls Buttermilk Mountain "Almond Milk Mountain" (so boujee);
-The "ramp" they built behind our little townhome to get air after dinner while wearing headlamps;
-Hearing Boone, almost three years old, talk with feigned confidence about "shmears and schmacks" (the two types of ski turns his older brother taught him about);
-And, knowing that their feet hurt and they're cold because my feet hurt and I'm cold, but not hearing them complain (too much).
To reiterate, I have built my life around skiing. But, right now, I'm conflicted. In recent weeks, I've spent way too much time questioning skiing and that has landed me in the middle of an existential crisis I blame solely on Travis Rice.
The germ for this inner dialogue was planted with The Art of Flight in 2011. Watching Travis and Nicolas Müller in that interior BC segment floored me. I still put the film on every year for inspiration during autumn's doldrums while we crescendo towards ski season.
This winter, however, Travis Rice and his crew leveled up with a backcountry-style snowboard competition in Jackson Hole they dubbed Natural Selection. I'm left reeling in the comp's wake.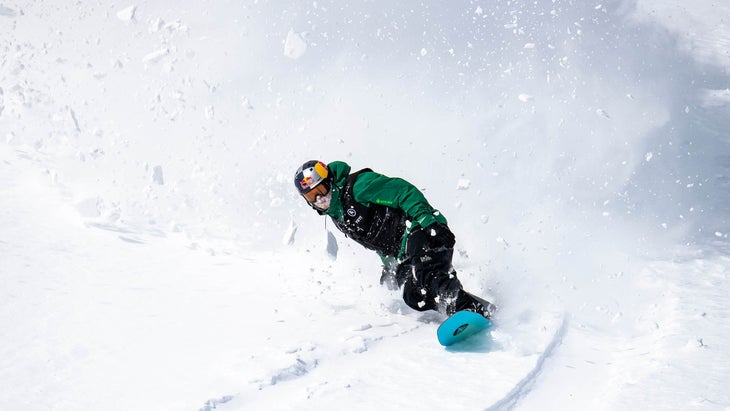 The angles they seek out while ripping down the fall line, the creative lines Blake Paul draws between natural and man-made features, how Ben Ferguson throws his board sideways at the apex of a pillow to detonate snow before blowing through the cloud, the way Jamie Anderson approaches everything, Sage Kotsenburg's sentiment about the competition while oozing humility, the way they all find trannies after off-axis spins… Most impactful to me, though, was the way they keep it all in perspective. Every athlete profile interview shared one thing in common—they're having fun!
Dear Guy Who Cut the Lift Line On Our First Powder Day in Months
Thanks to Natural Selection, I've spent the last few weeks questioning life decisions and texting a broad swath of friends, both snowboarders, and skiers, who celebrate snow sliding.
"Did I blow it?"
"Should we snowboard?"
"What would I say if Boone told me he wants to slide sideways rather than pointing his shoulders straight down the fall line?"
Who cares?!?
My resolution: like an open-minded surfer's garage in Santa Cruz stocked full of short twin-fin fishes, heavy single-fin nose riders, and everything in between, I think our garage in the Roaring Fork Valley will have a few boards added to the quiver very soon. If Duke wants to, he'll have a snowboard. If Boone wants to blast GS turns, he'll have stiff sticks to select. This isn't binary. After all, it's just skiing (and snowboarding). And both are really damn fun.