How Mindfulness Practices Can Give You That Pow Day Bliss Every Day
Whether you believe in it or not, mindfulness is a thing. Here's how to get some.
Heading out the door? Read this article on the new Outside+ app available now on iOS devices for members! Download the app.
We have all heard the term "mindfulness" so many times it may incite an urge to thump the next person who says it right in the Lululemon. But if you peel back a layer or two, it might just be the key to everything—including why we ski.
Skiing grabs us by the coat collar and forces us to be right here, right now, thinking about nothing but the next turn, the sound of the powder purring under our skis, or what's under that blind rollover. And that (along with the beers and friends part) makes us feel happy. This, in a nutshell, is what all this mindfulness is all about.
But skiing unfortunately doesn't happen every day. So I have tried—and failed spectacularly—to bring this practice into my daily life through meditation. I've read books, downloaded apps, and almost bought some crazy gizmo that's supposed to chirp like a bird when my brain waves are in The Zone. And so far, the only thing enlightenment I've achieved is knowing I suck at sitting still.
Jayne Gottlieb, who founded Shakti Yoga in Aspen, Colo., is skidom's best-known consciousness coach. In addition to her studio, she runs Ajax's mountaintop yoga in the summer and offers private meditation and yoga sessions as well. (In her free time, you can find her skinning up the mountain, her other favorite form of moving meditation.) I recently reached out to her via Zoom for some tips and tricks on how to get that pow-day bliss every day. Here's what she had to say.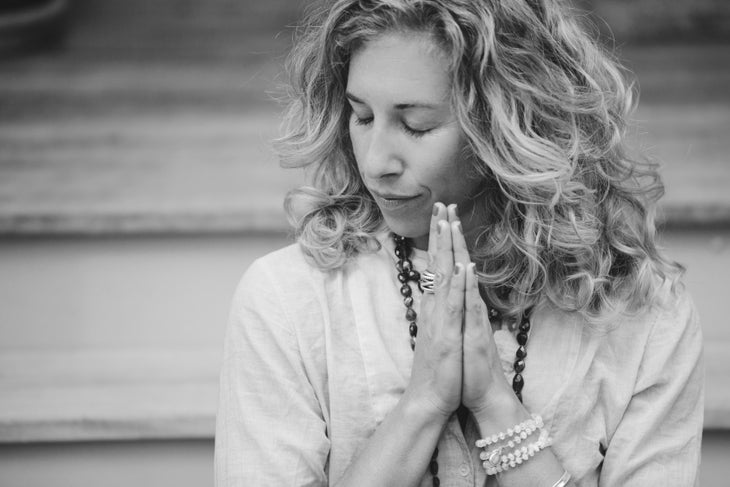 SKI: What does meditation mean to you?
Gottlieb: The way I teach meditation is all about embodiment. It's all about practicing to be the person you are becoming. When you start to train your brain and body, you become what you're manifesting.
How did you get into it, and were you successful right away?
It has really been a journey. I was taught originally to have no thoughts, to clear my brain. The problem with that is that the nature of the mind is to have thoughts. I sat and I tried, and I felt like I was failing at it. I said, "I can't do this, I don't get it," and I stopped. And then I found some other teachers who taught me to notice my thoughts and then change the ones that weren't productive for me. Meditation is a practice of hearing my unconscious patterns and redirecting them. That way I can think what I want instead of having the unconscious taking over all the time.
You teach yoga as well. How does that play into mindfulness and meditation?
I really got into meditation through yoga, because I started to understand the peacefulness of my breath. I finally felt every now and then a sense of freedom, of not being bothered by the things in life that bug you. Now I love to start my day touching that place. This is very much why people ski and do what they do—you get this sense of lightness and freedom and being in the moment. We get good at what we practice, so when you practice how to only really be present with what is productive, it gives you freedom. I'm not saying I don't feel sad, but to loop in our neurosis doesn't bring us freedom. Sifting that out is important.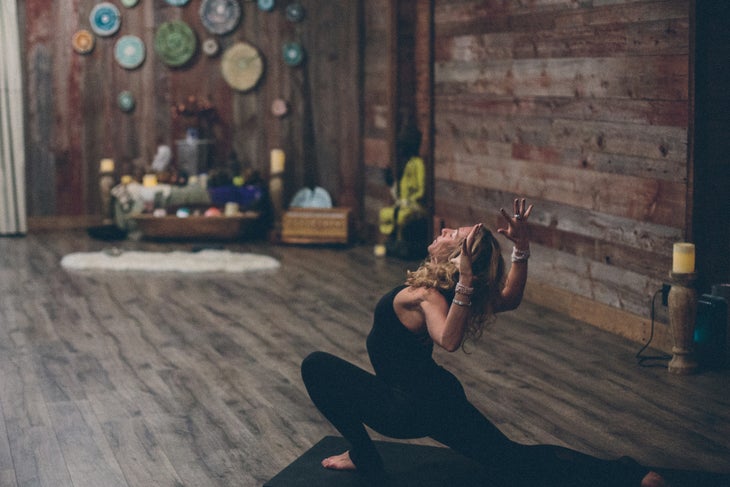 Related: The best yoga poses for skiers with tight hips
So wait, what do you mean about "not looping in neurosis?" How do you know what is what?
I have been staying in my childhood home recently, and I have been so bogged down by who I was and who I have become—I'm just disaster here. I've been drowning in stupid shit. This is why meditation is called a practice. But if I can recognize the patterns and know they are not who I am, that's the first step to getting freedom from them.
The only time I have felt what you described as mindfulness is during exercise—backcountry skiing, mountain biking, and yes, yoga. What is it about the motion that can connect you to this headspace?
When you're moving and breathing, you're literally bringing in the new; you're cleaning and purifying. And the body movement also gives the mind a place to rest. It gives it a job. The whole tradition of yoga was that you did it so that you could sit for longer. To quiet the noise by giving the mind a place to rest—on the movement. I think of yoga as a moving meditation. To me yoga and backcountry skiing are the same thing. They both require a presence that helps shift perspective.
Related: 5 Wellness Treatments That Go Beyond the Traditional Mountain-Spa Offerings
What would be some tips for someone just starting meditation practice?
My first tip is to say you're better at it than you think you are. You can't be bad at this. Just showing up is the practice. Start with 5 minutes and work up from there. If you're not in a class, get an app and do a guided practice. That will help give your mind something to focus on. Don't try to get rid of your thoughts, just practice being aware of them.
What are some of the benefits people will feel?
Having a relationship with your thoughts is the key to happiness. When you gain perspective and start to become present instead of operating in your subconscious, you start to feel connected instead of separated from your body.
It also makes you conscious, which in turn helps you realize that the only thing you have control over in life are your thoughts, so it stops you from making your job too big. This is one of the best analogies I can give: If life is an ocean, we often try to change the tide, which of course is impossible. But if we relax and just ride the waves, now we're surfing. Meditation helps you set yourself up for success, not failure. It helps you operate at your optimum state.
Read More About Mental Health and Wellness for Skiers
Skiing Is Essential to Your Mental Health (Doctors Agree)
5 CBD Blends That Battle Anxiety, Soreness, Insomnia, and More
Mental Health in the Mountains: Tools, Stories, and More