How I Mourn The Death of My Brother, the Person Who Made Me a Skier
My brother used to lead the way and all I had to do was keep up. But then, he lost his way.
Heading out the door? Read this article on the new Outside+ app available now on iOS devices for members! Download the app.
When I was growing up in the '80s, I spent every winter Saturday scouting my brother Andy's landings at Mary Jane in Colorado. We rode the Eskimo Ski Club bus to the mountain, playing bloody knuckles and eating Fun Dip until our tongues (and knuckles) were raw. Then, when Andy got his license, he drove us in our mom's baby blue VW bug. The floorboards had rusted out so completely we could peel back the mats and see the snowy road.
Andy was three years older than I and infinitely cooler, with his hot-pink one-piece, K2 KVComps, and white-blond mullet that he mostly refused to restrain under a ski hat. He wore his pink Oakley goggles upside down and backwards while eating the lunch we buried in the snow each morning, and he spoke in a dialect that was a mixture of "Fast Times at Ridgemont High," "Strange Brew," and the Surf Punks.
My brother was the best skier anyone we knew had ever seen, which made him the leader of our ski crew, unoriginally named The Rat Pack. We were all mogul skiers (which, unlike mullets, have yet to make a comeback), and his style was so fluid it was like water pouring over rocks. For Andy, skiing—along with model Paulina Porizkova, whose sweat-beaded cleavage beckoned from a poster above his bed—was the most important thing in his life.
As for me, I just had to keep up. I shredded every muscle fiber in my body lapping iconic blacks like Railbender, Derailer, and Drunken Frenchmen. Every now and then, in a reverse-psychology trick he continued to employ into adulthood, Andy would goad me off a cliff or kicker by saying he wasn't sure I could do it. The look of pride on his face as he dug me out of a bomb-hole or hiked up to get my skis after I made an attempt was, well, everything. My confidence was taking root.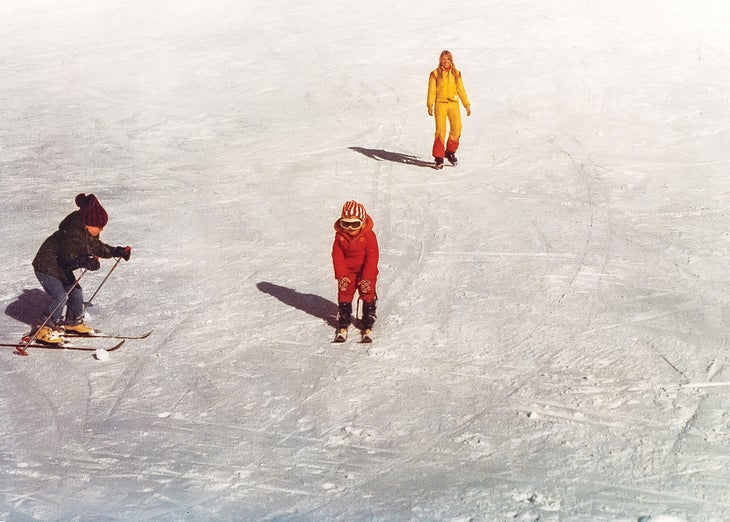 During the early years, after our father died, it was me and Andy against the world. Every afternoon, he led me on latch-key adventures, jumping off car ports, sneaking into a nearby construction site, and concocting elaborate schemes to keep our mother's suitors at bay. (Andy's favorite was to answer the door with his head wrapped in an Ace bandage, holding a sign that said "HELP ME.")
In our perennial fight over shotgun (he won, every time), we broke the front door and dropped Thanksgiving pies our mom had spent hours baking. All the photos I have of the two of us are unfit for framing, with his hand squishing my face or doing the brain sucker thing or poking me in the ribs so I would make a weird face. "Come on, you guys," was our mother's constant refrain, and the car would pull over, the claw would come back from the driver's seat, and we would not, regardless of consequences, be able to stop laughing.
As the years went on, the spell of childhood wore off. I got married, got pregnant, got divorced. Andy struggled to find his way. But through skiing, we stayed connected. I visited him in Aspen; he visited me in Jackson. We planned hut trips for New Year's Eve and escaped holiday meal preps to skin up Berthoud Pass.
Eventually Andy's moods began to darken. I joked about which Andy we'd get at family functions—Good Andy or Bad Andy—which was actually not funny at all. I could sense his rage before he even opened the door.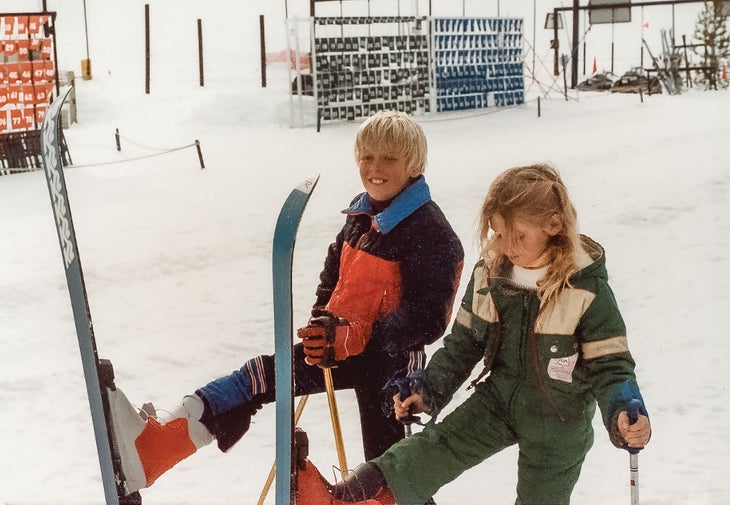 My brother did not make sense out of the world like most people—he did not subscribe to neat little lawns, 40-hour work weeks, laws about having leashes on dogs. The things that made sense to him were the sound of the wind in the trees, the logarithmic patterns of pine cones, the meditative movement of skinning. And the rest of his life? It was utter chaos. "Entropy, man," he would say to me whenever I stopped by his house, clenching his jaw at the disarray. Gradually, that entropy took over everything. Skiing was the last to go.
I will always live with could-haves. Mostly, though, I try to focus on what I did have: 44 years with this beautiful creature...
The last time we went together, the day before Thanksgiving in 2017, we skinned up Jones Pass, near Winter Park. He's just out of shape, I thought. Maybe drinking too much. Or maybe it was the weed? I waited for him at the turnoff. This was my brother—such a gifted athlete that he seemed ill at ease doing anything else—and I didn't understand what was happening to him. I saw him before he saw me; pain crumpled his face. He said his stomach hurt; I gave him the car keys and continued on.
Now, I wish for a lot of things. I wish I had convinced him to keep going. I wish I had asked him what was going on. I wish I could have crossed the deep chasm of resentment that his secrets of addiction and mental illness had dug. But I didn't. I made the summit and skied creamy pow back to the car, where I found Andy asleep, wrapped in my sleeping bag.
Less than three years later, Andy died. He was 47. This past spring, his best friend Dave and I spread my brother's ashes off the top of Dead Dog Couloir on Torreys Peak, a fourteener he loved to ski. The snow was manky at the top, then gave way to perfect corn through the apron.
I will always live with could-haves and should-haves. Mostly, though, I try to focus on what I did have: 44 years with this beautiful creature, who patiently waited for me at the end of a bump run, at the top of a summit, at the turn-off to the trail that I might have missed. I spent most of my life chasing him up and down mountains. When the time came for me to take the lead, well, I guess it just wasn't in our natures.
Every time I'm out there, skinning through the trees or coaching my daughter in the bumps, I feel his loss. I always will. But I also hear his voice, as clearly as ever, shouting at me from beneath a cliff. "Keep up your speed, Kimmer!" So that is what I do. Some days are easier than others.
Kimberly Beekman is a former editor of SKI Magazine. She now uses freelancing as a beard to ski powder wherever it falls. She lives in Denver with her daughter.
Related Reading
By teaching me how to ski, my dad taught me how to live
How losing my partner made me rethink my relationship with the mountains
Let's explore the joys and pitfalls of dating a skier dude