By Teaching Me How to Ski, My Dad Taught Me How to Live
My ski instructor dad never once told me how to live my life. But he did tell me how to ski, and it turns out, the two are kind of one and the same.
Heading out the door? Read this article on the new Outside+ app available now on iOS devices for members! Download the app.
My brothers and I joke that our dad ruined our lives. It's because he introduced us to skiing as soon as we could walk that we've grown into adults who prioritize this sport above all else in our lives. As a result, we spend all our disposable income (and then some) on gear and season passes; we live in unaffordable mountain town communities just to be closer to the slopes; and compared to our "responsible" adult friends, we're seriously lagging behind on our 401k contributions.
If only our dad had never introduced us to this addicting sport…
Related: Why dads the world over hate Warren Miller 
Then we all crack up because the idea is ludicrous. We wouldn't trade our lives of skiing and adventuring in the mountains for anything—not for better career opportunities, not for an extra zero on our salary checks, and definitely not for a more "balanced" life (whatever the hell that is).
Because, at the end of the day, skiing is not just a sport or pastime for my family. It's our way of life.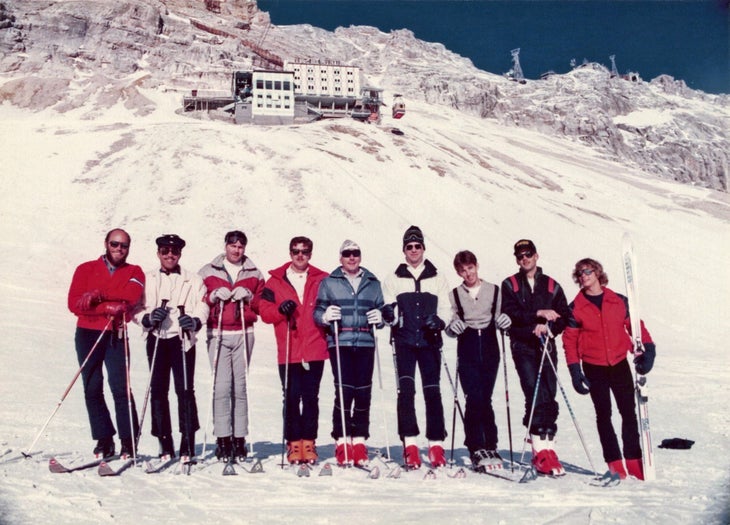 My dad was a professional ski instructor for more than 30 years, the majority of which he spent teaching Americans to ski through the Armed Forces Recreation Center in Garmisch, Germany. At his core, my dad is a teacher. Typically a man of few words, he really comes alive when teaching—and talking about—skiing. So while some dads are brimming with life advice (solicited or otherwise), I don't recall my dad ever giving my brothers and me directions for how to live our lives. I do, however, recall him giving us plenty of directions for how to ski.
Whether this was his intention or not, we learned to tease out valuable life skills from these ski lessons. They may not be conventional, but they've worked for us. And now, as our family begins to grow into the next generation, we're looking forward to passing along these pearls of wisdom to the next gen of skiing addicts.
On that topic: How I Explain Ski Touring to My Indian Grandmother
Always pack extras. Extra gloves, extra socks, extra hats.
Life lesson: Be prepared.
I can't tell you how many times we rocked up to the ski slopes only to realize that one of us had forgotten a glove, our goggles, or even our snow pants—not just as youngsters, but even when we were teenagers and were supposed to have learned to get our acts together.
But my dad, the consummate ski instructor, always had extras of everything in his boot bag or duffel. He even kept an extra hat or pair of goggles in the cuff of his snow pants (secured between his boot and powder cuff) in case one of us dinguses lost one of these things while we were skiing (trust me, this happened on more than one occasion).
Now, as an adult, I schlep a 70-liter boot bag filled with almost all the ski accessories and clothing layers I own to the resort with me, and regularly dole those pieces out to friends who didn't learn from their dads to always pack extras.
The early bird gets the fresh corduroy—and gets home by the time the slopes get crowded.
Life lesson: Hack humanity.
My dad has always had a serious aversion to dealing with crowds and waiting in lift lines. He'd rouse us before the crack of dawn to make sure we'd get a parking spot right in front of the lift (preferably a spot we could ski back to) and be booted up and ready to load as soon as the lift started spinning.
From there, he'd strategize and lead us down runs he knew would be less crowded because they were either still in the shade or took multiple lifts to get to. Thanks to his strategery, we'd always be one step ahead of the tourists. If the resort was designed to be skied clockwise, we were skiing counter-clockwise; if most skiers were getting to the base area at 10:30 a.m., we were eating lunch by 10:45 a.m.
Now, I find myself leading my husband and other ski partners around resorts with military precision. Even outside of skiing, I've learned to observe crowd flow and carefully assess my best options for avoiding a line. At this point, if I make my husband switch from the grocery store checkout line we're in to the one four lanes over that has two fewer people in it one more time, he might divorce me.
Cat tracks are where you master the skiing fundamentals.
Life lesson: You're never too good to return to the basics.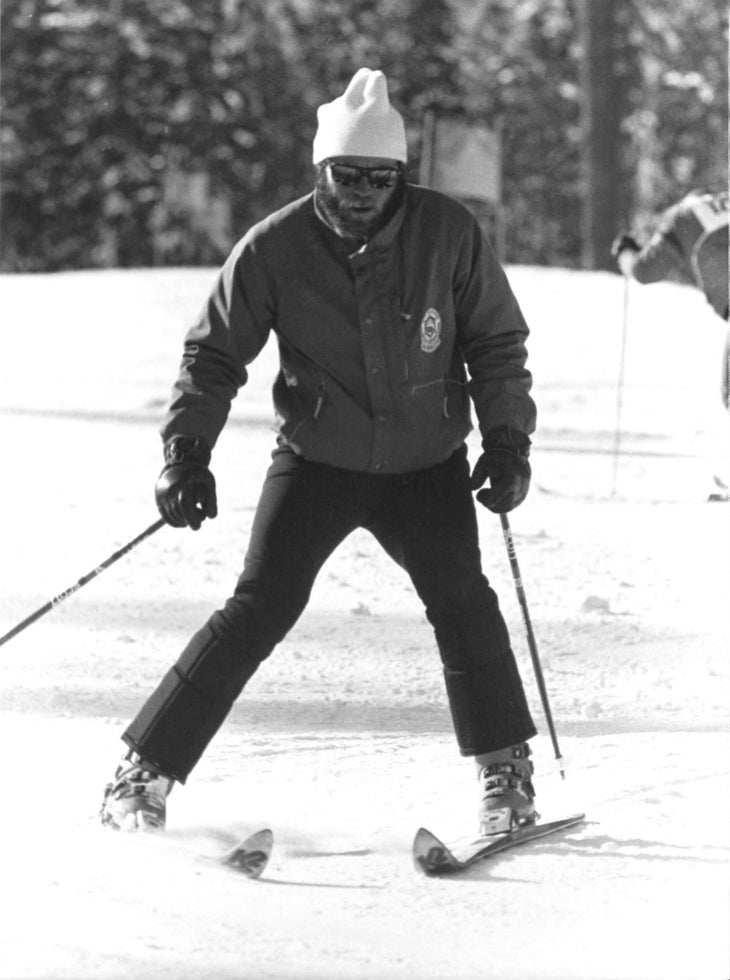 Cat tracks are big at ski resorts in Europe, and even though they're everywhere, they are sometimes avoidable. But it seemed like my dad would deliberately seek them out when skiing with us, even when we were young and still skiing without poles, which just made navigating a cat track a huge pain in the ass for us—and for my dad, who would end up having to push or pull us part of the way.
But it's on these cat tracks that we learned to skate efficiently, using our legs instead of relying on our poles and upper body. It's where we learned to roll our ankles to initiate turns and practiced tipping our skis on edge to really feel what carving felt like.
Even when we became technically sound skiers who just wanted to ski fast down the steeps, my dad kept leading us back to those cat tracks to prove to us that skiing fast didn't make you a good skier—being able to make precise movements and ski clean turns at slow speeds did.
It only took us a couple of faceplants and body slams after catching an edge on a cat track to help us realize that slow speeds magnify sloppy skiing habits—and to teach us that you're never too good to keep honing your skills.
Technique is only one variable in the equation. Style is the other.
Life lesson: Never get rid of what makes you unique.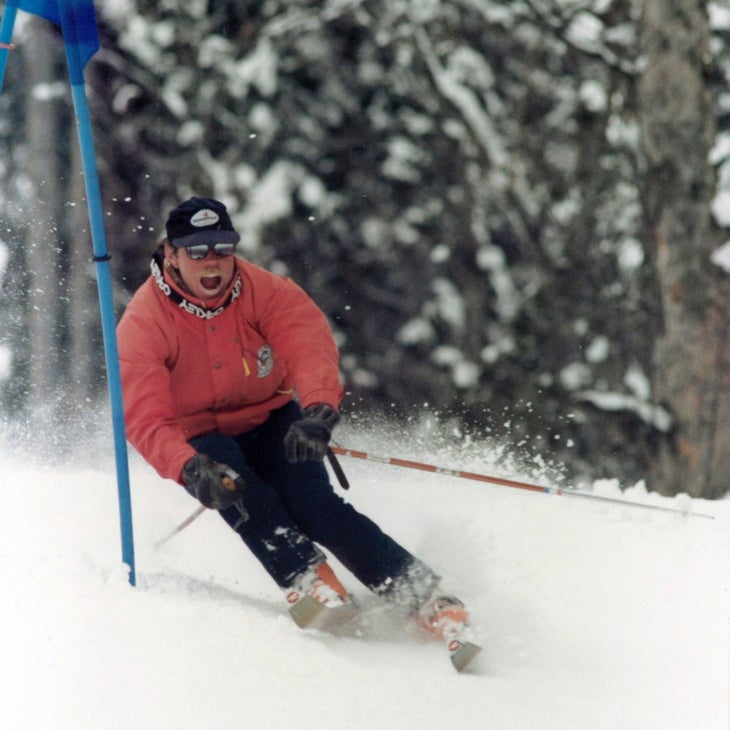 As much as my dad wanted us to have solid ski technique, he was never one to preach perfect form. He wanted us to be able to make carving turns and skidded turns, short turns and long turns, and be able to keep our upper bodies still while our legs moved independently beneath us. But after we learned all that, he let us be.
To this day, each of us still has our quirky skiing habits. Chip, the oldest, still skis like he's listening to the Bee Gees on repeat (he has a penchant for short turns and pole plants that earned him the nickname "Disco Chip"). Ty, the youngest, skis to the beat of his own drum and rarely makes the same type of turn twice. And I, well I ski like I just graduated from finishing school (or like I have a ski pole up my bum).
Point is, we all have our own styles, and that's what skiing—and living life—is all about.
Learn more: How to add excitement to your skiing 
Stop at nothing to get your ski boots to fit perfectly.
Life lesson: The devil's in the details.
My dad's been wearing and experimenting with ski boots for 40 years. As a ski instructor, he would spend 100-plus days in boots, and so he learned early on how essential it is to have a boot that fit your foot like a glove.
To that tune, he began hacking away at his own ski boot liners and plastic shells and hasn't stopped making his own modifications since, even with the rise of professional boot fitting services.
Now, I'm not advocating that any skier start cutting holes into their liners to better accommodate their bunions, as my dad does. That's one of my dad's lesson I did not take to heart. But I did learn from him how game-changing a perfectly fitting ski boot is, not only when it comes to comfort, but on-hill performance.
Big picture: I learned that it's worth spending money and time on something to get it just right.
On that topic: 5 Things You Should Know Before Buying Ski Boots Online
Like I said, these are not your typical life lessons on how to win the rat race. But maybe my dad never taught us those lessons because he never wanted us to feel compelled to enter the rat race to begin with. If there's one overarching lesson I've learned from my dad, a lifelong ski instructor and golf pro, is that you define your own success in life. And when you do that, you get to choose your own path and your own benchmarks for measuring that success.
Chip is now a P.E. teacher in Crested Butte, Colo., a job that allows him to live year-round in one of the most coveted ski towns in North America and organize "Ski for P.E" afternoons. Ty is still living back home in Garmisch, Germany and works for Marker Völkl Dalbello, designing ski gear and spending office hours testing his products in the Alps. And as for me, well, I also figured out a way to spin my skiing addiction into a "grown-up" job.
I'd say we're doing alright.
Read More Odes to Skiing and the People Who Make it Awesome
I Owe My Life of Skiing to Glen Plake's Mohawk (And Others)
And Ode to Playing Games in the Lodge When Times Are Tough
By Teaching Me To Ski, My Parents Gave Me an Unbeatable Gift