How to Stay Sane and Make the Best of a Spring Break Ski Trip
Excellent snow year across most of the West + spring break = big crowds on the slopes. How to not lose your cool.
Heading out the door? Read this article on the new Outside+ app available now on iOS devices for members! Download the app.
Every weekend in Tahoe this winter has felt like Disneyland on powder. By that I mean, it's been snowing a ton (great news!) and as a result, everyone and their toddler has decided it's a stellar time to slide down the mountain en masse. It's wonderful that people are getting out there, don't get me wrong. But a widespread excitement for skiing has made getting to and around the resort, um, how do I say this delicately? A giant f-ing cluster.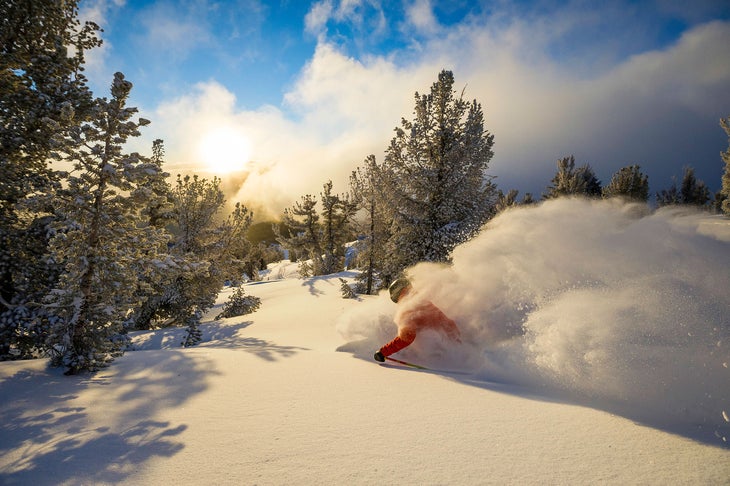 To add insult to injury, March is spring break season, so the Tahoe slopes are about to get even more crowded. Already, on a non-holiday Saturday morning, it's taking Tahoe skiers two hours to drive the 13 miles from Truckee to Palisades Tahoe, and by the time they get there, the parking lot is full. Even if they manage to squeeze into a parking spot, lift lines fill the maze well past 3 p.m. and even the queue for the bathroom can run 10 minutes deep.
Tahoe isn't the only place where the spring break crowds are expected to be record-breaking. Those planning to brave Utah's Little Cottonwood Canyon to Snowbird or Alta should expect to sit in the "red snake," the long line of cars going up and down the canyon. It will be equally congested on the roadways to Whistler, Vail, and Jackson Hole. I've seen lift-line gridlock on a powder day at Big Sky, frazzled parents at Northstar getting kids to ski lessons an hour late due to traffic delays, and hungry Stowe skiers standing in mile-long lines for $20 burgers.
     Also Read: What I Learned Driving Little Cottonwood Canyon on a Powder Day
But here's the deal: The people—you, me, all those other goggle-clad masses—all deserve to be here. We've all discovered skiing and how awesome it is. That should be something we cheers a PBR over. Personally, I'd rather ski than not ski, wouldn't you? So, let's not let the crowds ruin our day. We just need to get strategic. You've got to approach a busy ski day with the right mindset. Otherwise, it's a slippery slope to the bar before noon.
Here's how to manage your stress level, dial in your spring break routine, and enjoy your day in the mountains—no matter how busy it gets.
How to Manage Spring Break Crowds
Stay Slopeside
If ever there's a time to splurge on the ski-in/ski-out condo, this is it. Whatever you can do to stay off the roads into and out of the resort is your—and everyone else's—best interests. Parking lots are going to be a zoo, as well as shuttle buses, so if you're already there, that's one big hassle you've crossed off your list. Also, whenever possible, get a place with a kitchen, or at least a kitchenette. Standing in a coffee line that's 30-skiers deep is no way to start a powder day.
Get Prepped Ahead of Time
Just because you're on vacation doesn't mean you can't be strategic. Organize your gear the night before so the morning dash is doable even in a pre-caffeinated state. That means putting all that stuff you apparently need to go skiing in a giant tote bag by the door, so it's a quick grab-and-go situation. You can even pre-make breakfast the night before, so you're extra dialed. Morning You will be stoked on that breakfast burrito that can be reheated for the commute that was made by Last Night You. Here's a great recipe from SKI contributor Lily Krass.
Get Going Early…
If you're not staying at the base, build in an extra 30 minutes to one hour of travel time to the slopes. That could mean hitting the road by 7 a.m., or maybe earlier, depending on your locale. The point is: Get ahead of the masses and then you won't be sitting in traffic pissed at the world as your first real sensation of the day. The breakfast tailgate—frying eggs and brewing coffee on a Coleman stove in the early hours of a ski-area parking lot—is a full-fledged thing now. 
… Or Get Going Late
You're here to ski. We get it. But you can still choose your skiing hours wisely. If you're heading to the lifts at 8 a.m.—especially on a weekend—you will be standing in all the lines. Consider letting the morning crowds get up and out of the base, then skiing until the lifts close. This couple-hour delay can make all the difference in getting you off of everyone else's schedule. Most ski resorts close at 4 p.m., but a few stay open later for extra afternoon time. Alta closes at 4:30; Brian Head stays open till 4:30 on weekends and has night skiing; Alyeska stays open till 5:30 in the spring. (Or check out resorts with night skiing!)
Ride the Bus
Ditch the rental car and enjoy the satisfaction of taking one more car off the roadways. Take the shuttle from the airport, and take advantage of the free bus system designed to ferry skiers to the slopes. Figure out where your closest bus stop is, check the schedule, then relax as someone else drives you to the ski area, stress-free.
Pack (Lots of) Snacks
Let's talk about food for a moment. Brown-bagging it is always a stress ninja solution, so you're not waiting in the burrito line at noon with a ravenous belly. Pack leftovers or grab a sandwich ahead of time. If you want to enjoy a lodge lunch, go—you guessed it—early or late. Show up at 11 for a brunchy bite or roll in at 2:30 for late lunch/early après.
Take a Hike
You're on Chip's Run at Snowbird or Mountain Run at Palisades Tahoe and you're thinking, 'Geez, it's crowded.' That's because you're on the resort superhighway, otherwise known as the most populous run on the mountain. Find the zone where nobody else is bothering to go. Take a hike to a back bowl, sidestep to a random knob, or go ride that slow double chair. The point is: Cut off the beaten track and there's plenty of room for us all to spread out.
Find Your Zen
You've got to be in the right headspace to handle crowded spaces. If that means putting your earbuds in and listening to your favorite tunes or chatting up a new friend in the lift line, do whatever it takes so you're not snapping at your ski buddies or being the grumpiest bro in the corral. Because let's remember this very important thing: You're going skiing. It's supposed to be fun!