How the Effects of Historically Racist Laws Are Still Keeping BIPOC From the Outdoors
History tells us why skiing—and the outdoors in general—lacks diversity. Thanks to the work of dedicated groups, this is slowly changing.
Photo: joSon/Getty Images
Heading out the door? Read this article on the new Outside+ app available now on iOS devices for members! Download the app.
"When I was growing up, you did not go to Stone Mountain or places outside of the metro area like Forsythe county," says my Aunt Mel, who grew up in Atlanta. "These were no-go places. It was well-known that that was where the KKK [had a presence]."
Though many don't like to speak about it, so many of our living relatives experienced racism when it was legal—directly affecting how they interacted with society and how society interacted with them—all based on the color of their skin. Both sides of my family grew up in Chicago and Atlanta at the turn of the Civil Rights Movement, a time when many Black Americans were taught not to do things outside of their community areas, in an effort to keep them "safe."
Also Read: From Getting There to Gearing Up, This Instructor is Getting—and Keeping—BIPOC Skiers on the Slopes
These feelings have been passed down for generations. And this, among many other things, have contributed to what is called "the nature gap," which is the unequal access to nature and its benefits.

The ads and marketing materials all say the outdoors are for everyone. Yet, it's apparent that there are gaps in the spaces that were created to get people outside. To figure out the root of the issue for Black Americans and to break down the systemic rungs that can make or break access to the outdoors, we took a deeper dive into the foundations of ownership, access, and the perceived threats of violence that have kept—and continue to discourage—Black people from enjoying our outdoor public spaces, from national parks to the forest lands on which ski resorts operate.
A History Rooted in Discrimination
President Roosevelt established the United States Forest Service in 1905 to maintain the National Forests, now home to almost all of the ski areas in America. Not long after, President Woodrow Wilson created the National Park Service in 1916, the new federal bureau in the Department of the Interior responsible for continuing to protect national parks and monuments for all Americans.
However, these public lands were not really for all Americans. During this time, redlining—which put services (financial and otherwise) out of reach for residents of certain areas based on race or ethnicity—was pervasive, and the resources to create generational wealth were reserved for the few. The state-sanctioned racial caste system of Jim Crow segregation was well established (but not exclusively) in the South, as well as culturally throughout the U.S. 
And it wasn't just law—it was a way of life.
It wasn't until 1945 that many national parks were officially desegregated, and it's been over 50 years since the Civil Rights Act of 1964 passed, which, among other things, granted permission for Black communities to enter public spaces, including national and state parks, and forest lands. This opened the doors to the outside, but the barriers were still holding strong.
From This Writer: How Skiing Whiteness Has Affected Me and How We Can Change It
What does this have to do with skiing? As a sport that takes place predominantly on National Forest land, pretty much everything. And it goes a long way to explain why skiing has historically been, and continues to be, a predominately white experience.
Discrimination had deep effects on community settlement and the protection patterns for the nation's remaining public lands. Redlining denied Black people mortgages, insurance, loans, and other financial services based on location, and it has continued to shape entire communities.
Those who were not locked out by legalized discrimination were able to purchase acreage and build homes for recreational or agricultural use, enabling them to participate in outdoor activities for generations. Those behind the systemic barriers of redlining faced environmental injustices, economic segregation, and have otherwise been made to feel unwelcome in those communities built on the belief of who belongs there.
In the early 1900s, travel guidelines were established for Black people, marking places for safe passage to avoid places like sundown towns, where they could pass through during daylight hours but were not permitted at night. Black Americans were taught not to do things outside of their communities in an effort "to keep them safe." Going into new areas was thought to be dangerous, as the monstrous amount of lynchings that occurred from the mid-1800s to throughout the 20th century usually took place in forests or natural spaces. 
For instance, the Red Summer of 1919 was precipitated by the murder of Eugene Williams, a 17-year old Black boy who was killed for violating the unofficial segregation of Chicago's beaches. He had been swimming in Lake Michigan and had drifted into an area indirectly reserved for white people, where he was stoned.
Even as legal segregation has been dismantled, there are still threats of violence that create barriers to entry. We saw this play out last year in covert and overt ways when we witnessed Christian Cooper, a Black bird watcher in Central Park, get harassed for existing in the outdoors. And then there was Ahmaud Arbery, who was murdered while on a run outside in Georgia.
Individuals and Organizations Paving the Way
Like many outdoor spaces, safety and access in the mountains are still new to Black Americans. When I moved to Colorado, people advised me to "be careful"—and they weren't talking about animal encounters or other trail hazards.
On That Topic: Talking about How Skiers Talk
As I got into the outdoors more, I connected with various individuals, organizations, and companies who've done good work to break down systemic barriers by encouraging more Black people to get outside through education, organizing guided trips, building communities, and more. 
There is a growing social media movement dedicated to changing the narrative and championing the movement to diversify the outdoors. Courtney Lanctot of The Unpopular Black has been vocal about getting more Black people outside.
"One of the biggest reasons why I want to show Black folks nature and adventure is because it deeply heals," says Lanctot. "Nature taught me how to love myself deeper than I had known. Through its depths, I found mine. As Black people have historically had a lack of access to nature, we synonymously had a lack of access to our own healing. We have inherited trauma that still needs to be healed as a collective. Healing is part of our freedom."
The state of Colorado just passed the bipartisan Outdoor Equity Grant Program which aims to expand access through nonprofit organizations. Many such groups, like the Share Winter Foundation, have a longstanding history of striving to make the outdoors more inclusive by providing programs and resources to improve the lives of underserved youth.
"Through grantmaking, resource gathering, collaboration, and advocacy, we work with the ski industry as well as grassroots organizations across the United States to provide low or no-cost programs for youth traditionally denied access to winter sports," Share Winter CEO Constance Beverley explains. "We recognized years ago that a lack of participation from skiers and riders of diverse backgrounds had nothing to do with a lack of interest, but lack of access and opportunity. We strive to create a winter sports community where all youth, from every background, see themselves as skiers and riders; that they feel welcomed, included, and celebrated."
Within the ski industry, groups such as Ski Noir 5280 are building entire communities and equity through outdoor recreation.
"I was blessed to have parents that brought me up skiing at a young age but at that time I rarely saw anyone else of color on the slopes," says Sondra Scott, founder of Ski Noir 5280, a BIPOC community ski club for those wanting to get active in winter sports activities. "I enjoyed it so much my goal was to become a ski instructor so I could get more of my girlfriends to learn how to ski so I wouldn't always be the only Black female skiing the back bowls."
When it comes to lowering the barriers to entry and truly making the outdoors for everyone, it's critical to spread awareness and build up the communities that have been historically separated from these spaces.
"My goal then and now is for the inexperienced skier to be safe, have fun, and want to come and ski again," says Scott. "Our goal is to get a younger group of skiers out on the mountain together, learn from each other and socialize. I believe my years of experience and my love of skiing will set a good example of how to have fun and be safe on the mountain and inspire others who look like me to take up the sport."
In addition to supporting the individuals and organizations committed to doing the work, we can also engage in active efforts to listen to the diverse voices who share their experiences and knowledge, so we can continue to mobilize.
"Mentally, we have a lot of things to get past," my aunt Mel says. "Of course, the generation today has a much more positive experience, but there can sometimes be a comparatively limited access because of expense, a lack of family history, exposure involving the outdoors, and that pesky racism, both subtle and blatant. But we're getting there and I'm hopeful for what the future holds for BIPOC people in the outdoors."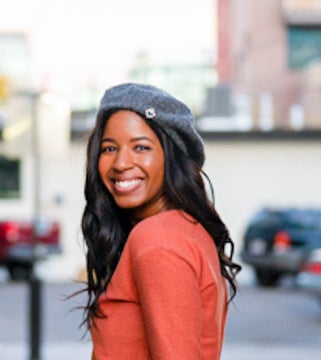 Erin Key is a public relations specialist at Denver, Colo.-based Backbone Media, as well as an avid skier and outdoors woman. She uses her passion for visual imagery to convey that by working together, we can diversify the outdoors, one person at a time.