These Tribal-Run Ski Areas Are Thriving, and Might Be A Model For How to Manage Sovereign Lands
Tribal ski resorts are doing well despite the massive challenges they face. Here's what they've learned, and what all can learn going forward.
Heading out the door? Read this article on the new Outside+ app available now on iOS devices for members! Download the app.
The White Mountains stretch, high and pine covered, across the belly of eastern Arizona. In 1962, Ronnie Lupe, the young Chairman of the White Mountain Apache Tribe, had a vision about those mountains, where his tribe has lived for thousands of years, and where, back in the 1870s, they were assigned by the government to live on a reservation. 
"He wanted to have a large resort where people would gather from all around to see what the tribe had to offer, especially because the land holds some of the most beautiful landscape in the state of Arizona," says Tyler Shultz, head of marketing at Sunrise Park Resort.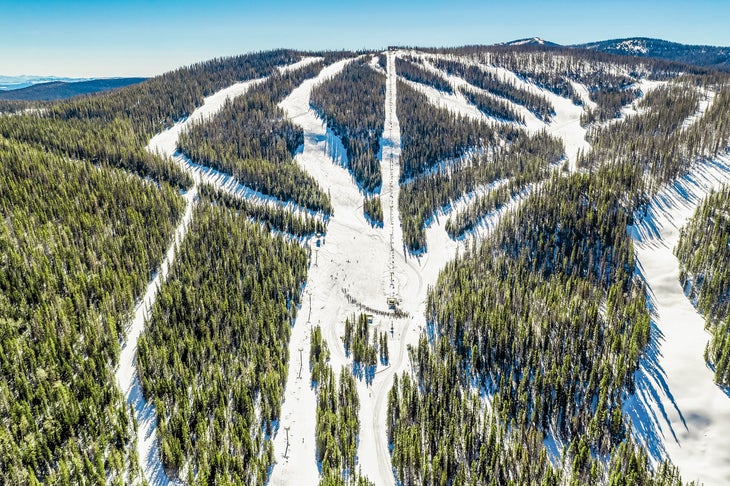 Lupe thought a good way to do that, and to underscore tribal sovereignty and economic independence in the process, was through skiing, so he spent a few years convincing the Apache elders that it was valuable, even though it was new and foreign. The tribe received a $26 million U.S Economic Development grant, and in December of 1970, they started turning the bull wheel on a double chair up 10,700-foot Sunrise Peak.
The resort was named for the Sunrise dance ceremony, the four-day coming of age ceremony for Apache girls, and the first run was called Crown Dancer, after another sacred dance, which the Apache believe the mountain spirits taught to them as a means of healing.
The ski area expanded quickly from there. It's now grown to 65 trails, which spread across neighboring Apache Peak and Cyclone Circle. "We advertise 800 skiable acres, but it's more like 1,200. It's substantially larger than Snowbowl," Shultz says, giving a side eye to the Arizona resort that gets the most attention. He thinks Sunrise gets overlooked because it's farther away from major cities and highways, and because people don't necessarily associate skiing with a reservation in Arizona.
Pull up the map of what we now consider ski country. Despite the fact that tribes once lived on all of that land—from the Nooksack and Skagit territory of Mount Baker to the Abenaki land of Mount Snow—Sunrise and Ski Apache, in neighboring New Mexico, are the only two tribally owned and managed ski areas (a third, Bear Paw Ski Bowl, is on Montana's Rocky Boy Chippewa Cree and Metis reservation but is operated by outsiders), and they're objectively in some of the worst places to make a business out of skiing.
But that's an interesting thought, isn't it? If skiing is culturally, physically, and economically valuable for tribes in the hot high desert of southern Arizona and New Mexico, couldn't it also do the same in the snowy mountains of traditional Ute territory across Utah and Colorado, or in north Lake Tahoe where the Washoe lived in what's now called Palisades Tahoe?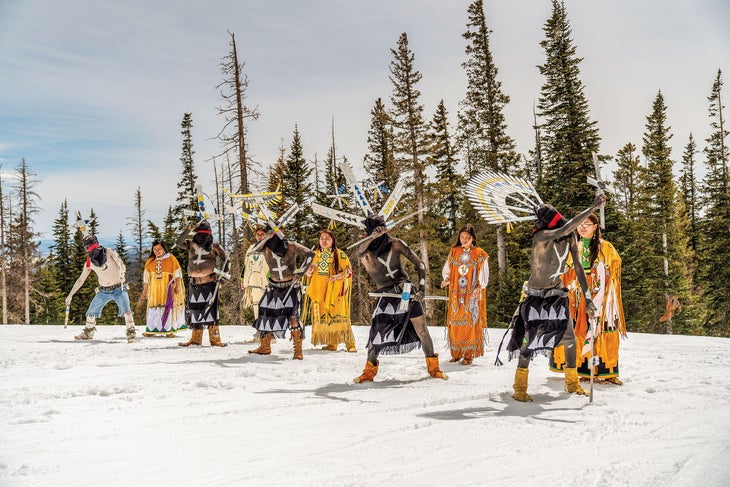 We're at an inflection point right now. Deb Haaland, a member of the Laguna Pueblo, is the first-ever Native American Secretary of the Interior, and she's at the crest of a rising tide working to bring land, decision making, and power back to the tribes. As skiers, we can be part of the discourse, and we can look critically at how skiing can be a model to return land management decisions to the tribes and how it could bring economic, social, and cultural benefits in the process, both at already established ski areas and in places where skiing might be viable. Skiing isn't everything, but it can be something, and it's proven to be a useful tool.
Sunrise Park, which has the same elevation relief as Vermont's Mad River Glen and Bridger Bowl in Montana and gets more snow than Killington, is the biggest economic driver on the reservation, both in winter and in summer. Seventy percent of the employees are tribal members, as are many members of upper management and the board, which governs the ski area's operations.
Go Deeper: How the Effect of Historically Racist Laws Are Still Keeping BIPIOC From the Outdoors
Connor Ryan, a Lakota professional skier, says he gets fired up when he thinks about the ways skiing and ski resort management can be a way to both bring healthy jobs to tribal communities, and to transition management of traditional tribal lands into tribal hands—a federal policy that hasn't been upheld since the U.S. Constitution was signed in 1787. "When I look geographically where the tribes that are doing it are, I think 'if they can do that there then there's possibility for tribes in other places, like mine in the Black Hills,'" Ryan says.
 The benefits expand far beyond employment, however. Sunrise provides free skiing for tribal members under 18 and tickets are half-off after that. Shultz says sharing tribal culture through food, ceremonies, and storytelling is a big part of the mountain's mission and its unique vibe.
Sunrise has had 50 years of ups and downs, including a fire that burned a big chunk of the lodge right as the resort was planning to open in 1970, and a struggle to find a management structure that made sense for the tribe and the mountain (decisions are currently made by a board). It's not easy to run any kind of business on a remote reservation, but after five decades, it's survived and weathered everything that's been thrown at it, from climate change to Covid. The success has prompted the question of whether it could, in fact, be a model for other ski areas around the country.
It will take changes from within the ski industry, the tribes, and the federal government, Ryan points out,  but we can already see ways that skiing could fit into tribal land management and economic structure using existing frameworks. The Bureau of Land Management could offer free leases to tribes on land that's currently considered public, Ryan suggests, or tribes could lease land to ski areas the same way the Forest Service currently does. "The thing that really has me fascinated is the horizon of it, and making that movement click for tribes," he says. "We Natives can be skiers, but it's not a lane we've been thinking about."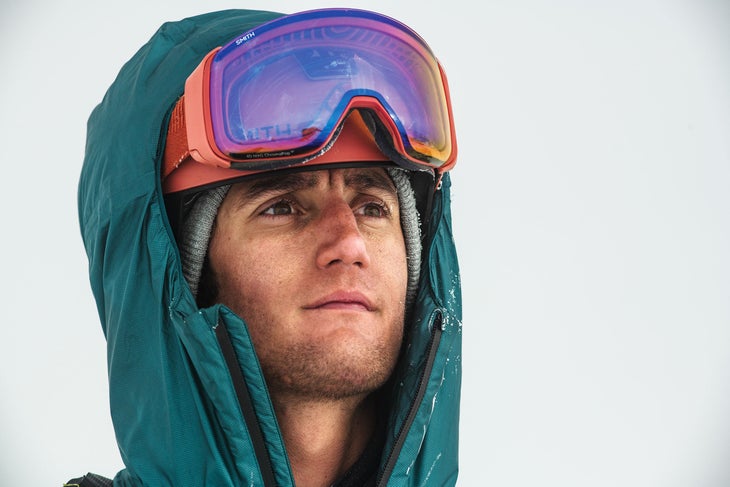 Sunrise isn't the only ski resort in the southwestern desert run by a tribe. In central New Mexico, on the flanks of sacred 12,000-foot Sierra Blanca Peak, is Ski Apache, the southernmost major ski resort in the United States. It's run by the Mescalero Apache Tribe, in the rangy limestone Sacramento Mountains. 
The ski hill was originally called Sierra Blanca Ski Resort, and was founded in 1961 by Robert O. Anderson, a wealthy oil man. He installed three T-bars, and then brought in the first monocable four-passenger gondola in North America the following year. But he didn't last long. Two years later he sold it to the tribe, who changed the name to Ski Apache in the '80s, and who have been running it ever since. 
Sarah Kazhe-Kirgan, Ski Apache's director of marketing, says they employ up to 250 tribal members in the height of ski season, and that the resort, along with its partner, the Inn of the Mountain Gods, is the second-largest employer in southern New Mexico, next to Holman Air Force Base. It's a stable generative source of funds, jobs, and fun. "As Apache people, we were taught that if you take care of the land, it will take care of you," Kazhe-Kirgan says.
Also Read: They're Becoming Ski Instructors to Lure More Women of Color to Skiing
The ski area spills out from a high-alpine snowfield down into dense trees, with steep runs off of the gondola line. But in addition to skiing, Sierra Blanca is also one of the Mescalero Apache's four sacred peaks, and like Sunrise, the ski hill isn't just an economic engine— a way to promote recreation or put people to work—it's also a way to share culture, from traditional food to land use ethics. Kazhe-Kirgan says she's seen time and time again how much being out on the mountain impacts people.
"I've had one visitor or another share that they were sick, or not sure what to do with their life, or having a difficult time and they came here and found a peace, a healing, or a direction they hadn't experienced before," she says. She says the ceremonies they perform on the mountain tend to impact people the most. "They may not understand the songs or dance, but they feel something move in and around them that speaks to their very spirit and often they will tell us that they feel very connected to life in a way they just never were able to before."
The ski hill is a great source of pride for the Mescalero Apache Tribe, even though operating a ski hill is hard, especially during a global pandemic. "The benefits of being operated by the tribe are that we are able to provide a unique experience for our guests and create wealth and prosperity for our people and our neighbors in the surrounding communities," she says. "The downside is that because we are different, we often have to prove over and over again that we are more than capable of owning and operating a business and making it successful."
Like Sunrise, Ski Apache faces a series of challenges to running a successful business that are specific to being on a tribal reservation, and to being run by tribes, yet still operating within the United States. Climate change threatens the fragile southern snowpack. Pulling in visitors and employees can be challenging, in large part because the reservations are remote and are lacking in infrastructure thanks to broken, ignored, or unratified treaties and a history of the federal government failing to make good on its promises.
And there's the fact that, according to the U.S. Constitution, tribal nations are sovereign entities. They're technically their own governments, even though they're housed within the landmass of the United States, which means they should legally be able to make any choices they want about ski area planning or infrastructure, but that they have to do it within the bounds of federal or state land regulations.
"The work of administering a ski area permit is the same, but what's unique in that situation is that tribes have that complexity of a government-to-government relationship," says Sean Wetterberg, the U.S. Forest Service's Winter Sports Program Manager, who works with tribes on federal land.
In addition to the thorny political question of land management, part of the challenge is changing the deep racism of skiing. As a Native skier, Ryan says that he's often felt out of place on the ski hill, or out of line with his cultural traditions. He's struggled to find the space in between.
"It's not marketed to us, so we've been excluded, and I've experienced plenty of overt and covert racism in skiing," Ryan admits. On the flip side, he's also felt out of place within his Native community for loving skiing, which traditionally hasn't been a part of his culture for a host of reasons, from cost to the way it can impact ecosystems.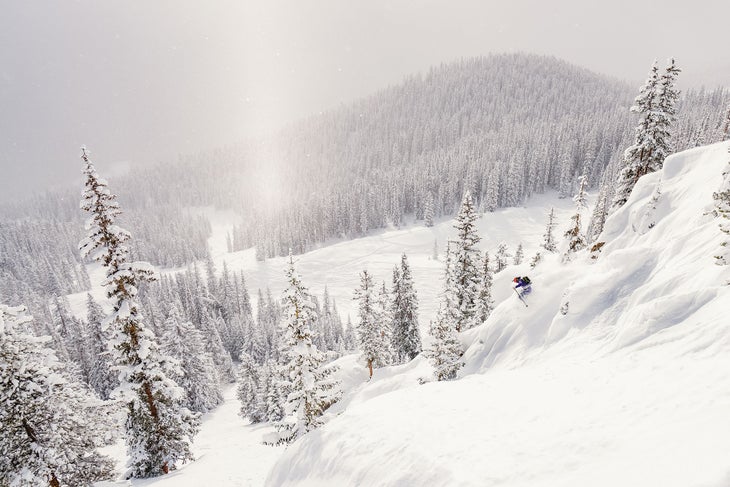 "Most indigenous people look at mountains and don't think about skiing, we think about tribal stories," he says. "The ecological eye we look at the land with is more holistic."
But he thinks there's a way to do both, and to bring that holistic view of land use and respect for mountains to the outdoor industry. He's inspired by Sunrise and Ski Apache, and the vision Lupe saw five decades ago: He saw the landscape as a place to bring people in, and to share culture.
"Currently the only model that's similar for tribal revenue is the casino, and I don't think the casino creates jobs that are in line with our traditional values," Ryan says. "My vision—and I think it applies in a lot of other outdoor recreation—is that we give back federally and publicly owned lands to a tribal entity. That allows indigenous people to profit off of recreation on indigenous land and educates that community on land management or recreation. You're creating jobs for indigenous people that have so much more personal impact and health benefits. It's incredibly healing to be on the land, and as a skier, I get to connect with the elements that shaped my culture every day."
It won't be easy or fast, and it's not like running small independent ski areas is a simple business. But the benefits should be enough to convince us that it's a concept worth trying."In a lot of ways, it's what justice can look like," Ryan says. "All of a sudden, we have a say, we're not being economically exploited, and we're in charge of our land."
 It can start with prioritizing tribal voices. "If you were going to ask someone about how to expand access or change land use, ask local indigenous people first," says Ryan. "You're talking about reparations and restorative justice, and how to make skiing more accessible for more people at the same time."
Sea changes aren't easy, and it's unlikely that, say, Steamboat will be considered Ute territory tomorrow, but he says those options are a serious part of the national conversation for the first time, and that the talk about changing place names, and acknowledging land, is an intentional start. 
"I think pragmatism is radical," he says. "If nothing has happened for 50 years, and now something is starting to happen—that's big."