How an App Built for Hunting Became a Backcountry Skiing Navigation App
Custom route planning and map overlays are easy with onX Backcountry, an alpine touring skier-focused navigation app for smartphones.
Heading out the door? Read this article on the new Outside+ app available now on iOS devices for members! Download the app.
The sun illuminated the Tetons one early morning in March as our group of five went over our tour expectations for the day. Our plan was to enjoy a long, sustained descent of sunny spring corn off Albright Peak, 3,000 vertical feet of fall line skiing straight back down to the valley floor. Led by Exum Guide Morgan McGlashon, our team of ladies had planned a sunny spring ski tour in Grand Teton National Park to test out the new onX Backcountry app. After a safety briefing from McGlashon and an onX demo from Molly, we set out into the cool morning air to go skiing.
An offshoot of the popular onX Hunt app, the onX Backcountry app launched in the middle of the 2020-'21 ski season. Hunters and skiers may not seem like they have much in common—the end goal of a day in the backcountry is vastly different—but both need navigation tools built for almost entirely off-trail travel, and map functionality is critical. onX Backcountry has many features that are similar to other mapping apps such as Gaia, FATMAP, or Caltopo, but it goes a step further with customizable options designed specifically for backcountry skiers.
Because you can download maps to be available offline with choices for low, medium, or high resolution, onX is usable when you're deep in the backcountry without service. On our tour in the Tetons, I was able to download almost the entire range as one map, which was a great reference as we explored a zone that was new to a few members of our party. I've primarily used onX in Snow Mode, but you can also swap over to Trail Mode for summer hiking use.
Related: Find out if you're as fast as you think you are with these 5 apps built for skiing.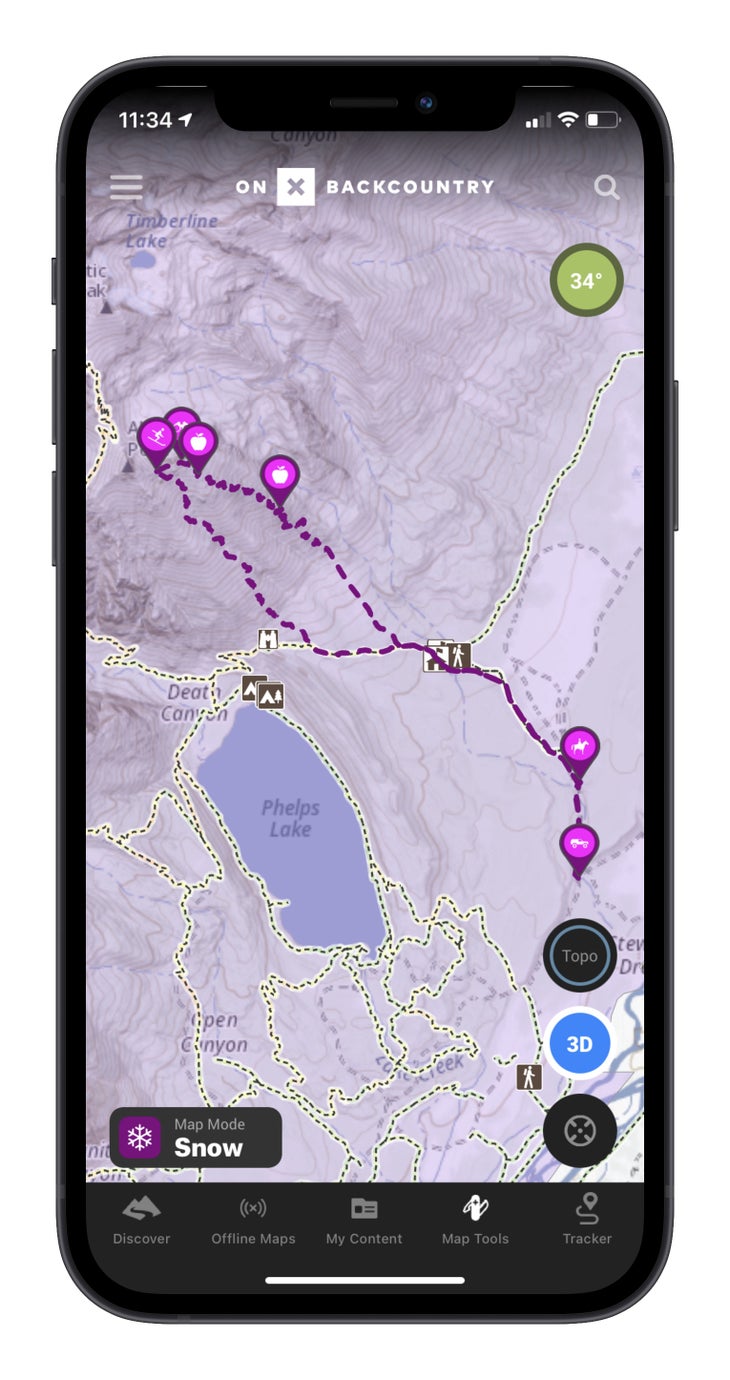 In Snow Mode, you can add layers for slope angle and avalanche forecasts, which highlights each zone with the danger rating for the day as well as a link back to the local avalanche bulletin. Incorporating the avalanche forecast into the app directly is something I haven't seen a navigation platform do before and is especially valuable when traveling in a new area and being unsure which forecast zone your planned route falls within. The slope angle shading gives you a good general sense of what the terrain looks like, however, it isn't specific enough to rely on while micro route-finding in the field.
While established trails appear on most mapping apps, onX is constantly adding ski tours, routes, and other curated adventures that provide tons of inspiration while planning a trip. It isn't necessarily blowing up any local secrets, but trailheads and a few routes are available for areas like Salt Lake City, which provide stats and beta for planning tours. Curated adventures are still a work in progress as the app gets up and running, and I've noticed more and more adventures uploaded each time I open the app.
If you're visiting a new spot and looking for guidance about territory restrictions, clicking on a zone also gives you information on the land ownership and regulations. National parks, national forests, BLM land, wildlife habitats, and private land are all included when you click on a location, and the 2D map highlights the boundaries very clearly.
Check it out: Gaia GPS Turns Your Phone into a Backcountry Navigation Tool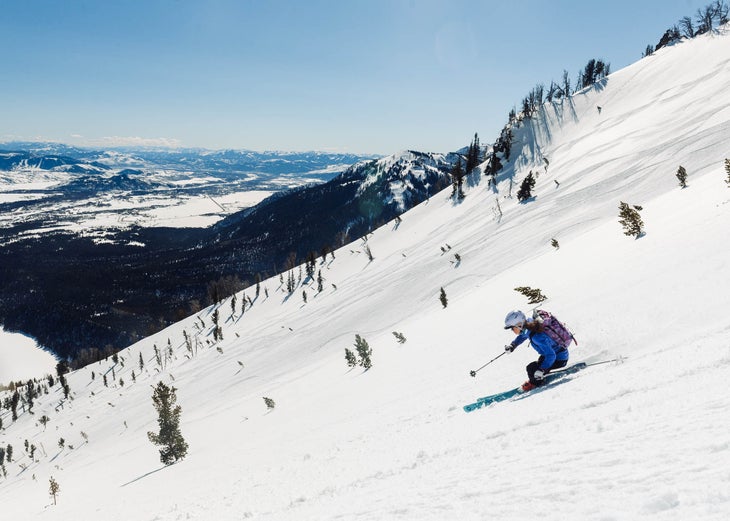 The unique features onX backcountry brings to the table provides an inviting and informative resource for those newer to backcountry skiing. While some of the features—like the avy report—may seem redundant to those who have been traveling in the backcountry for decades, it will be a welcome resource for new backcountry skiers that can set everyone up for success.
onX lets you toggle between topo, hybrid topo and satellite, satellite, and 3D maps, which I like using in conjunction while planning a tour. I've found the imaging in 3D mode to be amazing in some areas and pretty mediocre in others, however, and the winter imagery seems to be still in the works. It was pretty poor in the Tetons at first but has already improved over the past few months, which means I can virtually fly around the range and dream up future lines and tours. Additionally, I was blown away by how clear the resolution was while camping in Moab recently. In other words, the technology is definitely there, it may just be a matter of time before every ski area has high-res winter imagery updated.
While other apps let you drop generic waypoints, onX has a huge range of customizable options when you drop a coordinate, with icons for slide paths, skin tracks, snow pits, general hazards, rappels, river crossings, and a whole host of other choices that I thought were super fun including mushrooms or foraging spots. Maybe less relevant for winter use, but nevertheless a fun detail I look forward to pulling out on summer hikes.
Finally, as someone who struggles with electronics, I was surprised at the lack of a learning curve when I started using the app. The interface is super intuitive, and it felt supernatural to use right away.
Stop Screaming in the Backcountry and Get these Radios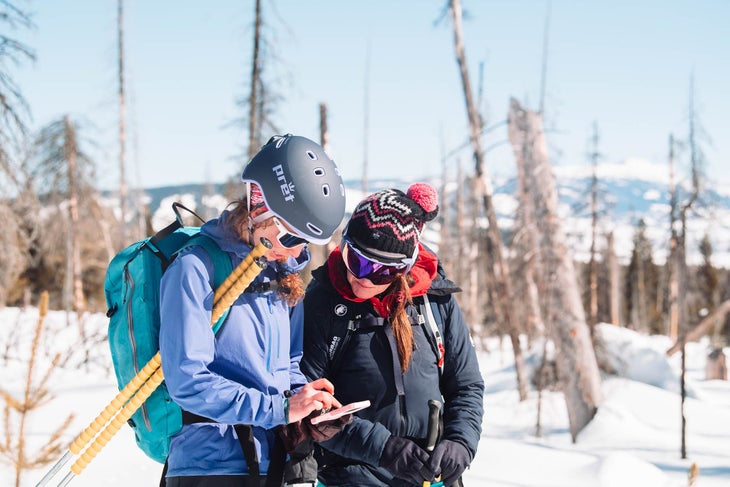 Overall, onX Backcountry is a really great app for tour planning and inspiration. As a still-evolving technology, it has incredible potential but falls a bit behind Gaia and CalTopo with the topo map quality, so I might not turn to it for in-field navigation in complex terrain. But, based on my experience so far, I'm willing to believe as the app improves my mind might be changed. Otherwise, it's a fantastic resource for skiers of all abilities, and we should all look forward to seeing backcountry navigation apps continue to make traveling beyond the ropes better.