The days might be getting longer, and some out there might be ready to hang up their skis and dust off the mountain bike. Crazy fools. Winter is just now getting good. May these ski images snapped by skiing's best photographers remind you that you're a skier, no matter the time of year.
First Impressions
It takes a lot to wow a ski photographer, especially one as prolific and well traveled as veteran shooter Grant Gunderson. Yet during his first trip with Bella Coola Heli Sports, Gunderson was "completely blown away" by the terrain on offer—the largest heli-skiing tenure on the planet. Gunderson and skier Sam Cohen were grounded during the first seven days due to weather, then the skies cleared and the pair took flight. "It was an amazing first day out," recalls Gunderson. "Perfect bluebird conditions with all runs starting at 6,000 to 7,000 feet in the alpine and skiing down directly toward the ocean."
Canon EOS-1D X body, Canon 24-70mm f/2.8L II USM lens @ f/6.3, 1/1250sec, ISO 125
__________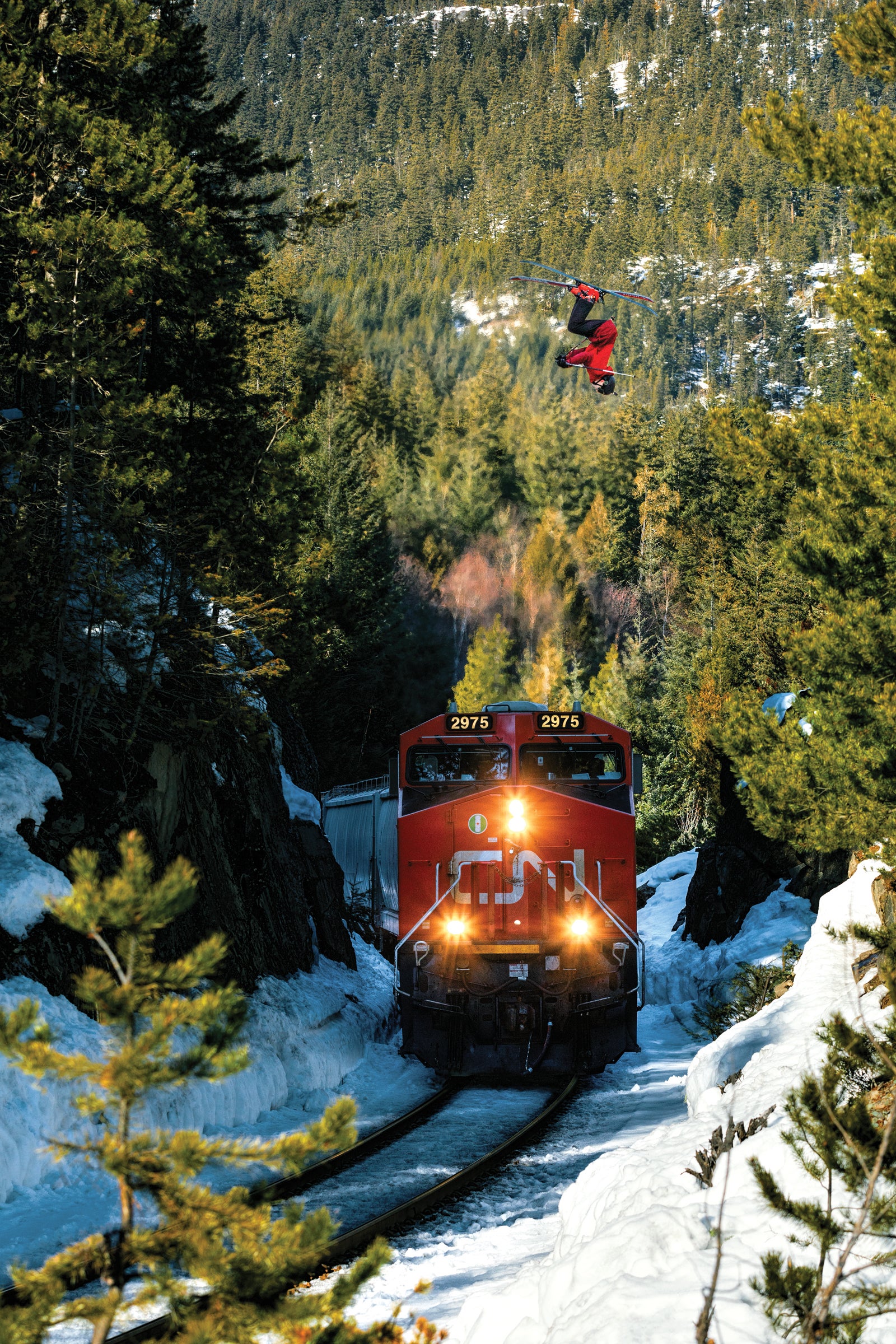 It's a Bird…
Feats of timing are a big part of the ski photography world, but perhaps few are as intense and high-consequence as this thrilling shot. Photographer Craig Barker and skier Eli Bucher spent days going over the logistics of this massive gap, a popular mountain bike jump located near Pemberton, B.C.
For Bucher, who would backflip over a passing train, it was more of a psychological challenge than a physical ask, with consequences of a misstep being potentially deadly, Barker explains. The pair visited the site multiple times, checking and re-checking the run-out and the landing and putting emergency procedures in place in case anything should go wrong.
On the day of the shoot, they waited patiently for the train, then put their plan into motion. "My hands were shaking even though I was on a tripod," Barker says. "I hear a loud, booming cry of excitement from the landing. Eli stomped it and we got the shot!"

Canon EOS 5D Mark IV body, Canon EF 24-70mm f/2.8L II USM lens @ f/7.1, 1/1600sec, ISO 1000
__________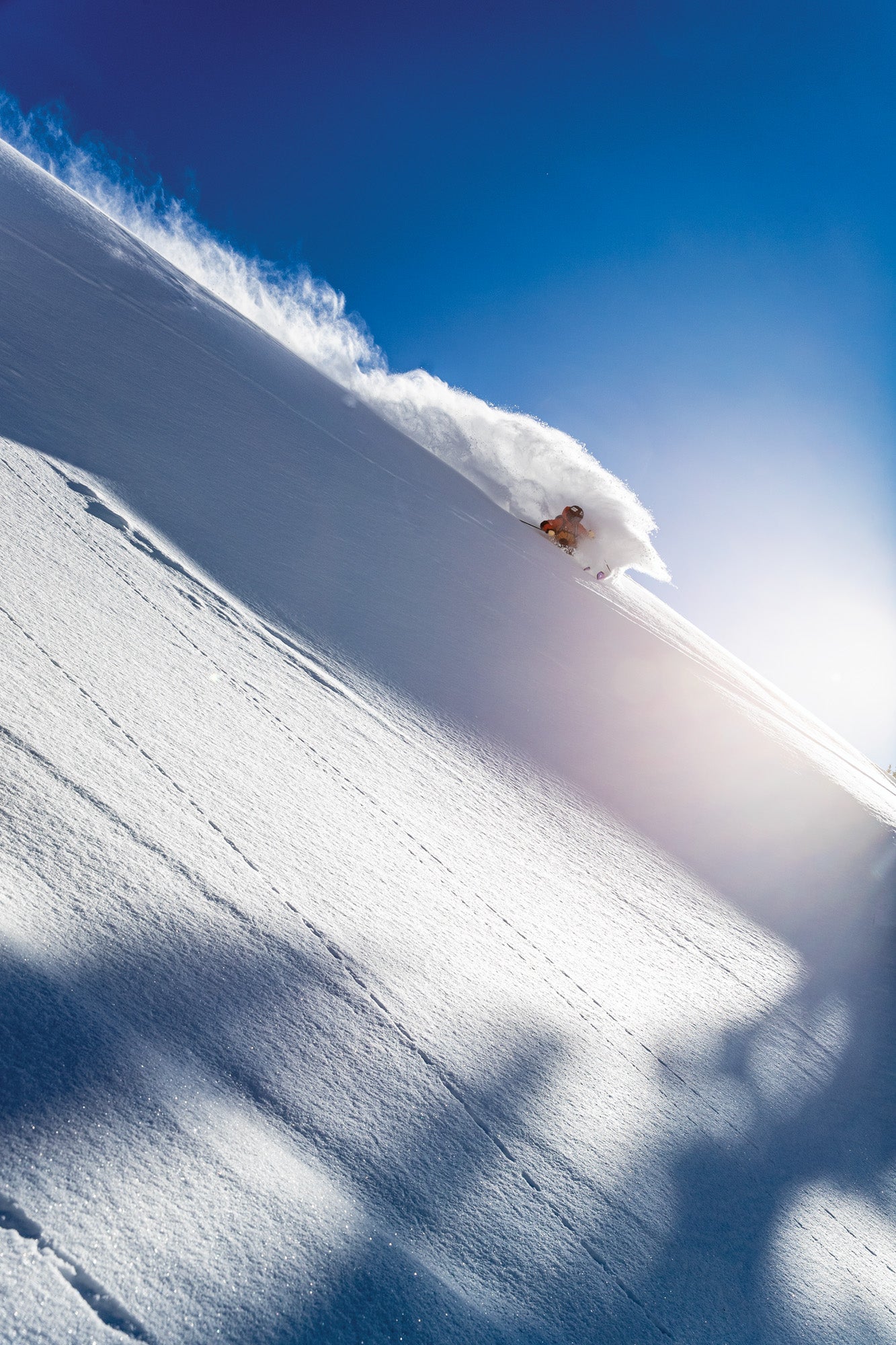 All-Nighter
What would you sacrifice to get the shot? For photographer Oskar Enander, it's sleep. The Switzerland-based shooter traveled 22 hours from Europe only to land at Reno-Tahoe International Airport and find out that the local resorts had been hit by a warm spell.
So what's a photographer looking to shoot fresh pow to do? Rent a car and drive all night to Utah, where conditions were far better. He pulled into the Alta parking lot with skier Henrik Windstedt and the pair headed out, skiing until sunset and nabbing this beauty in the process. Quips Enander: "I guess the 45-hour push with no real sleep was worth it in the end."
Canon EOS-1D X Mark II body, Canon EF 24-70mm f/2.8L II USM lens @ f/8, 1/1000sec, ISO 250
__________
__________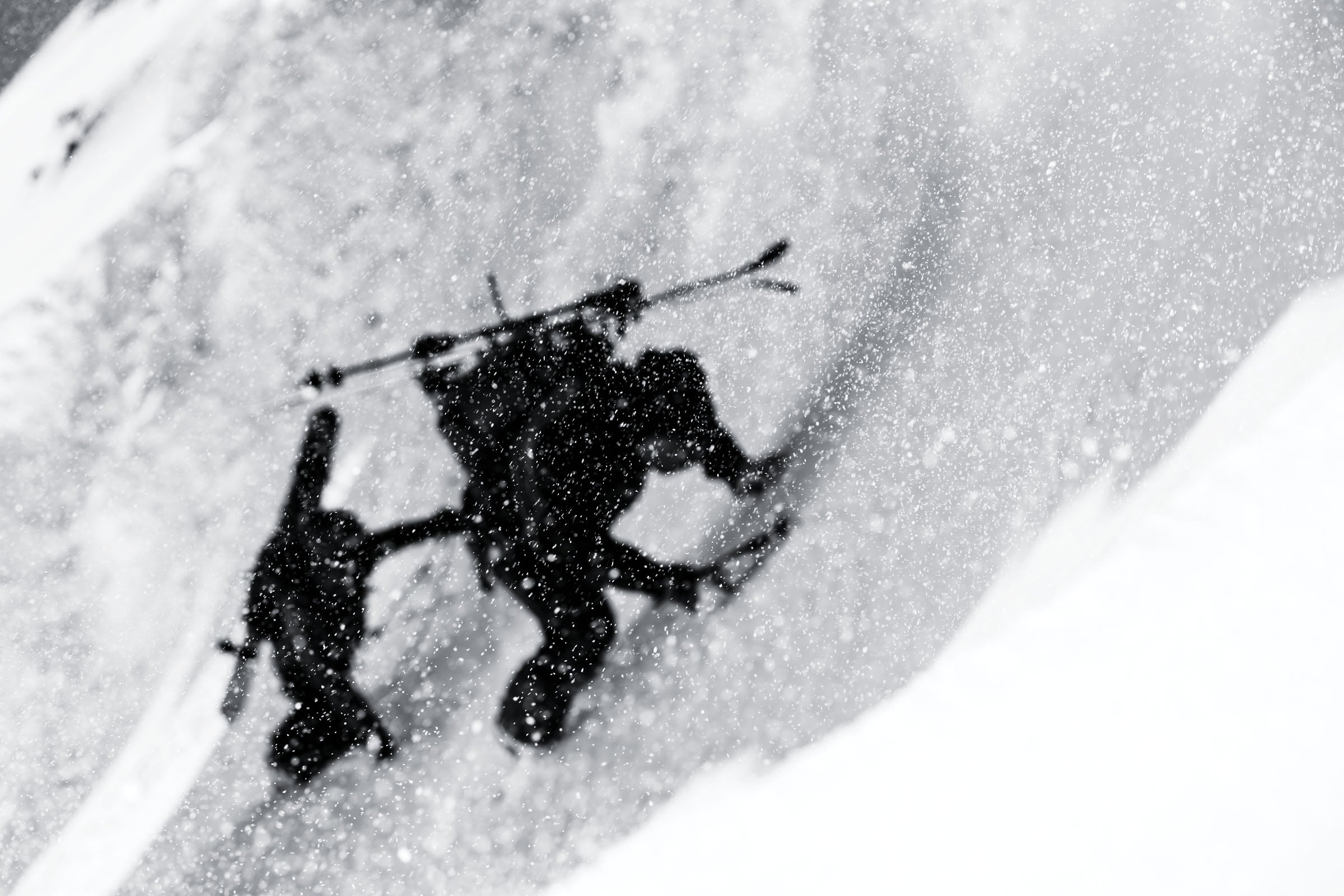 Splendid Isolation
Where do you have to go to spend a day ski touring and mountaineering without running into another person? Deep in the backcountry outside of Smithers, in northwestern B.C. That's where photographer Mattias Fredriksson ventured with local mountain guide Michael Brackenhofer and Danielle Willhoeft last season to explore the backside of the Hudson Mountain Range.
In this shot, the pair ascend a chute to Turquoise Ridge to ski their next line. "It was a beautiful and very long day of ski touring and ski mountaineering," Fredriksson recalls. "We did not see a single soul all day, which adds to the wild experience."
Nikon D850 body, Nikon 70-200mm f/2.8 lens @f/5, 1/800sec, ISO 125
__________
Right Place, Right Time
If you're a photographer in British Columbia waiting for perfect lighting in the dead of winter, you've probably learned it's best not to hold your breath. So when photographer Ryan Creary saw a high pressure ridge forming over B.C. last season, he knew exactly where he needed to be, and exactly who to call.
Creary and freeskier Craig Murray headed for the Revelstoke backcountry, where the sun had stuck around long enough to illuminate the valley fog that had nestled between the Monashee and Selkirk ranges.
"These are the kind of days I've spent my career chasing," says Creary. "Capturing days like this where everything lines up and you are in the right place at the right time makes all the other uncooperative weather days worth it."
Canon EOS 5D Mark IV body, Canon EF 70-300mm f/4 lens @ f/13, 1/640sec, ISO 800
__________
Art of the Shot
Most people know that ski photography is hardly a point-and-shoot affair, but many don't realize just how much thought and effort goes into each shot. Photographer Adam Barker was out shooting with athletes Connery Lundin and Sam Kuch in the Jackson Hole, Wyo., backcountry when he saw this hit from below.
Barker proceeded to spend the better part of an hour mulling over the best angle, including hiking up to check it out from above. After much consideration, he decided to shoot it from below, tucking into some branches that helped to frame the image and draw eyes to Lundin in the air.
"It's a process, and ultimately an execution between athlete and photographer," says Barker. "When it's good, it's good! When it's not—welp, we're still skiing pow and high-fiving with friends. I can think of worse things…"
Canon EOS-1D X Mark II body, Canon EF 24-105mm f/4L IS II USM lens @ f/11, 1/1600sec, ISO 2000
__________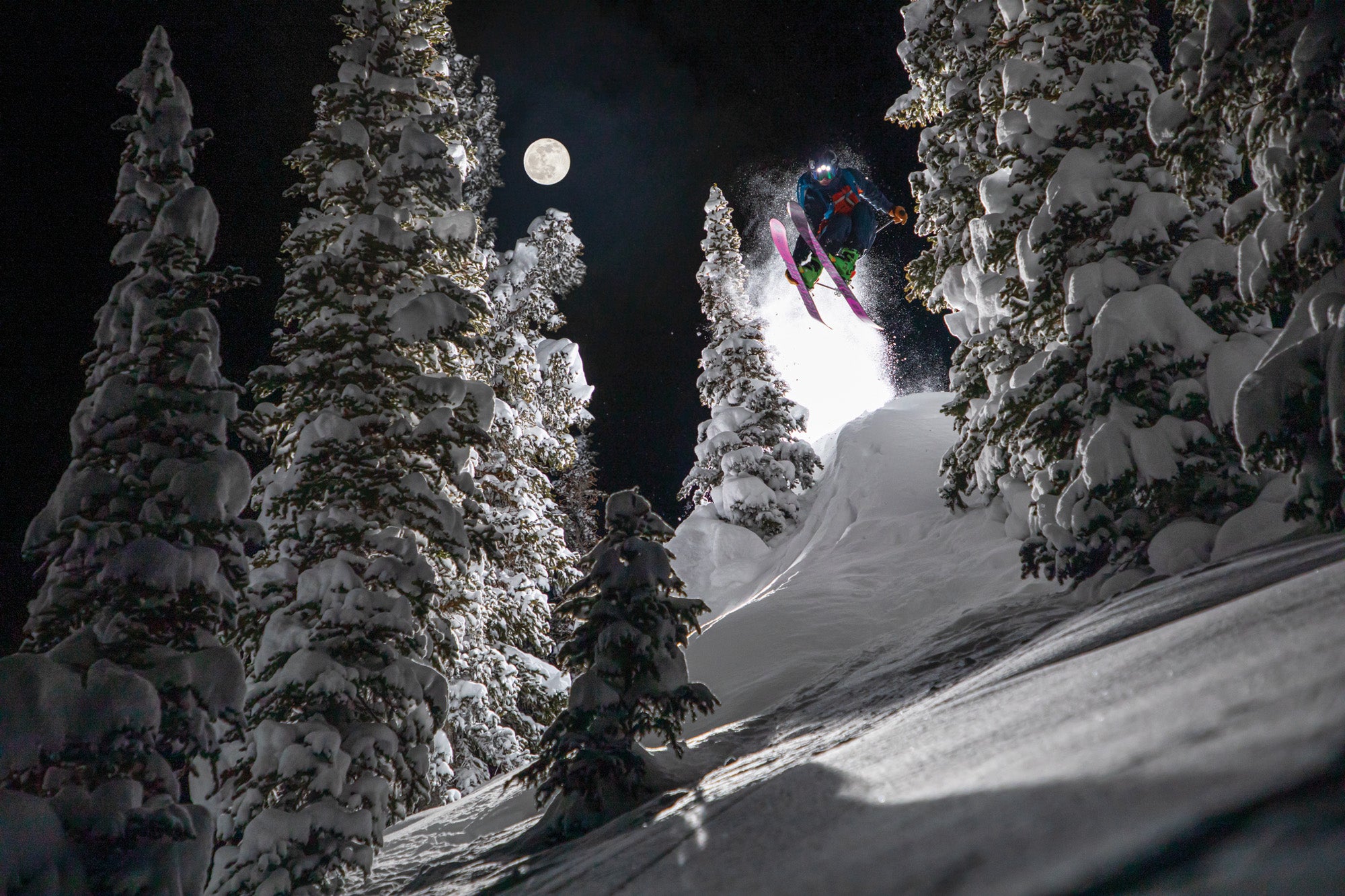 Moonlighting
There is something magical about setting out into the backcountry under the light of a full moon. Photographer Noah Wetzel has long dreamt of capturing this elusive magic through the lens, and in early January, he ventured into the Alta backcountry with Isaac Freeland and Jonnie Merrill. After hours of preparation, Freeland dropped into the darkness and stomped the air, with Wetzel nailing the single attempt.
"When I see this image, it immediately sparks my imagination, and reminds me of how bright, cold, and clear it was that night," Wetzel recalls. "And how awesome it was that Isaac and Jonnie were able to hit this feature under the moonlight!"
In-Camera Double Exposure on Canon EOS 5D Mark IV. Skiing: Canon 24-105mm f/4 IS II USM lens @ f/4.5, 1/1000sec, ISO 800. Moon: Canon 70-200mm f/2.8L IS II USM lens @ f/4.5, 1/1250sec, ISO 800
__________
Last Tracks
When snow kite skier Lorenza Sommaruga Malaguti and photographer Graham McKerrell set out last March in Banff National Park for a day of summiting peaks along the iconic Icefields Parkway, little did they know that they would be among the last to make tracks in the area for the season.
The next day, Parks Canada issued a roadside parking ban on all highways, effectively shutting down the backcountry. At least it was "absolutely perfect conditions," recalls McKerrell, with bluebird skies, a slight upslope breeze, and a view of Crowfoot Mountain and glacier in the distance. A perfectly fine way to remember the season, indeed.
Sony Alpha a6400 body, Sony 18-105mm f/4 lens @ f/8, 1/1600sec, ISO 100
__________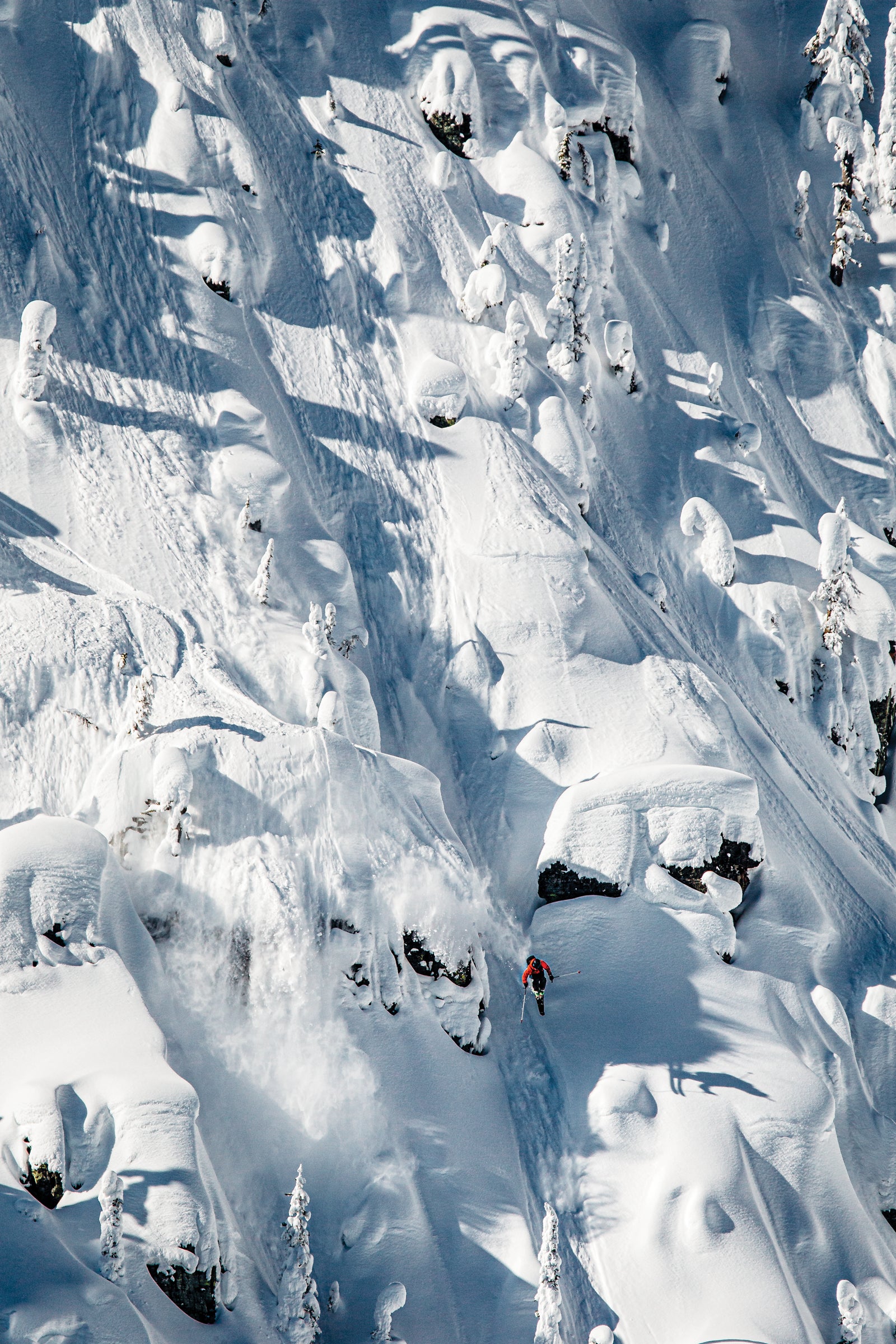 Money Shot
A dream realized is a beautiful thing. For five years, athlete Parkin Costain eyed the same Northwestern Montana zone, but conditions and timing were never in his favor. It all came together last winter during the filming of Benshi Creative's short film "Dollar Short."
Three mornings in a row, Costain, skier Jake Hopfinger, and photographer Jonathan Finch made the 25-mile sled ride to the remote zone, enduring frigid temperatures down to -10 F. "It was the type of cold that invades all of your senses," Finch recalls. At the zone, the sun rose over the snowy peaks and provided that bit of warmth they needed, and Costain skied some of the best—and most long-awaited—lines of his life.
Canon EOS-1D X body, Canon EF 70-200mm f/2.8L II USM lens @ f/11, 1/2000sec, ISO 640
__________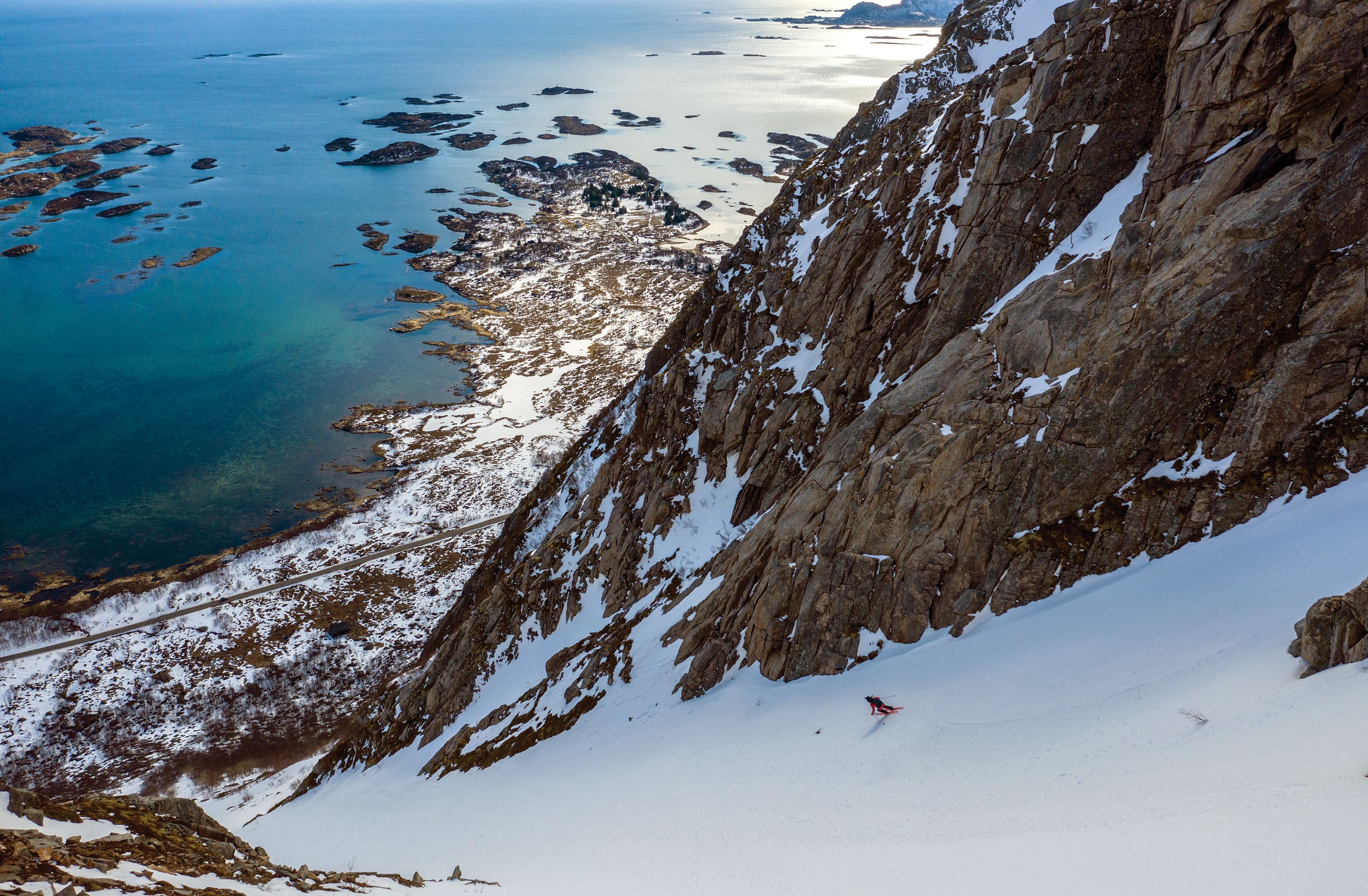 Ski to Shining Sea
There are few places on the planet where you ski directly down to the ocean. Norway's Lofoten Islands is one such spot, and this couloir, though not the steepest nor blessed with the best snow, provided one of the most direct routes that photographer Ming Poon had ever seen. Poon nabbed this photograph of Christina "Lusti" Lustenberger while on location filming with TGR last winter, and the crew rewarded themselves with some beach time at the bottom.
"It's rare to find such a nice couloir that you can literally ski to the ocean," says Poon. "The Lofoten islands are a ski and snowboard paradise. I very much look forward to returning."
Mavic 2 Pro with Hasselblad L1D-20c camera, 28mm f/2.8 lens @ f/5, 1/800sec, ISO 100
__________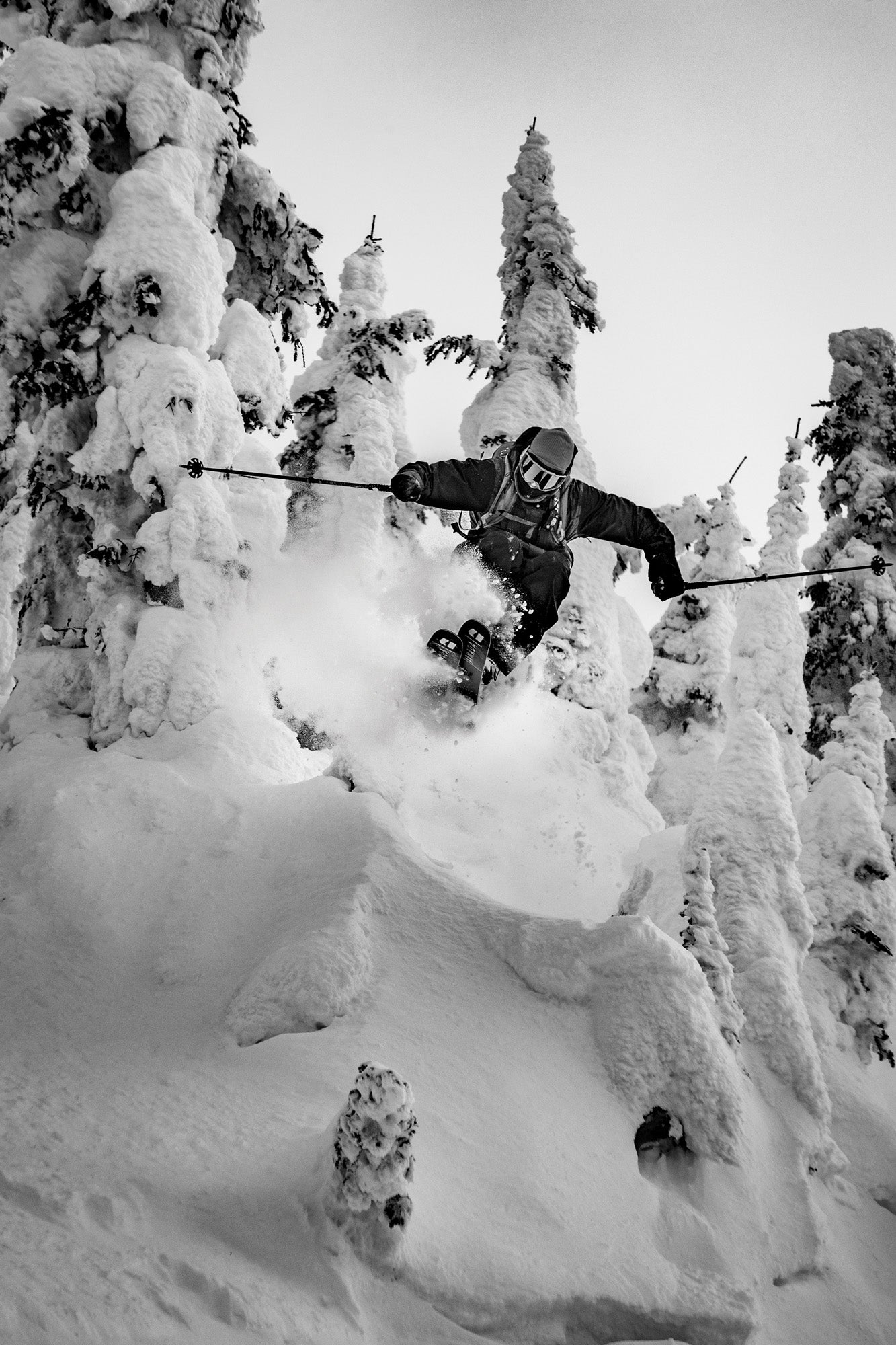 Ready Player One
Is it possible for it to snow too much? We tend to answer that question with a fervent "No!" But when you're a passenger inside a snowcat at Keefer Lake Lodge and it's been coming down for days—to the point that you're limited to low-angle runs and tree stashes due to avalanche concerns—you could give the question a second thought. Or you could just ski the heck out of the endless powder.
Photographer Jeff Engerbretson was along for the ride on one of these classic B.C. storm days when he snapped this shot of freeskier Todd Ligare playfully bouncing through the trees. "Interior B.C. is a playground," says Ligare. "I try to make the pilgrimage north as often as possible to take advantage of the deep pow runs filled with fun features to pop off. It's like a video game out there."
Canon EOS 1D X Mark II body, Canon EF 24-70mm f/2.8L II USM lens @ f/8, 1/1600sec, ISO 400
__________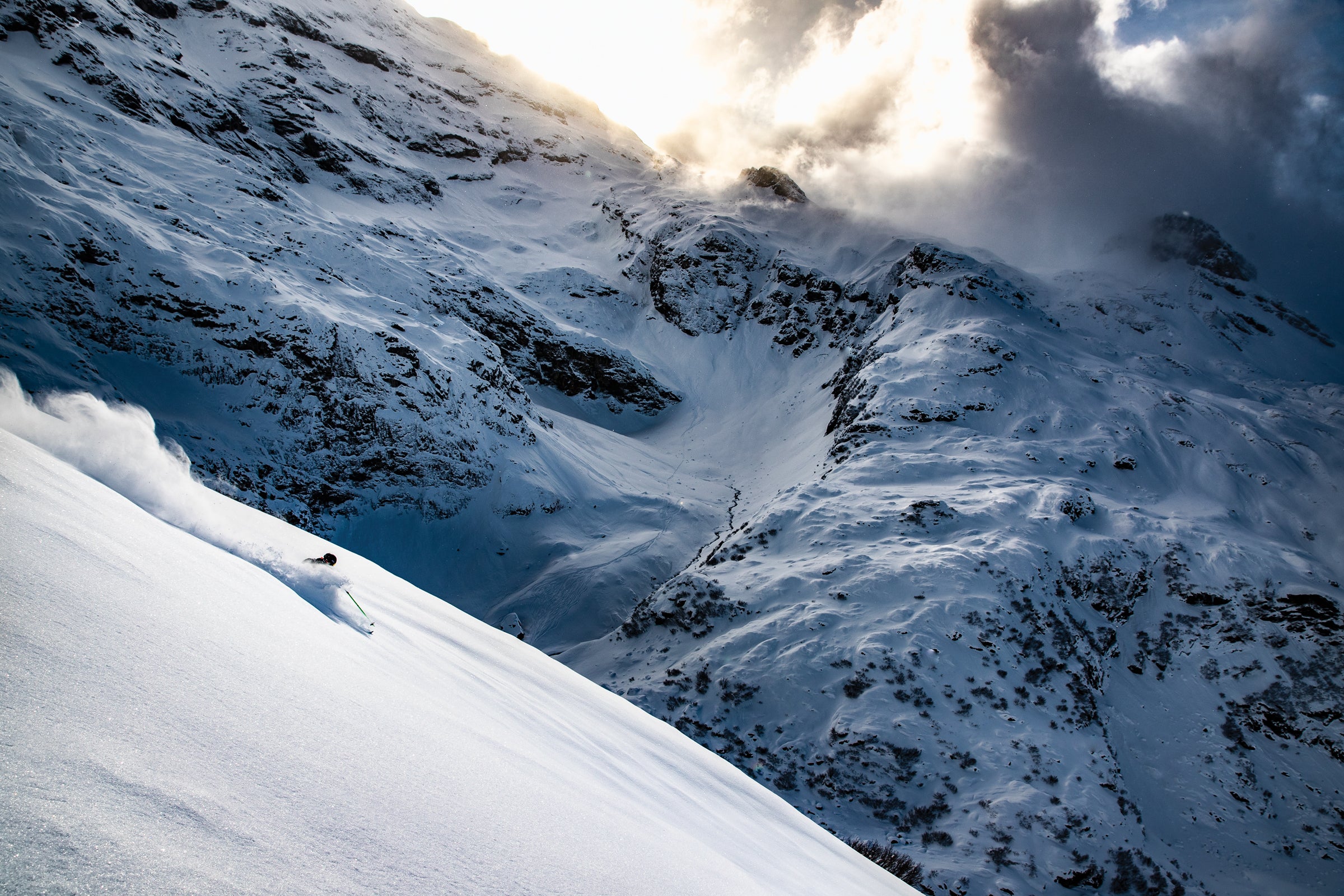 Light Show
Everyone knows that great light is one of the main ingredients in an amazing ski photo. This beauty from Engelberg, Switzerland-based photographer Oskar Enander drives that point home. Snapped in the beginning of the 2019-'20 ski season on the nearly empty slopes of Engelberg, the photo perfectly captures the crispness of the early-season, high-alpine air as it descends on the neighboring valley.
What's more, you can almost feel the cold-smoke powder left in skier Mattias Hargin's wake as he slices down the mountain with precision. "These early-season days are pretty magical with very few people around and great light," says Enander. Indeed, we can see the evidence right here.
Canon EOS 1DX Mark II body, Canon EF 24-70mm f/2.8L IS USM lens @ f/6.3, 1/1000sec, ISO 100
__________
More Stunning Ski Photography
See The Sport Though the Lens of Skiing's First Black Photographer
These Photos from the Tahoe Storm Will Definitely Give You FOMO
Skiers at Snowbird Feast On 8 Feet of Snow