I met Stan Evans in the winter of 1998, when we were on one of our first feature assignments for a new ski magazine devoted to the wild and aberrant freeskiing movement that was just taking off as a ski subculture. This made us misfits by choice, and while I wasn't aware of any other Black ski photographers, it didn't occur to me that there was anything historic about our assignment.
The following winter, Stan organized and produced the first snowboard magazine story featuring all Black riders, shot by a Black photographer. That this had never been done makes it objectively historic, and it stands as a benchmark of winter sports diversity. At the time, however, very little mainstream attention was paid to the quantum gap jump that Stan just helped the sport clear.
So, there's a certain poetry in the fact that I reconnected with Stan last summer, when we worked together on Snowboarder's "Black Issue," which was devoted entirely to the sport's Black history. In the intervening 22 years, Stan's career took off, first in skiing and snowboarding, and then into the commercial stratosphere. Along the way, there were some hard truths won and difficult lessons learned—and you can read all about that here—but a remarkable body of work was created as well.
As part of this month's celebration of Black history, we're happy to share some of that body of work and show you skiing through one of the sport's most original pair of eyes. —Micah Abrams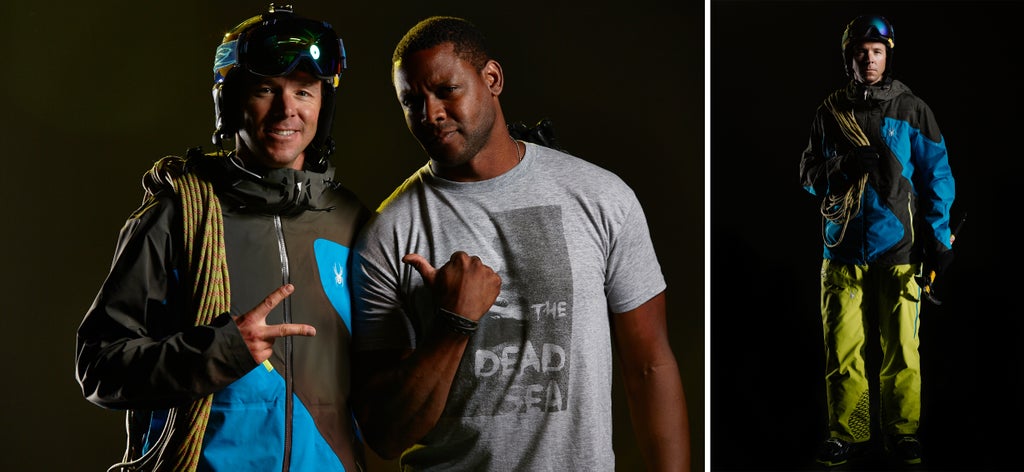 "Chris Davenport is a legend. From Warren Miller and MSP films to his guided trips, he's been an amazing ambassador for winter sports. I was hired for an advertising shoot for Spyder and finally got to spend some quality time with him. He's a pleasure to work with, professional, curious, and funny. I'm thankful that I got to pick his brain and have some personal insight into his long, illustrious career."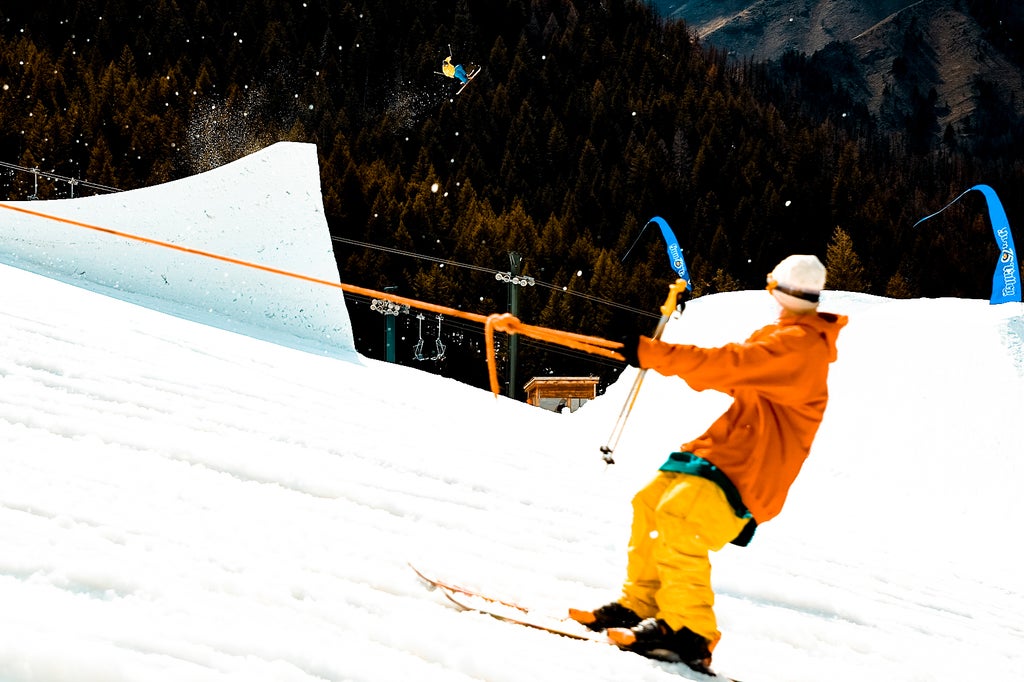 Photo: Stan Evans
"I love this shot of Parker White getting towed. He's checking Chris Logan hit this monster kicker in Sun Valley while filming with Level 1. It's actually pretty amazing no one died on this thing. I ended up getting the cover of the movie Eye Trip later on in the session with Tom Wallisch."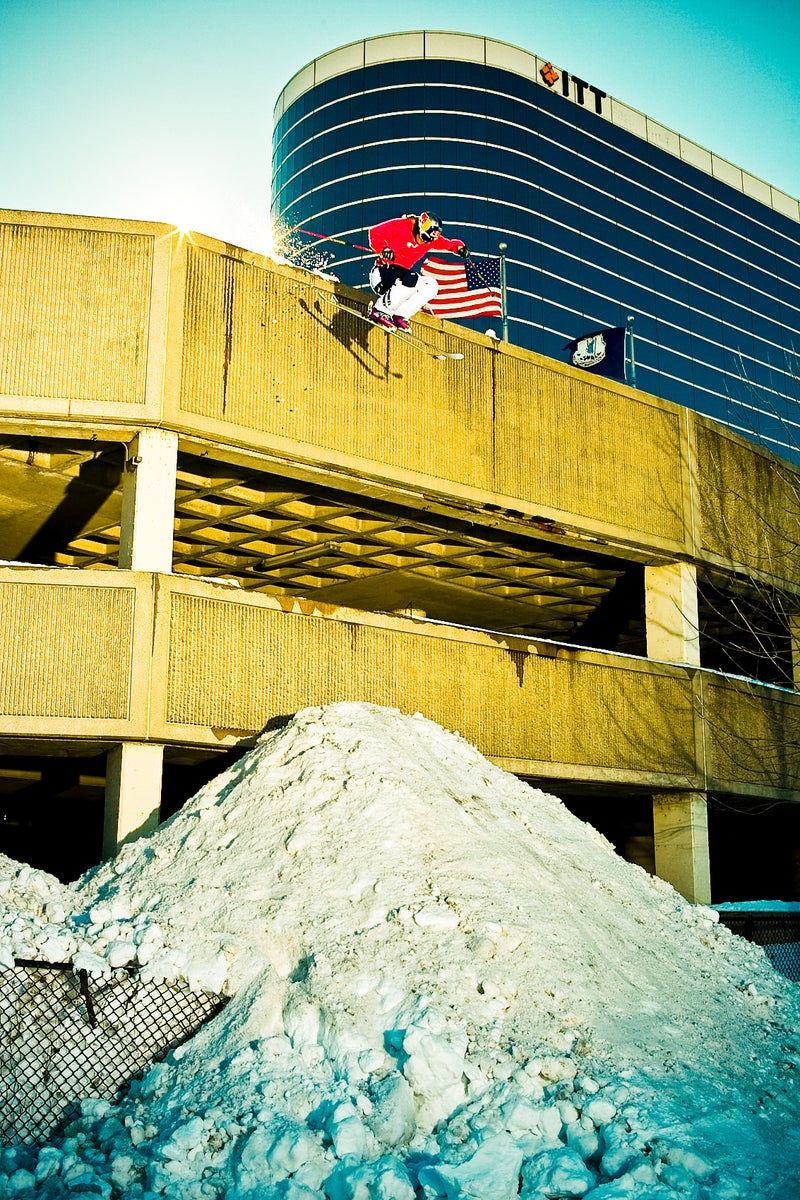 Photo: Stan Evans
"Lots of people overlook the versatility of Grete Eliassen as a skier. While filming Say My Name we went to  Washington D.C. in a blizzard and filmed some of the most unique features I've ever shot. While anyone may be able to hit a kicker or ski a line, it takes a different breed to leap off parking garages."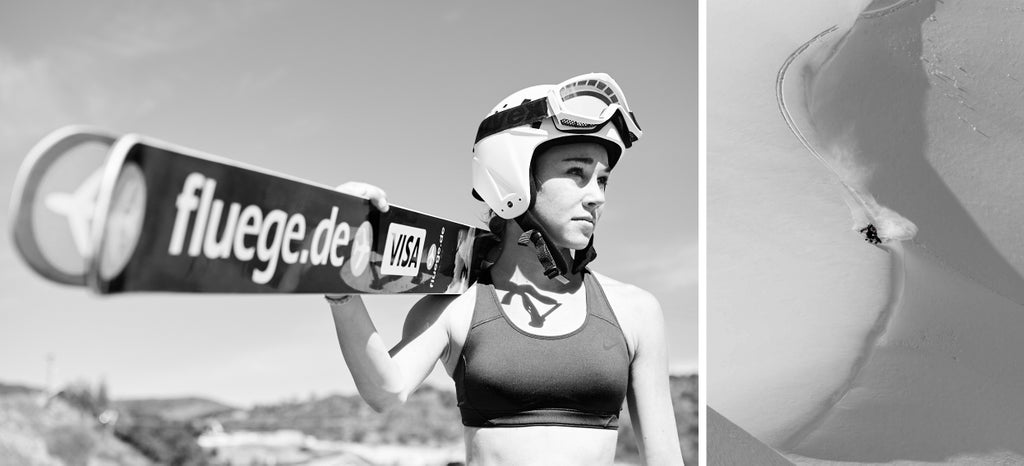 Photo: Stan Evans
Left: "Sarah Hendrickson was shot for Visa/BBDO for their  2014 Winter Olympics Ad campaign. I had to shoot her jumping from the side angle, then run down to the bottom of the landing to shoot from that angle with a 600mm, and shoot portraits in between. In the summertime, sprinklers go off on the landing hill to make it slick for the skis to slide, so I had to sit and get drenched while covering my camera. I was completely soaked but got this portrait for the third and final try."  
Right: "This photo of Eric Pollard was shot for a Dakine ad. It was a strange homecoming, returning to Alaska after so many years, but it was cool to create new memories with a ski crew visiting AK for the first time."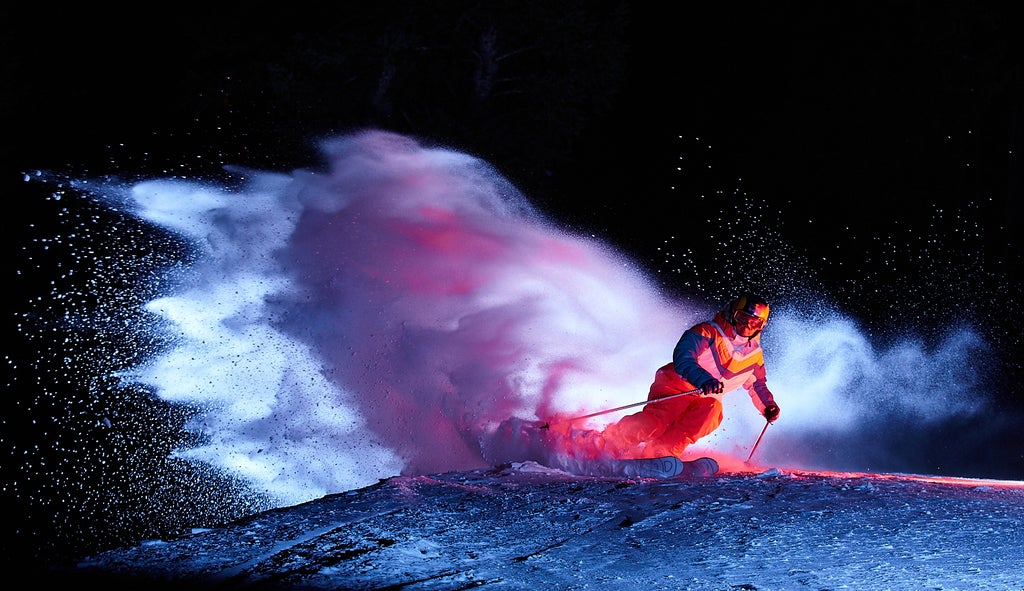 Photo: Stan Evans
"Photography is my first love, and at this point in my career I was getting a little bored with conventional ski imagery. I wanted pop, color, experimentation, and was striving to create some artistic photos. It's these things that capture the mainstream audience and make them curious about winter exploits. I've shot so many kickers and lines that sometimes I want to push the narrative and my imagination."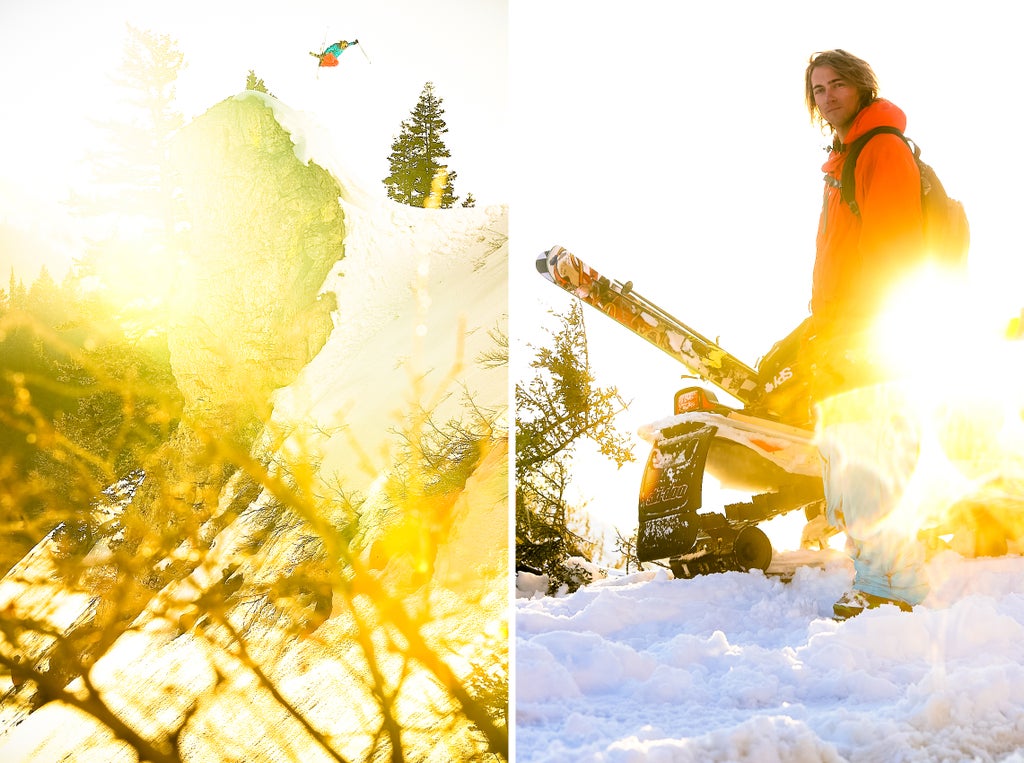 Photo: Stan Evans
Left: "I've always had an eye for strange features and I'd spotted this a few years earlier and shot it with snowboarders Annie Boulanger and Victoria Jealouse. While it's not the gnarliest terrain feature, it has an aesthetic, and coming back to it allowed me to try some new angles and photo techniques. Thanks Austin Holt for the assist." 
Right: "After a long day of sledding, Wiley Miller and I were leaving the canyon just as the sun was setting, creating this incredible light. Backcountry skiing and sledding is incredibly challenging but, once in a while, you get to stop and enjoy the moment."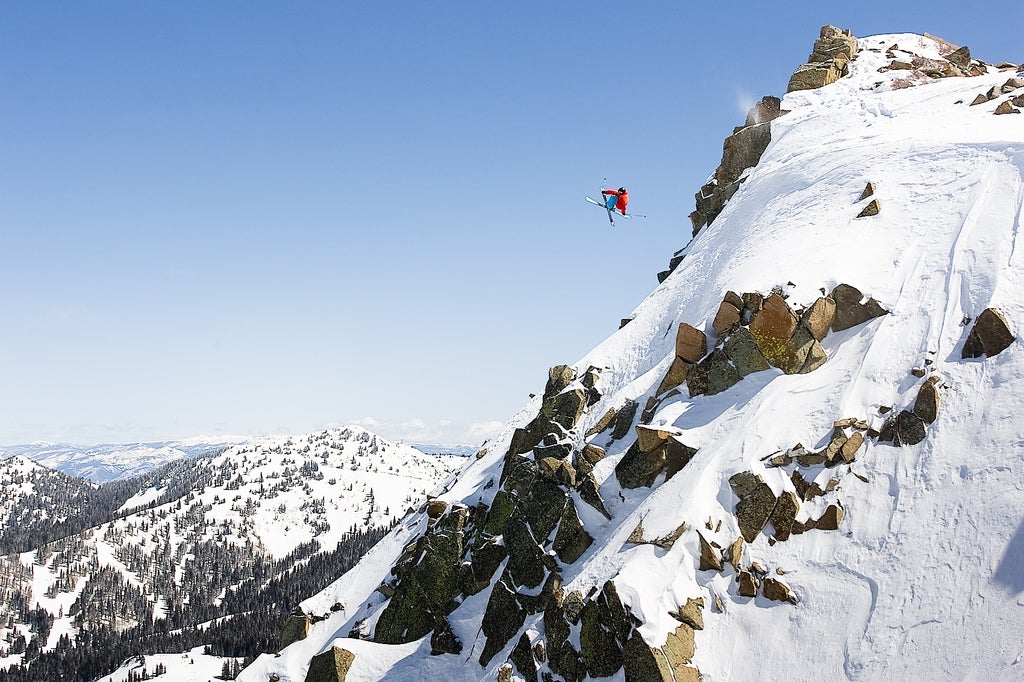 Photo: Stan Evans
"Every so often the effort is worth the reward. Wiley Miller had been telling me about this magical hit that he was sure we'd get a banging photo of. The only catch—it was located out of bounds at Alta, which meant no snowboarding. I hadn't been on skis in about seven years. It was a funny day trying to keep up with professional skiers on their home mountain, but I love a challenge and will do anything for the shot."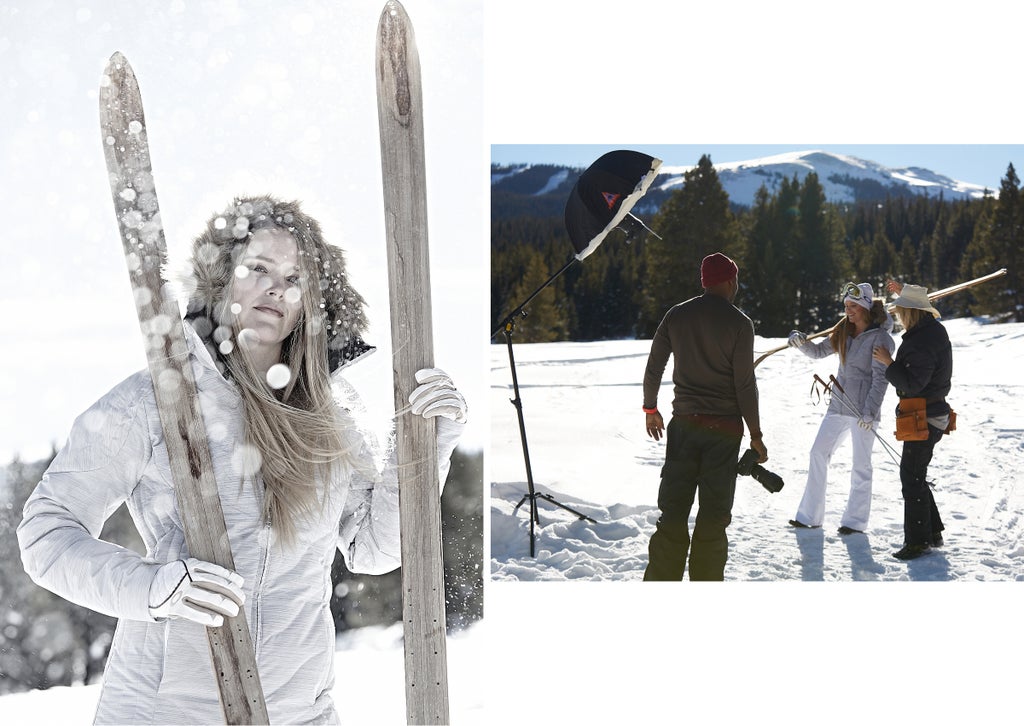 Photo: Stan Evans
"Did I mention Grete was versatile? We worked on a series of mainstream portrait images in her quest to make the Olympic slopestyle ski team. Unfortunately, she missed it by a spot, so these photos never saw the light of day. I really liked them as a different expression of skiing. My goal in winter photography was to be equally adept at studio or action. Any place, any time, any conditions. I feel like these photos are a great representation of that effort. The next day, I was on the hill at Copper shooting her on the slopestyle course. These days I gravitate towards the moments in between rather than just chasing action."