The Best Women's Frontside Skis of 2022: Blizzard Black Pearl 88
If you're looking for a no-nonsense frontside ski that was bred for hard snow, you've found your ride.
Brand:

Blizzard

Model: Black Pearl 88
Overall Ranking: #5
Overall Score: 3.88 / 5
---
---
Specs
Tip / Waist / Tail (mm)
128-88-110
Lengths (cm)
147, 153, 159, 165, 171, 177
Radius (m)
14 (165cm length)
Level
Strong Intermediate to Expert
Core Material
TrueBlend Wood Core
Stability at Speed
4.25 / 5
Quickness / Maneuverability
4.08 / 5
Hard Snow Performance
4 / 5
Crud Performance
4.04 / 5

Holding steady at No. 5 after it was revamped with the brand's TrueBlend wood core last season, the Blizzard Black Pearl 88 is a consistently dependable frontside ride.
Some bemoan its lack of playfulness and forgiveness, a result of the ski's stiffer wood core that's reinforced with carbon and Titanal. But others rave about the Blizzard Black Pearl 88's stability and integrity on hard snow, which inspires confidence when ripping down the fall line.
"This thing looks for speed," says tester Courtney Harkins. "You have to work it to get some energy out of it in the turn, but once you do, it's fun. Isn't quite as playful in the bumps, but killed it on the hardpack."
Thanks to a modicum of tip and tail rocker, this ski can dabble in bumps and trees, but it's just a little stiff to make bump skiing its M.O. However, that dampness is a strength in crud, where the Blizzard Black Pearl 88 actually impressed testers with her ability to mow down clumps of snow. Testers gave it the second-highest scores in Crud Performance because of this.
But there's no arguing that the Black Pearl 88 is a Blizzard through and through, and that means it really shines when asked to lay it over on the groomed. What's surprising about this stiffer, heavier ski is how quick it is from edge to edge. Damp skis can be sluggish, but that's not the case with the Blizzard Black Pearl 88.
"It's really quick from edge to edge and that makes it playful in my mind," says tester Marina Knight. "It also gives you great feedback from the snow."
Knight wasn't the only tester to comment on the Black Pearl 88's ability to coach skiers on good form. Others agreed that it may not be the easiest ski for intermediates to command, but it would make a great teaching tool for skiers looking to grow their skills.
Related: This skill separates the intermediates from the experts
"If you're not well balanced along the length of this ski, the stiff tails will let you know," says tester Wendy Crosby. "I'd recommend these to skiers who ski more than just 10 days a year who would have a chance to get to know these skis and grow into them. These skis give you great feedback on your stance."
Strengths:

Stability at Speed (6th), Quickness (6th)

Weaknesses:

Playfulness (9th), Forgiveness (4th)
Learn More
What's Great (and What's Less Great) About the Blizzard Black Pearl 88
See how it stacks up against the best women's frontside skis of the year
Explore all of Blizzard's award-winning skis
Blizzard Black Pearl 88 – 2021 Women's Frontside Ski Review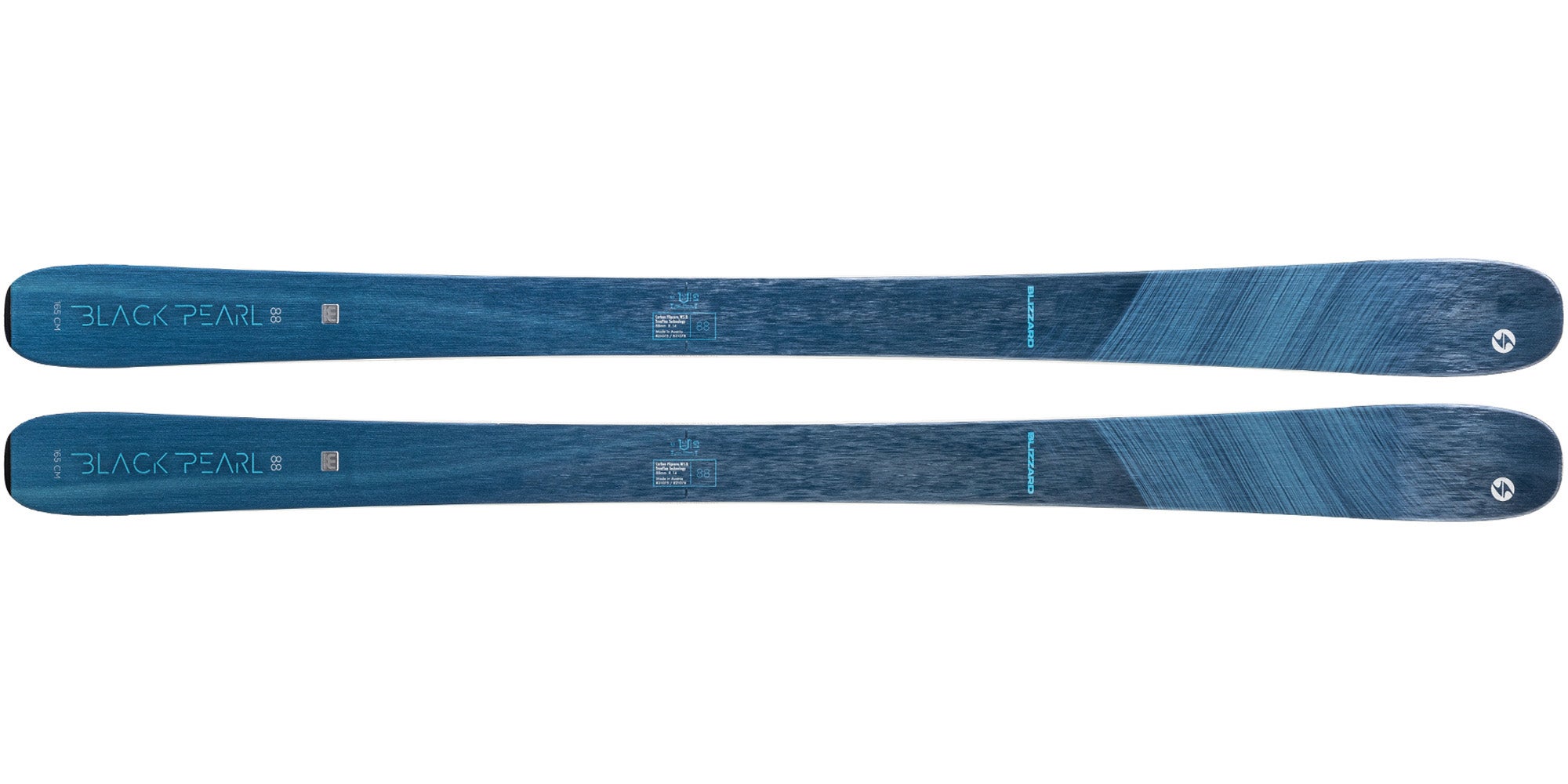 Blizzard significantly revamped the core of its best-selling ski in an effort to give ladies what they were missing from the old Black Pearl 88: more versatility. The new True-Blend wood core includes stringers of denser wood strategically placed underfoot where you want the ski to be stiff, with less density in the tip and tail. The result: a Black Pearl 88 that's still primarily a corduroy destroyer with a need for speed, but one that's more playful and willing to switch up turn shapes and styles. Barnes: "Powerhouse laying arcs. For a strong, get-after-it girl."
Strengths: Stability at Speed, Hard-Snow Integrity
Weaknesses: Crud Performance, Versatility
| | |
| --- | --- |
| 2021 Blizzard Black Pearl 88 Scores | Score out of 5 |
| Quickness | 4.35 |
| Playfulness | 4.3 |
| Forgiveness | 4.15 |
| Hard-Snow Performance | 4.4 |
| Crud Performance | 3.85 |
| Versatility | 4.15 |
Watch: SKI Reviews the 2021 Blizzard Black Pearl 88
Video not displaying correctly? Watch it here.