2023 Blizzard Black Pearl 88 Review
Super-stable planks for strong skiers who know how to steer a ski
Brand:

Blizzard

Model: Black Pearl 88
Overall Ranking: #6
Overall Score: 7.54 / 10
---
---
Specs
Tip / Waist / Tail (mm)
128-88-110
Lengths (cm)
147, 153, 159, 165, 171, 177
Level
Strong Intermediate to Expert
Strengths
Stability at Speed, Hard-Snow Integrity
Weaknesses
Playfulness, Forgiveness
Stability at Speed
8.57 / 10
Quickness / Maneuverability
6.43 / 10
Hard Snow Performance
8.14 / 10
Crud Performance
6.86 / 10
One of the most popular women's skis on the market, the Blizzard Black Pearl 88 showed again why it's beloved. Its confidence-inspiring feel and dependability stood out in the gear test, and its versatility makes it a one-quiver option for many.
Go Deeper: Complete Glossary of Gear Terms and Technology
But while many women skew toward this widely known ski, the Black Pearl 88 is a stiff lady geared toward a stronger skier who can harness its power. With the top score in Stability at Speed and one of the lowest for Quickness, this ski is not super nimble and isn't as easy to ski as you would expect. But put a stronger or more aggressive skier on it, and it rips. "This is a great ski for skiers who can put some effort behind each turn," said tester Courtney Harkins, a former ski racer based in Park City. "If you're not on your turn, it'll ski you. But if you can put the hammer down, it'll rock and roll."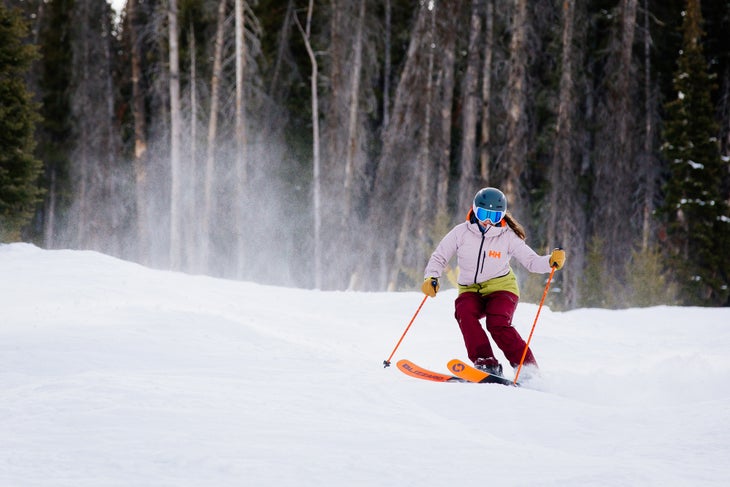 Blizzard uses a blend of beech wood and poplar in the Black Pearl 88, and tailors the placement of the individual wood stringers to the ski's length in an effort to perfect flex and allow for extra playfulness. The heftier and stiffer beech wood resides in the middle of the ski, maximizing stability and creating a tappable power source, while the lighter poplar sits at the tip and tail, making it easier to initiate turns. (Pro tip: Many of the testers said they preferred the shorter lengths, even though they personally tend to select longer skis.)
Testers liked the dampness of the Black Pearl 88 and its ability to rip smooth giant slalom turns on groomers, and they all felt confident that the ski would hold them at any speed. And, like most stiff, burly skis, the Black Pearl 88 is pleasantly predictable and sturdy. "This is a ski for anyone who loves to rip groomers—fast or slow," said Jackson Hole-based tester Lily Krass. "I think it would be a sweet daily ripper for the Rockies and East Coast skiers."
Also Read: How Does the Blizzard Black Pearl 88 Stack Up Against Its Competition?
The ski also nukes over chunder, especially given its wider 88mm waist for a frontside ski, and makes cruddy conditions feel like butter. But its torsional rigidity doesn't play well in bumps and feels heavy in the trees. Testers complained about getting knocked back when they got a little off the middle of the ski.
Overall, it's a stable ride and everyone can ski it, but make sure your legs are feeling strong and you're firing each turn to get your money's worth. "A very fun and stable ski, as long as you stay on top of it," said Harkins.
---
Courtney Harkins grew up ski racing, starting on the icy slopes of New England and finishing at the University of Colorado at Boulder. She now lives in Park City, Utah and works as the Director of Marketing & Communications at the U.S. Ski & Snowboard Team. She also freelance writes and consults in the skiing and Olympic industry. When she's not traveling with the team, her home mountain is Deer Valley Resort, where she loves to arc turns on groomers, but also knows all of the secret spots for days-old powder. Harkins has been testing skis since 2016 and has been a SKI gear tester for three seasons.