2023 Dynastar E-Lite 8 Review
An ideal ski for beginners to gain confidence on hardpack and corduroy
Brand:

Dynastar

Model: E-Lite 8
Overall Ranking: #9
Overall Score: 7.11 / 10
---
---
Specs
Tip / Waist / Tail (mm)
124-75-109
Lengths (cm)
149, 158, 166
Strengths
Quickness, Responsiveness
Weaknesses
Versatility, Crud Performance
Stability at Speed
7.25 / 10
Quickness / Maneuverability
8 / 10
Hard Snow Performance
7 / 10
Crud Performance
6.5 / 10
Dynastar hasn't been on SKI's Top 10 list in a couple of years, but this year the brand once again stood out with the E-Lite 8—a fun little gal that turns on a dime and arcs short turns without a second thought.
Get Educated: Pro Tips on How to Buy Skis
A new addition to Dynastar's E-Lite on-piste collection, the E-Lite 8 doesn't contain any metal and instead sports a hybrid poplar bidirectional core—the same wood core that is in many of Dynastar's race-oriented skis. Our testers with racing backgrounds said that this ski feels incredibly similar to a slalom ski. Short and whippy, it has plenty of snap and energy at the end of its turns, and it  immediately dives into the following turn to keep on trucking.
It's fast as all get-out, tying for second place in the Quickness category and taking fourth in Responsiveness. Anything you tell this ski to do, it does, and does it happily. "This little ski crushed turns and did everything I told her to do," said tester Courtney Harkins. "She hammered any and every size of turn and I enjoyed every second of it."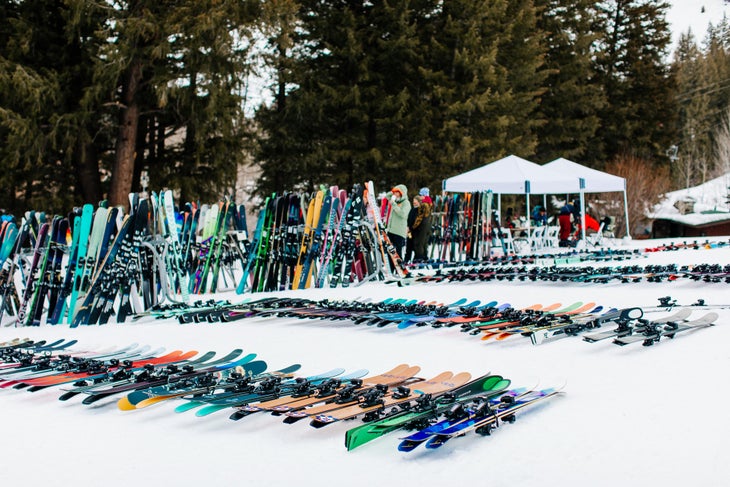 The ski prefers to stay on the groomers, though. It's just a little too soft to take it into the trees and moguls without it bouncing you around. It also doesn't have the hard-snow integrity of some of the other skis in the test—so keep it on the softer groomers for the best possible outcome.
All of the women testing the ski were a little disappointed with the entered ski's length topping out at a shorter 158cm, but were pleasantly surprised by the ski's stability considering its smaller stature. "The ski was short, but didn't feel as short as it was," said tester Abby Ghent. "Easy to turn ski that's quite stable. It's a fun little ripper."
Go Deeper: Here's How the Dynastar E-Lite 8 Compares to Its Closest Competition
Verdict: It's a fun ski for any beginner to intermediate skier who is looking to work on her turns and build her skills on the hardpack, and it might even inspire her to jump into a NASTAR course to enact her ski racing fantasies.
"Pleasantly surprised with the stability on this fun, snappy, energetic ski," stated tester Tracy Gibbons. "Great for those who like to ski on the groomers and make nice fall-line carved turns."
---
Courtney Harkins grew up ski racing, starting on the icy slopes of New England and finishing at the University of Colorado at Boulder. She now lives in Park City, Utah and works as the Director of Marketing & Communications at the U.S. Ski & Snowboard Team. She also freelance writes and consults in the skiing and Olympic industry. When she's not traveling with the team, her home mountain is Deer Valley Resort, where she loves to arc turns on groomers, but also knows all of the secret spots for days-old powder. Harkins has been testing skis since 2016 and has been a SKI gear tester for three seasons.