2023 Elan Wildcat 86 C Black Edition Review
A true frontside ski made for all levels of skiers to improve their carving prowess
Brand:

Elan

Model: Wildcat 86 C Black Edition
Overall Ranking: #3
Overall Score: 7.89 / 10
---
---
Specs
Tip / Waist / Tail (mm)
127-86-113
Lengths (cm)
152, 158, 164, 170
Level
Intermediate to Expert
Strengths
Carving, Quickness
Weaknesses
Forgiveness, Crud Performance
Stability at Speed
7.83 / 10
Quickness / Maneuverability
8.33 / 10
Hard Snow Performance
7.67 / 10
Crud Performance
6.33 / 10
This feline of a ski lives up to the name 'Wildcat." As soon as testers snapped into the bindings, the Elan Wildcat 86 C Black Edition attacked every turn on the mountain with its fierce carving ability to the delight of testers.
Read Up: Carving vs. Frontside Skis, What's the Difference?
Elan released two versions of its 86mm-waisted skis for the 2022-'23 season: the Wildcat 86 CX and the Wildcat 86 C Black Edition. The main difference is that the Black Edition comes with all-black graphics, as well as a significant carbon upgrade that gives the ski more power and performance. The best way to describe it is that the Wildcat 86 CX is a five-speed daily driver and the Black Edition is a seven-speed all-performance sports car.
Back to the Wildcat 86 C Black Edition, the all-performance sports car it was: The ski seems to vibrate with energy as it dives into every turn and performs at a variety of speeds and conditions. It rips up steep and icy pitches, but also loves to slash around three-day-old powder bumps and spring break crowds. "I was surprised at how well-balanced and energetic this ski felt," said tester Michelle Nicholson, a ski patroller from Jackson Hole. "It's a great groomer ski, but held up well in the crud and chunder."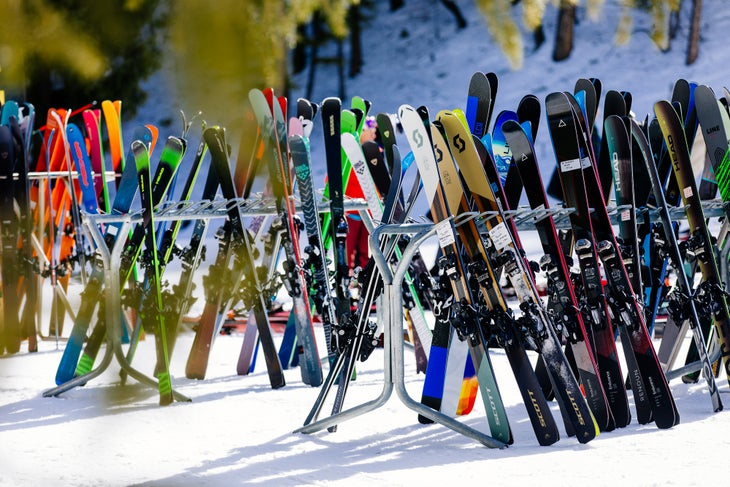 There's no metal in this ski, but there is that previously mentioned carbon upgrade in the Wildcat 86 C Black Edition's core called Quadrod. Elan added two additional carbon rods to the already-there carbon woodcore. The rods align to the front and tail of the ski to give it more horsepower and strength, along with flex. It means the ski is a little softer than some of its category competitors, but it still holds you throughout your turn. "A beautiful carving tool that pulls you into a turn and sets railroad tracks for you," said SKI Test Director and tester Jenny Wiegand.
The ski performs well at a variety of speeds and turn sizes, but excels at medium to high speeds, indicating that the ski would be best suited for intermediate to advanced skiers who like to go fast. However, given its nimbleness, someone who considers themselves more of a novice would do just fine on the Wildcat 86 C Black Edition and could grow with the ski.
Go Deeper: Find Out How the Elan Wildcat 86 C Black Edition Stacks Up Against the Competition
On the negative side, a few testers said that this ski tends to get a little chattery when pushing the accelerator on firmer snow, and that the ski can buck you around a bit in the bumps if you don't stay centered. Plus, it's a hair pricier than many of its competitors, but then again, it has Swarovski crystals embedded in the topsheet. Three cheers for bedazzlement on this badass kitten. This is a boundless all-level groomer ski with a ton of energy to be found on all terrain.
---
Courtney Harkins grew up ski racing, starting on the icy slopes of New England and finishing at the University of Colorado at Boulder. She now lives in Park City, Utah and works as the Director of Marketing & Communications at the U.S. Ski & Snowboard Team. She also freelance writes and consults in the skiing and Olympic industry. When she's not traveling with the team, her home mountain is Deer Valley Resort, where she loves to arc turns on groomers, but also knows all of the secret spots for days-old powder. Harkins has been testing skis since 2016 and has been a SKI gear tester for three seasons.