2023 Fischer Ranger 96 Review
The Ranger 96 is an approachable and fun do-it-all ski
Brand:

Fischer

Model: Ranger 96
Overall Ranking: #8
Overall Score: 7.07 / 10
---
---
Specs
Tip / Waist / Tail (mm)
129-97-120
Lengths (cm)
159, 166, 173, 180, 187
Level
Intermediate, Advanced
Strengths
Quickness (#4), Responsiveness (#7)
Weaknesses
Flotation (#12), Hard-Snow Integrity (#12)
Stability at Speed
7.1 / 10
Quickness / Maneuverability
7.5 / 10
Hard Snow Performance
6.7 / 10
Crud Performance
7.3 / 10
The Ranger line has been a strong performer for Fischer over the last several years, so it was a surprise for testers to see a completely redesigned Ranger 96 at the ski test this year. Fischer spent over 30 months overhauling the Ranger line, and it paid off. Testers found the Ranger 96 to be a balanced option for skiers looking to spend equal amounts of time on and off-piste regardless of conditions. "The 96mm-width is the ideal 'I ski everywhere' dimension," said tester Adam Jaber, an East Coast skier. "I felt totally capable on it regardless of the conditions."
Related: What Ski Designers Mean By 'Metal,' and Why It Matters
Testers most appreciated the Ranger 96's quickness and responsiveness, traits that can largely be attributed to Fischer's shaped Ti construction, which uses different thicknesses and shapes of high strength alloy depending on the ski's geometry to provide optimal grip and stability for all-mountain skiing. Tester Otto Gibbons points out that this construction technique is what allows the Ranger 96 to "contour with variable snow" and still manage to "offer a strong balance of stability and maneuverability."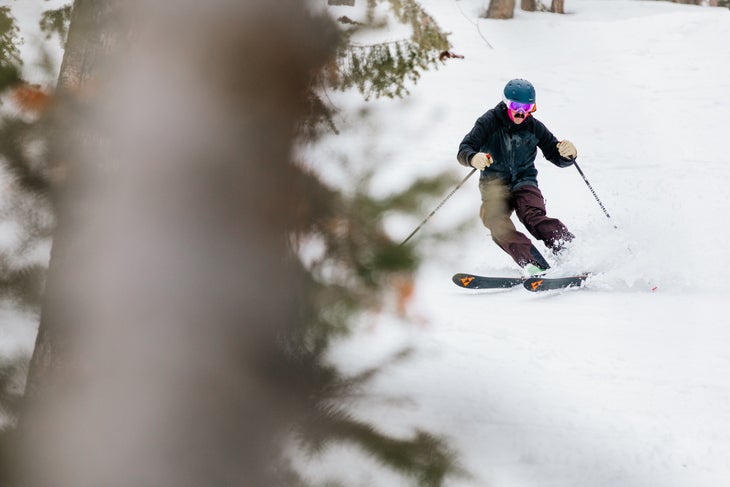 Not only is the Ranger 96 adaptable to variable terrain, but also to different skier ability levels. Testers were confident that the Ranger 96's predictable nature would allow intermediates to ski confidently; when driven by a more advanced skier, this ski comes to life and offers lots of energy and rebound out of each turn.
But at its core, most testers described the Ranger 96 as an easygoing ski, not one of the more aggressive all-mountain chargers of the category. "It's  a laid-back ski for those who like to play in the crud and loose snow," said tester Chad Jacob, a race coach from New York. Thanks to Fischer's Freeski Rocker the Ranger 96 can (and should) be skied from a more modern neutral stance, making it a great choice for skiers with a more relaxed and playful style. Aggressive skiers who are used to driving their skis from the front of their boots might find they easily overflex and overpower this ski, especially in the shorter lengths.
Also Read: Here's How the Fischer Ranger 96 Performed Against the All-Mountain Competition 
Tester Nick Loomans, a former racer, didn't think the Ranger 96 were aggressive enough for him or for others with his skiing style. "Really aggressive skiers and former racers would be left wanting a little more out of the carving aspect," he said. Other testers agreed that this ski wasn't one of the top performers in the Hard-Snow Integrity department, since it didn't seem as at home on edge on firm snow.
But the lack of aggressiveness in these areas was also seen as a positive by several testers who identified the Ranger 96 as being more accessible to novices. What the Ranger 96 lacks in edge performance on firm snow it makes up for in its ability to skis and slash the exit of a turn, qualities that earned it high scores in Quickness and Playfulness.
This makes the Ranger 96 particularly appealing to skiers who are still working on their skills on and off the groomed, as well as more advanced skiers who prioritize playfulness and agility over stability and power in an all-mountain ski. "Could happily grab this ski, fly anywhere, and have a good time," summed up tester Otto Gibbons, an expert skier and ski buyer for Sturtevant's Ski Shop in Bellevue, Wash.
---
A self-proclaimed gear nerd when it comes to skis and mountain bikes, Jon Sexauer grew up skiing in Northern California, spending the majority of his time getting loose and sendy in terrain parks. He now lives in Colorado and calls Copper Mountain his home hill. Though he still gravitates towards playful and wide all-mountain skis, he's developed a more open mind when it comes to skis since joining SKI's official gear test crew five seasons ago. These days, you'll find him ripping around Copper on his trusty Nordica Enforcer 100s.