The Best Women's Powder Skis of 2022: Nordica Santa Ana 110 Free
Ski the deep up top and still manage the skied-out lower slopes with confidence.
Brand:

Nordica

Model: Santa Ana 110 Free
Overall Ranking: #3
Overall Score: 4.11 / 5
---
---
Specs
Tip / Waist / Tail (mm)
138-110-127
Lengths (cm)
161, 169, 177
Radius (m)
14.5 (161cm length)
Core Material
Wood, Terrain Specific Metal
Stability at Speed
4.50 / 5
Quickness / Maneuverability
3.89 / 5
Hard Snow Performance
3.56 / 5
Crud Performance
4.22 / 5

A powder staple, the Nordica Santa Ana 110 Free continues to impress testers with its amazing versatility. You can throw pow, crud, or frozen crust at it and it will plow over and through it without hesitation.
See how it stacks up: The best women's powder skis of 2022
When Nordica reduced the amount of metal in its women's skis and instead added a layer of its Terrain Specific Metal, the brand did all ladies a huge favor. The pared-down Santa Ana 110 Free is now more playful and approachable to intermediate women, without sacrificing performance for expert ladies who still want to shred at speed.
"These are just great all around skis," notes tester Courtney Harkins. They're easy to get to come around no matter your turn shape and bust through crud and pow without a second thought."
A waist of 110mm isn't fat by any stretch, but it's enough to keep you afloat on all but the biggest powder days, and that waist width makes skiing the groomers back to the lift not only doable, but fun. As our testers put it, you can ski the deep up top and still manage the skied-out lower slopes with confidence.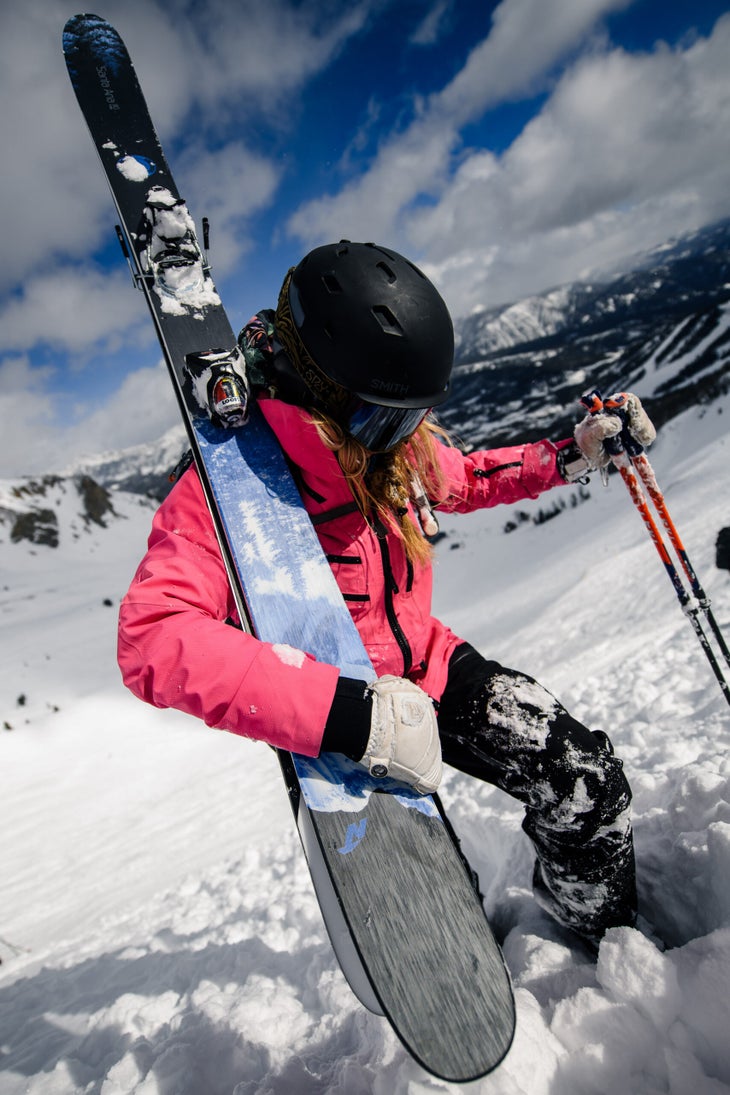 And despite the generous tip and tail rocker, which reduces the amount of edge that makes contact with the snow, the Nordica Santa Ana 110 Free earned a high score in the Stability at Speed department.
Where the Santa Ana 110 Free is lacking is in the Forgiveness department. Though this Santa Ana features less metal in the core than the narrower Santa Ana models, testers still called it slightly burly for a powder ski, noting that it's slower to respond and a little more cumbersome in tight spots than they'd like.
"A little tank-like for a powder ski," comments Utah-based tester Marina Knight. "Burly and stable but not exactly playful."
The Nordica Santa Ana 110 Free may not be the dedicated powder plank Western skiers will reach for on a mega pow day, but ladies who want a reliable wide-waisted ski to tackle resort powder days would be remiss if they didn't give this ski a long, hard look. It's not the surfiest, but it's one of the most versatile deep snow skis out there.
Says tester Tracy Gibbons: "Ski the deep up top and still manage the skied-out lower slopes with confidence."
Strengths: Stability at Speed (2nd in category), Versatility (2nd)
Weaknesses: Forgiveness (6th), Playfulness (6th)
Learn More
Nordica's Best Products for this Season and Beyond
If you're not having fun in powder, you're doing it wrong
Discover more 2022 Gear Guide coverage