2023 Völkl Blaze 106 W Review
With a more moderate waist, this is the ski for East Coast pow hounds and those of us who live in reality
Brand:

Völkl

Model: Blaze 106 W
Overall Ranking: #8
Overall Score: 6.47 / 10
---
---
Specs
Tip / Waist / Tail (mm)
146-106-128
Lengths (cm)
158, 165, 172, 179
Level
Intermediate, Advanced
Strengths
Forgiveness (#6), Quickness (#4)
Weaknesses
Crud Performance (#8), Stability at Speed (#8)
Stability at Speed
5.4 / 10
Quickness / Maneuverability
7.6 / 10
Crud Performance
5.4 / 10
Powder is for the people, and no ski reminds us of that more than the ultra-playful Völkl Blaze 106 W. The Blaze 106 W returns this season unchanged, keeping the quick and zippy feel that testers fell in love with last year.
An accessible powder ski, the Blaze 106 W is more nimble than the stable and chargy skis that have given Völkl its race-oriented reputation. Unlike some of the other skis we tested in the powder category, this ski is friendly and accessible enough for new powder skiers to feel confident all over the hill. The wide 146mm shovel allows the Blaze to float surprisingly well considering its only 106mm underfoot, and ample tip rocker makes turn initiation a breeze in the trees. "I was pleasantly surprised by the ease of swinging it around quickly in tight trees," said tester Erika Northrop. "Be ready for lift lines to get even longer on powder days with this ski turning beginners into pros."
Read more: 4 Pro Tips to Make Powder Skiing Fun, Not Exhausting
The nice thing about the Blaze 106 W is that for all its rocker, it does still feature traditional camber underfoot (unlike its predecessor, the Völkl 100Eight). This means it's got enough effective edge to hold on firmer snow when you're moving from the back bowls to the lift line—you don't just have to windshield-wiper your way down the groomers. Völkl's 3D Radius Sidecut also makes it easy to switch up turn size when conditions change. "With a very low swing weight and wide shovel, it's a great ski for anyone looking for maneuverability all over the mountain," opined tester Jordan Berde.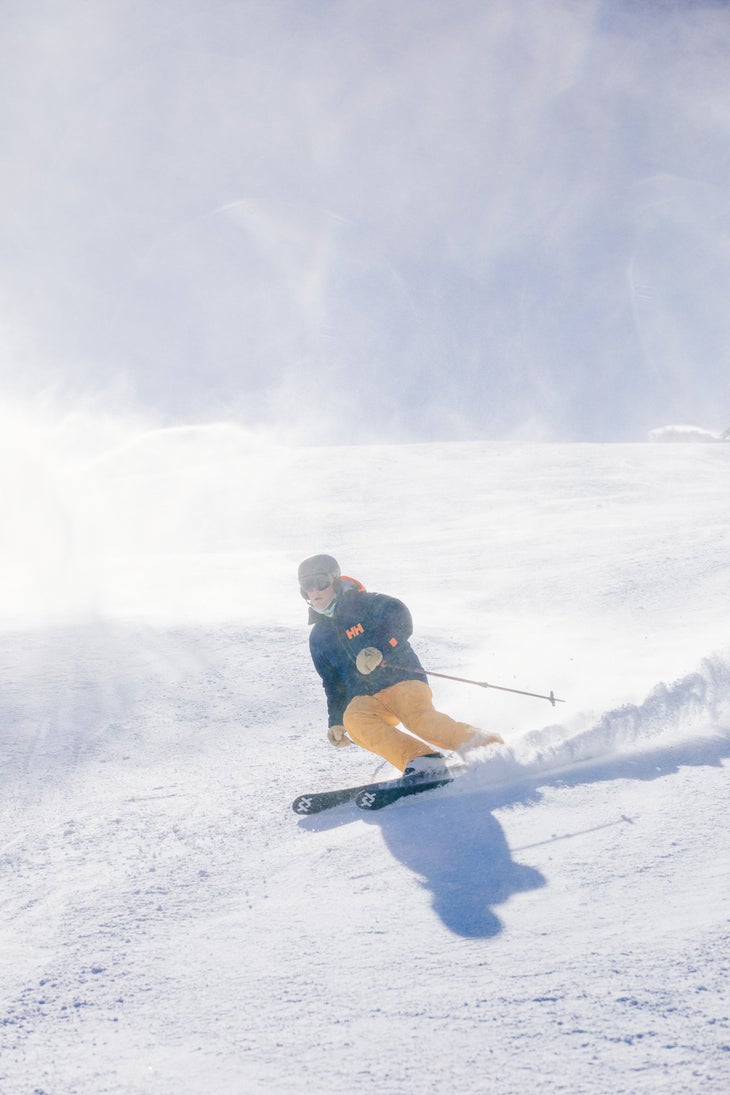 Like any good powder ski, the Blaze 106 W is happiest with fresh snow underneath it. Its shortcoming is heavier snow. Testers noted that the lightweight construction felt unstable when navigating cruddy slopes at the end of the day and gave it lower marks in Crud Performance and Stability at Speed, accordingly. "Would like to see more shock absorption when going from soft snow to hard," added Northrop. Tester Lily Krass added that she "got a bit tossed around in chunder," and wouldn't recommend it as a one-quiver ski for that reason.
Get powder-skiing tips straight from Ann Schorling in Go Deep: How to Ski Powder on Outside Learn.
If you're looking to charge, you might want to opt for something with more metal in it, like the Völkl Mantra. The Blaze 106 W is ideal for relaxed skiers who like to swoosh wide-open powder fields, and zip through slush bumps and tree alleys. Save for a Titanal plate underfoot, the Blaze is metal-free, keeping things light and nimble, with the aforementioned sacrifice in stability and power. Still, testers felt the tradeoff is worth the approachability of this ski.
"This is a solid choice for an intermediate to advanced skier who enjoys cutting up steep, manicured runs on a powder day," concluded Garrett. "Although this ski performs well in deeper snow, it feels at home in lighter storms. Great ski for a powder day cruise or an East Coast powder chaser."
Lily Krass is a freelance ski journalist based in Jackson, Wyoming with work featured in SKI Magazine, Powder Magazine, Freeskier, Teton Gravity Research, and Ascent Backcountry Snow Journal. She spends winters backcountry skiing in Grand Teton National Park and riding lifts at Jackson Hole Mountain Resort, with the occasional trip to the Alps (for the food, obviously). While she's been in ski boots since she learned to walk, Lily has been professionally writing about skiing, gear, and all things outdoors for the past seven years. In addition to an all-consuming addiction to powder skiing mixed with heavy doses of Type II fun, Lily takes snacking seriously, and when she's not writing or sliding on snow, she's likely deep into a baking project in her tiny kitchen. She is the co-author of Beyond Skid: A Cookbook For Ski Bums, a collection of dirtbag-friendly recipes inspired by life in a mountain town.