2023 Völkl Kendo 88 Review
A slight change in construction makes the new Kendo 88 more accessible and more fun
---
Specs
Tip / Waist / Tail (mm)
129-88-113
Lengths (cm)
163, 170, 177, 184
Level
Strong Intermediate to Expert
Strengths
Hard-Snow Integrity (#4), Stability at Speed (#2)
Weaknesses
Forgiveness (#8), Playfulness (#6)
Stability at Speed
8.22 / 10
Quickness / Maneuverability
7.67 / 10
Hard Snow Performance
8.22 / 10
Crud Performance
6.67 / 10
For years, the Völkl Kendo has been known as a hard-charging and stiff ski, but this season our testers got a chance to see the other side of its personality. While it still hunts for speed and power, Völkl's Tailored Titanal Frame technology, which reduces the amount of metal in the ski based on its length, allows this year's model to show off its playfulness. It's a refreshing change for advanced skiers, and it also welcomes a more intermediate crowd to the Völkl community.
Related: Not All Ski Cores Are Created Equal. Here's What You Need to Know.
Don't get us wrong—this ski is still damp, allowing a more advanced skier to find its energy out of a turn when dropping a hip on hardpack. "It feels like a race-charger," said tester Chad Jacob, a race coach from New York. "Very damp and fun—a classic ripper," agreed tester Tommy Flitton, who coaches freeride teams at Snowbird and Alta. While these are expected comments to describe a Völkl ski, the test crew's notes this year took on a surprising tone: There was energy in these skis.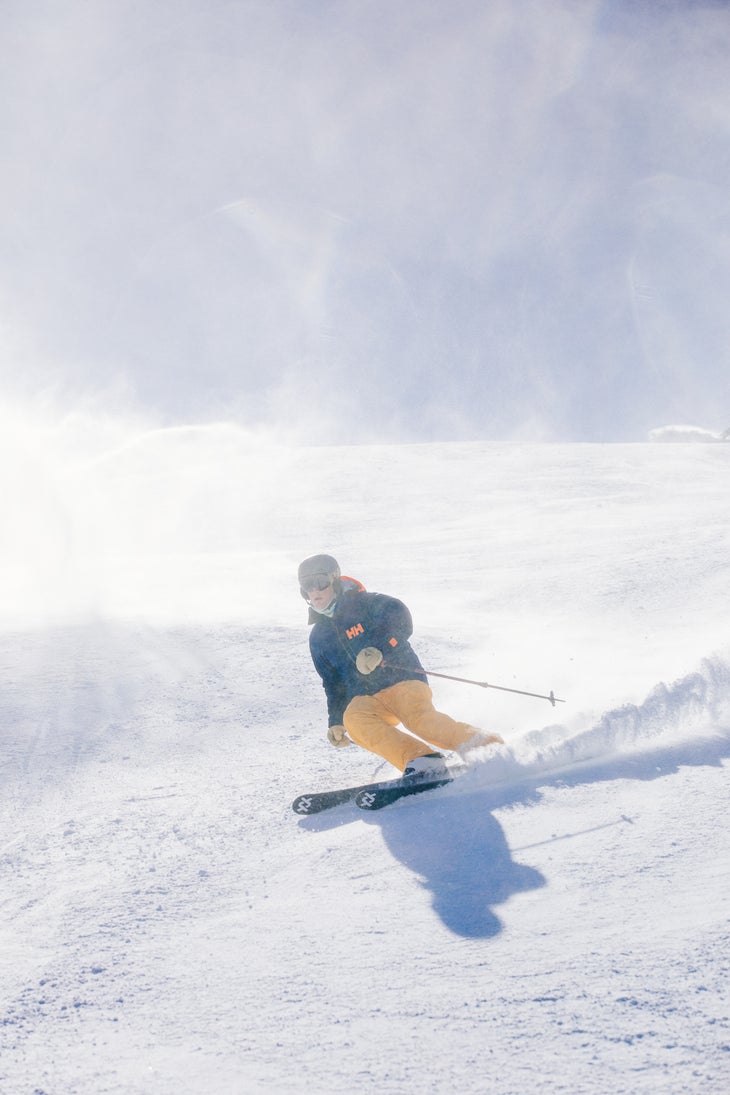 Over the last year, Völkl has been focusing on improving the Kendo 88's handling to find that pop and zing so many skiers desire. Specifically, they tailored the amount of metal to each ski length, which customizes the dampness—meaning the longer your ski, the stiffer it will be, while shorter skis have less stiffness. Now it doesn't mean that the ski isn't damp—it's not particularly forgiving—but with the right ski length selection, the ride offers play, power, and speed in one fell swoop.
With past complaints focused on the Kendo 88's long turn radius that performed medium-to-long turns exclusively, Völkl also tuned down the ski's center radius, which helped make this ski a touch more agile than in years past. This meant that testers actually enjoyed taking the Kendo 88 into the trees and softer conditions—terrain and conditions one tended to avoid on the old Kendo 88. Given its dampness, the ski still requires some attention in that mixed terrain, but testers agree it's now much more fun and maneuverable than past iterations.
Also Read: Here's How the Volkl Kendo 88 Compares to the Competition
Völkl also updated the Kendo 88's tip this year, putting in carbon fiber strands along the energy transfer lines. This process lessened the amount of carbon in the tip from previous versions of the ski, which used to make the ski feel planky. With this new technology, it's easier to initiate turns and tip this ski on edge.
The ski looks like an all-mountain ski versus a traditional groomer ride, but testers agreed that the Kendo 88 likes the hard snow the best, as it lacks some mercy in the crud. "On groomers this thing rips, but with an 88 waist there's enough ski to allow for some dabbling off-piste from time to time," said tester Jon Sexauer. "But it's not the most forgiving ski around."
But on groomers, the Kendo's new personality really shines. "This is a good ski for the masses," said Flitton. "It's not overly stiff, but meant for a skier who wants to go fast and not slow down for nothin'."
---
Courtney Harkins grew up ski racing, starting on the icy slopes of New England and finishing at the University of Colorado at Boulder. She now lives in Park City, Utah and works as the Director of Marketing & Communications at the U.S. Ski & Snowboard Team. She also freelance writes and consults in the skiing and Olympic industry. When she's not traveling with the team, her home mountain is Deer Valley Resort, where she loves to arc turns on groomers, but also knows all of the secret spots for days-old powder. Harkins has been testing skis since 2016 and has been a SKI gear tester for three seasons.