2023 Völkl M6 Mantra Review
Power and precision are the name of the game with this tried and true favorite
Brand:

Völkl

Model: M6 Mantra
Overall Ranking: #3
Overall Score: 7.32 / 10
---
---
Specs
Tip / Waist / Tail (mm)
135-96-119
Lengths (cm)
163, 170, 177, 184, 191
Strengths
Hard-Snow Integrity (#2), Crud Performance (#2)
Weaknesses
Playfulness (#21), Forgiveness (#24)
Stability at Speed
8 / 10
Quickness / Maneuverability
6.67 / 10
Hard Snow Performance
8.33 / 10
Crud Performance
7.67 / 10
There aren't many surprises with the Völkl M6 Mantra: As you'd expect, it's a dependable, burly ski that can attack the entire mountain. Testers were impressed with how versatile the Mantra M6 is, whether pushing the limits on groomed terrain or playing in soft and variable snow off-piste. There was some trepidation amongst the test crew who know the M6 Mantra well about how accessible this ski would be for less advanced skiers, but in the end this ski's supreme versatility outweighed those concerns.
Ask the Experts: What Ski Designers Mean By 'Metal,' And Why It Matters
At 96mm underfoot, the M6 Mantra feels at home in a wide variety of conditions and terrain, with testers ranking it in the Top 3 for Crud Performance, Hard-Snow Integrity, Flotation, and Versatility. Tester Nick Loomans called the M6 Mantra an "aggressive frontside groomer ski," and tester Chad Jacob, a race coach from New York, agreed that "firm snow is no problem." David Amirault, a 5'5", 125 lbs tester from Utah, found the M6 Mantra to be a little stiff for him personally, but called out its versatility nonetheless: "Crud, groomers, slop. This baby is hungry for it all."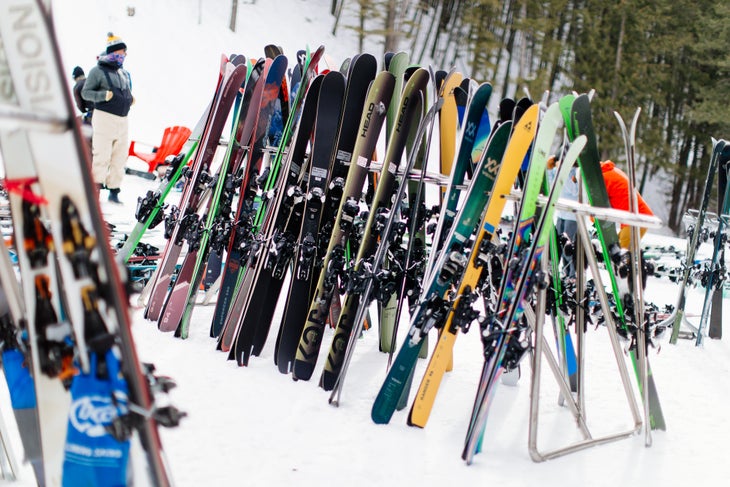 For the 2023 models, Völkl kept the same multilayer wood core in the M6 Mantra, but tailored the Titanal frame to the specific ski length to match the ski's stiffness and agility to its length. This construction change, combined with Völkl's 3D Radius sidecut—where the ski has longer radii in the tip and tail and a shorter radius underfoot—is designed to make the ski more agile, responsive, and adaptive to different skiing styles.
Testers still wouldn't call the M6 Mantra the quickest or most nimble ski out there, but they did notice a big change in how much more approachable the ski becomes when you size down. Because the shorter lengths of the M6 Mantra feature a narrower Titanal frame, they're noticeably less stiff and more energetic. Testers who tried the 170cm and 177cm lengths said the ski felt much more approachable, even for proficient intermediate skiers. Yet the same ski in a longer length allows advanced skiers to push their limits, which is something to keep in mind if you're eying this ski.
Go Deeper: See How the Volkl M6 Mantra Stack Up Against the Competition
Regardless of length, the M6 Mantra begs to be skied fast on and off-piste; when you cruise at more moderate speeds, the ski can feel sluggish and planky. Power is the name of the game with the M6 Mantra. The ski is burly enough to let you carve on firm groomers and dependable enough to attack crud and variable terrain with confidence, but it forces you to stay on top of them. Several testers commented that you cannot let yourself get into the backseat with this ski—if you do, it's game over, you're no longer in control of your skiing—which explains the ski's lowest marks in Forgiveness and Playfulness.
Long story short: The only downside to the M6 Mantra is how demanding it can be for smaller and less aggressive skiers. Otherwise, its performance scores and ranking speak for themselves. "It's a strong, confident charger that will reward you with smiles if you can push it," summed up Jacobs.
---
A self-proclaimed gear nerd when it comes to skis and mountain bikes, Jon Sexauer grew up skiing in Northern California, spending the majority of his time getting loose and sendy in terrain parks. He now lives in Colorado and calls Copper Mountain his home hill. Though he still gravitates towards playful and wide all-mountain skis, he's developed a more open mind when it comes to skis since joining SKI's official gear test crew five seasons ago. These days, you'll find him ripping around Copper on his trusty Nordica Enforcer 100s.