The Best Backcountry Skis of 2022: Weston Grizzly
The brand is known for making snowboards, but the fat backcountry-specific planks are fun for skiers, too.
---
Specs
Tip / Waist / Tail (mm)
144-120-134
Lengths (cm)
166, 176, 186

"With 30 to 60 inches of snow coming, 120mm underfoot skis would have to really suck to not be fun." Such were the parting words of my editor as he handed me a pair of the 2021-'22 Weston Grizzly skis to test out in the mega snow dump that recently plastered Colorado's Front Range with deep, dense, heavy snow. The skis were so fresh that shards of the topsheet splintered into my hand as I slid them into my truck. I drove them back towards the foothills, staring at a thick, swollen cloud ballooning over the mountains, grinning and tingling with stoke.
Until more recent years, I'd primarily been a snowboarder, dabbling on skis but always reaching for one of my short, wide, swallowtail boards to surf big powder dumps. But as skis got fatter and lighter and more rockered, my curiosity piqued for the feeling of raging neck-deep turns in the white room while facing forward.
The same must have rang true for Weston Backcountry, traditionally a snowboard brand out of Minturn, Colo., that's previously manufactured only a few sets of skis in the GP-87 factory in Shenzen, China. The motto on their polyethylene sidewalls reads "Go Forth And Slay Pow," so their sights are set in the right direction, regardless of the number of planks under your feet.
On Sunday morning of the storm, I rolled into Eldora Mountain Resort an hour early for first chair and slipped into a parking spot close to the lifts. I clambered up to the roof box and braced myself to hoist the hefty Grizzlies down to the ground, expecting a strain. But, at 4 pounds and 5 ounces per ski (weight without bindings) plus Salomon Shift 12 bindings, they weren't as hefty as anticipated for such a fat ski.
The first run was a mad rush to bomb straight down the Hollywood line under the Indian Peaks chairlift as my buddy and I dropped an almost 10-foot cliff and screamed down the rest of the run without stopping, floating high above the 20-something inches of snow obscuring any moguls and unmarked obstacles that lay beneath. After getting those first few ya-yas out, we lapped some more open runs with wider berths for turning and the Grizzlies stayed well afloat at all speeds.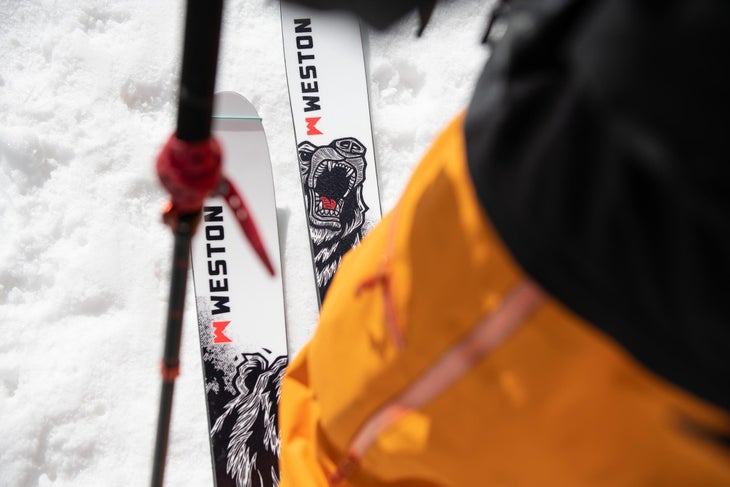 Although wider skis are often stiffer, straighter, and harder to turn, Weston gives their powder planks a more flexy, rockered tip and tail that makes turning feel more like driving a jet boat than a barge. This extra playfulness let me pop from edge to edge while savoring the flow of every turn.
Learn more: Understanding rocker vs. camber ski technology
Once the main runs tracked out and we pushed further into the trees off Eldora's West Ridge following a spontaneous rope drop, the tight, steep turns in the Salto glades were easy and responsive on the Grizzlies, which have a shorter turning radius in the middle of the ski, allowing me to maneuver them quicker in tight spaces while moving at lower speeds.
Later in the day, when my legs felt like Jell-O but my endorphin rush refused to relent, tracks in the uncharacteristically wet snow firmed up. The skis' wider turning radius at the tip and tail, along with stiff camber underfoot and aluminum stringers, kept them stable while opening up bigger turns at high speed and they ate up the manky afternoon chop without getting bucked in flat light.
At some point in the day, I romped over a partially buried and mostly unmarked snowmaking pipe, which led to a yard-sale into a flat trailside meadow. Upon later inspection, I noticed a crescent-shaped, 4-inch long core shot in the base at my exact point of impact. The sintered 4000 base material was noticeably thinner, which probably saves some weight and makes sense on skis designed exclusively for deep snow, but clearly sacrificed some durability.
Later in the week, I'd take the skis out touring in Boulder's Foothills, where their length and width belied their manageable weight that had me comfortable hitting backyard jumps and throwing a big spread eagle without ripping a groin muscle to bring them back underneath me before reuniting with the ground.
But as I sat in the car at the end of the fluke Front Range powder day at Eldora, thick, warm soup dribbling down my beard and the rest of my body buzzing with that special numbness, my mind was still charging through all the types of terrain I'd slayed on those fat skis that wanted to charge every part of the mountain.
And yes, I was sure, these 120mm underfoot skis on 30-plus inches of fresh snow did, indeed, not suck at all.
See the full list of this season's best backcountry skis
More Info: WestonBackcountry.com