Ortovox Unveils World's First Avalanche Beacon with Voice Navigation
The brand's new Diract Voice transceiver provides audio commands to assist at critical times during avalanche search and rescue.
Heading out the door? Read this article on the new Outside+ app available now on iOS devices for members! Download the app.
Ortovox, first to introduce the double-frequency avalanche transceiver in 1980, will again be first to market with a new, game-changing beacon: Diract Voice, the world's first avalanche transceiver with voice navigation.
The new beacon, available beginning fall 2021, is the German brand's most intuitive transceiver yet. One simple mission drove the development of the Diract Voice: to reduce the time it takes for someone to locate and retrieve a victim buried in an avalanche.
"The experts say you have 18 minutes max to access a victim's airways," explains Ortovox Brand Manager Tom Mason. "If you can get to the victim in 18 minutes, the survival rate is somewhere around 90 percent. After that, it drops significantly."
Multiple variables impact search speed during avalanche recovery, but one of the biggest is human error. Assuming everyone involved in a given avalanche scenario is wearing and using a working transceiver—and knows how to use it—the stress of an avalanche rescue mission is enough to cause even experienced backcountry users to forget what they've learned in an avalanche education course and lose valuable time during search and recovery.
On top of that: In its beacon development process, Ortovox sent out a survey to its beacon users asking them to identify their avalanche safety knowledge. Forty-five percent of respondents stated that they had "no" or "very little" avalanche knowledge.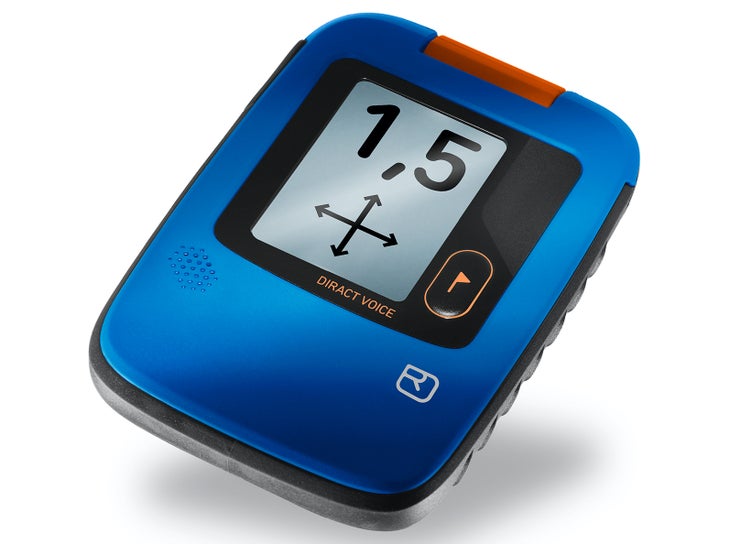 Enter Diract Voice, which provides voice navigation at critical times of the search. When switched to "Search" mode, the Diract Voice transceiver not only displays directional arrows and distance once a signal has been located, but issues commands such as "Keep to the left," or "Turn around" when you're headed in the wrong direction. When close enough to the victim to transition from course search to fine search, Diract Voice tells you to "Go down to the snow surface" to remind you to begin fine search procedures to locate the lowest value and begin probing for the victim.
"The transceiver tells you like a coach what you have to do in the event of an avalanche," summarizes Dieter Kotlaba, head of hardware at Ortovox.
Now that it's here, one wonders why voice-assist beacons weren't invented a long time ago. It seems obvious in our Google map world that this would be a helpful tool. But it took input from psychologists to help Ortovox realize the full potential of avalanche beacons with voice navigation.
"The transceiver tells you like a coach what you have to do in the event of an avalanche."
"Psychologists told us that when we hear a voice in stressful situations, our stress levels drop and we calm down," explains Dieter Kotlaba, head of hardware at Ortovox. "Audio information, and especially voice, has a more direct link to your brain, so it's more straightforward than visual information on a screen. You will be faster to understand what you have to do, and that will make your search faster in the end."
Hence the name: Diract Voice spurs the user to direct action.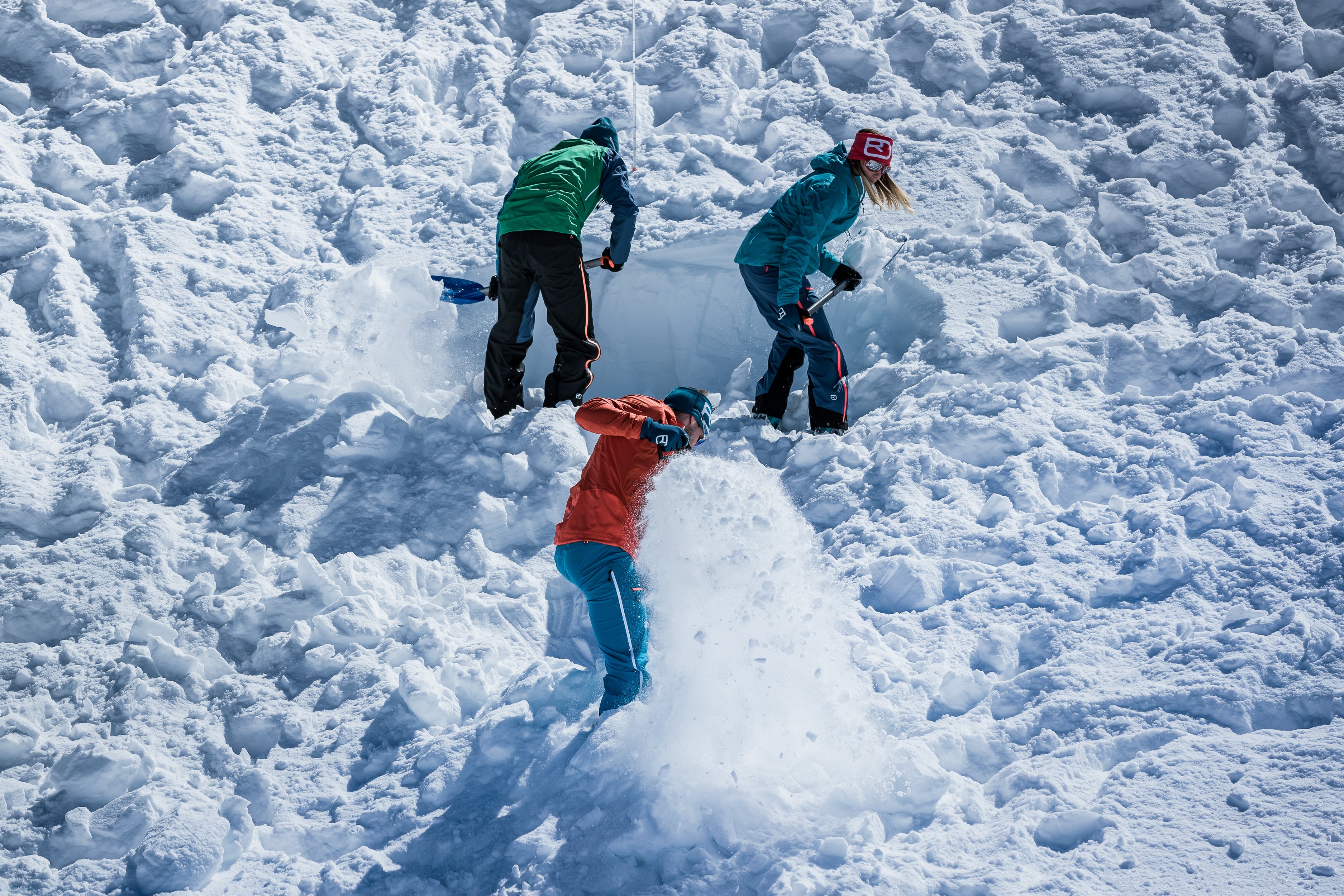 In addition to the voice navigation, the Diract Voice includes other design elements to further enhance intuitive use. Despite its small and slim size, the Diract Voice boasts a larger display than its predecessors and also includes 360-degree direction indication. It also features only two buttons—a rear on/off button, and a single button on the front that allows you to flag victims in the case of multiple burials. In transmission mode, the latter also lets you switch to standby mode so that, if you're a bystander, the signal doesn't interfere with an ongoing search.
To make the transceiver even more foolproof, Ortovox developers built redundancy into the device, but only in instances where you'd want to double-check your actions. The convenient on/off button on the back of the beacon makes it easy to power the device on and off even with gloved fingers, but an extra step is required to power down, which ensures users don't accidentally switch the beacon off without meaning to.
Related: Avalanche Rescue Devices Explained
Section divider
First Review: Ortovox Diract Voice Avalanche Transceiver
We got the chance to test the Ortovox Diract Voice in January to see for ourselves whether the new voice navigation feature was actually helpful, or just a cool new gimmick to set the Diract Voice apart from the competition.
Since the Diract Voice sample we tested is still in prototype phase, we practiced with it in a safe and controlled backcountry environment at Hidden Valley in Rocky Mountain National Park. We ran through a variety of avalanche search scenarios, including a blind search and multiple burial search.
The verdict: Diract Voice transceiver is a next-level tool for recreational backcountry users. More complicated search scenarios like multiple burials really highlighted the functionality of the transceiver's voice navigation feature. The voice navigation was especially helpful when we found ourselves way off our mark, telling us to "turn around" and displaying a U-turn directional icon when we found ourselves going in the wrong direction during a course search.
The voice navigation feature proved to have an added bonus while we ran through our search scenarios on rugged terrain: We could simply listen to the beacon during the signal search phase and keep eyes out for visual cues and on where we were running to better navigate the terrain.
Beyond the voice navigation feature, the accuracy of the Diract Voice beacon also stood out. While the beacon's 34m-37m search range isn't the biggest on the market, it is one of the most accurate we've worked with. Because of its lower search range, this beacon won't pick up a signal until you're within about 35m of the buried victim, but once a signal is picked up, it's consistent and stable throughout the course search phase. Other beacons currently on the market may advertise a 60m search range, but often those beacons provide an unreliable first signal and lead the searcher into a wrong direction before the course search phase.
Those who have extensive avalanche training may not find the transceiver's voice navigation feature helpful, because the voice navigation remains mostly silent if you locate a buried beacon's signal and follow its flux lines right off the bat. For this reason, experienced backcountry users may gravitate towards the new Ortovox Diract beacon featuring the exact specifications of the Diract Voice without the voice navigation.
>While the Diract Voice is an extremely helpful tool for those who need coaching and search tips during an avalanche search, it is by no means a replacement for sound avalanche safety knowledge and training. You cannot rely on the Diract Voice to teach you avalanche search procedures, especially not in the highly stressful event of an actual avalanche. The biggest downside to the new Diract Voice is that it may make backcountry users feel complacent in their avalanche awareness.
Despite this, it's safe to say that the upsides of the new Diract Voice—its intuitive and logical design, reliable signal, and helpful voice commands—far outweigh this potential downside.
Section divider
Ortovox Diract Voice Specifications
50m search strip width
360-degree real-time display
Smart Antenna Technology; 3 antennas
Flagging function; locate and flag up to 4 victims
USB-rechargeable low-temperature battery (250 hours in transmission mode/50 hours in search mode)
RECCO reflector in harness
5-year warranty
Ortovox app for Apple iOS and Android
Weight: 210g (in harness)
Dimensions (cm): 7.9 x 12 x 2.3
Price: Diract Voice $380; Diract $320
More Backcountry Safety Content
Skiers Most Likely to Be Caught in Avalanches
Rethinking Avalanche Education
Life Lessons from an Avalanche Education Course