Long Term Test: Ortovox Avabag Litric Tour 30
Six testers spent three months checking out the coolest new airbag tech to hit the market. Spoiler: it lives up to the hype.
Heading out the door? Read this article on the new Outside+ app available now on iOS devices for members! Download the app.
Update December 16, 2022: Ortovox is voluntarily recalling all Avabag Litric models, including the Avabag Litric Tour, Avabag Litric Freeride, and Avabag Litric Zero, due to an unspecified technical problem. Both Arc'teryx and Ortovox have ceased selling all bags with Litric technology this season, and hope to have them available next season.
From Ortovox: "Unfortunately, we recently became aware of a technical issue. In rare cases, this issue impacts the airbag's inflation system and reduces its protective effect. There is no risk from the LiTRIC system itself…FOR SAFETY REASONS, WE ASK THAT YOU STOP USING YOUR AVABAG LITRIC IN TERRAIN AT RISK OF AN AVALANCHE AND RETURN IT TO US…Mechanical AVABAG airbag backpacks with cartridge systems are not affected."
Price: from $1,300
Weight: 5.3 lbs
Size range: 30L, 40L, 28L (S), 36L (S)
In the winter of 2017, Swiss company Alpride launched their E1 electronic airbag system. It was built around a supercapacitor that stored electrical energy without any chemical reaction, and which was not sensitive to environmental temperature—a groundbreaking feature for a ski pack used in cold weather (a supercapacitor is an engine, not a battery, that delivers a quick and powerful transfer of energy to the fan that inflates the airbag). It was also lighter than existing electronic and canister airbag systems and rechargeable in the field with two AA batteries.
Alpride has continued to streamline the system into the new E2, which can be found in BCA, Deuter, Osprey, and Scott packs. But this year, there's a new supercapacitor airbag design in town. Litric, a collaboration between Ortovox and Arc'teryx, boasts an even lighter and more compact fan system. It also uses a lithium-ion battery, instead of disposable and leak-prone AAs, as a secondary power source to recharge the supercapacitor after deployments. Another impressive feature: the trigger handle twists 180 degrees to lock it and unlock it, so you don't accidentally deploy the balloon in a crowded tram or in the back of a snowcat. 
Related: The best backcountry skiing and touring backpacks
Like the E1 and E2, the Litric inflates at least twice per charge. However, when fully charged, the Litric lasts at least 60 hours with the system turned on. Translation: Finally, there's an airbag pack that you can use on multi-day ski tours without needing to plug it in. "One splitboarder put this to the test on an 11-day expedition in Alaska's Tordrillo Range. "The Litric barely lost any charge on the whole trip," he said. "Even with temperatures getting down to -10 degrees fahrenheit°F at night." And, when the pack runs out of juice, it's quick to power back up. It takes just 25 minutes to fully charge the Litric (about half the time of Alpride). Litric also claims that its lithium-ion system delivers a more reliable secondary charge because that external battery has an indicator light to tell you exactly when you've reached full power (the E2 does now have a small LCD screen with a battery meter on it).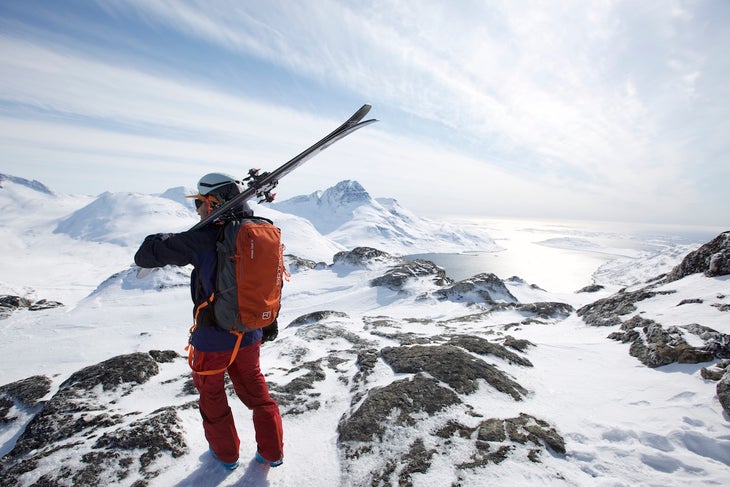 Thankfully, we never had to deploy the Litric in any real-world situations, but when we tested the mechanism at the end of our expedition, it performed seamlessly. The handle requires a mere 50 newtons of force (Europe's minimum standard), making it easier to deploy. And unlike with most other airbags, you don't have to meticulously origami fold this one to repack after inflation—just stuff it back in there and zip it up.
The system is also a joy to carry because the compact airbag/battery system only weighs 2.4 pounds. That's about four ounces lighter than Alpride's new E2 system and nine ounces lighter than the previous E1 system. Two former gear editors brought this on a fjord skiing trip to Greenland, and both agreed that the Litric was the first airbag pack they've tested that wasn't infuriatingly clunky, difficult to pack, bulky, or heavy thanks to the reduced battery and airbag size. On the flip side, the E2 system airbag is nearly 10 percent larger, which in theory, provides more float. But, the Litric airbag system has a double wall design—an internal welded bladder with a high tenacity ripstop shell—which translates to more durability. Plus, at 150 liters in volume versus the E2's 162 liters, Litric still complies with the norm.
Also read: Are new safety gadgets keeping us safer in the backcountry, or giving us false confidence?
Since Litric was a joint effort between Ortovox and Arc'teryx, both brands are launching their own pack with the system. What's the difference between the two? The Ortovox packs come in 500 dollars less than the Arc'teryx Litric version, and the Ortovox Zip-On System gives you more pack volume options to swap out on the same base than the Arc'teryx's set 16-, 32-, and 42-liter choices.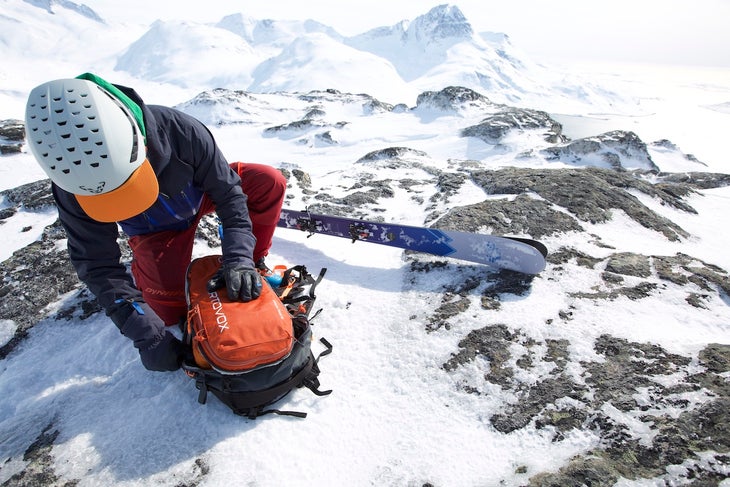 Ortovox's German engineering makes all the difference in this pack, keeping it simple with no unnecessary buckles or loops but maintaining key features like big, mitten-friendly zipper pulls, an avy tool compartment, a deep external accessory pocket, comfortably low-profile, not-too-thick shoulder straps— and removable straps for every accessory you could want to carry, including trekking poles and ice tools. The pack splays completely open, suitcase-style, with a smooth zipper that makes it easy to access, reorganize, and close without loading the zipper teeth. Perhaps the coolest feature: the entire main compartment zips off so you can interchange with different sizes.
Testers liked how the crotch strap attaches to a fixed webbing loop on the hip belt instead of directly to the hip belt strap, eliminating the requirement for a cumbersome metal buckle. The Litric system itself is fairly easy to remove, so you could also use the pack for other activities like ice climbing and in-bounds skiing. The only downside: testers wished there was at least one hip belt pocket for quick-access items like chapstick and a scraper.
If you ski in the backcountry more than a few days a year with any chance of finding yourself in avalanche terrain, the Avabag Litric Tour is your top choice for a lightweight, travel-friendly, and well-designed airbag that's worth the price tag, just like your life.
More 2023 Gear Reviews
The best backcountry boots of 2023
The best goggles of the year
The best backcountry skis of the year