Transform Your Truck into the Ultimate Adventure Rig with This Gear
Going on an adventure? Outfit your tailgate with these handy items to make storage and travel a breeze during your next big skiing road trip.
Heading out the door? Read this article on the new Outside+ app available now on iOS devices for members! Download the app.
When mud season fell upon the Tetons in late April, it was time to hit the road and migrate to the Pacific Northwest in search of a deeper snowpack. My partner and I set out on a spring volcano trip with bikes and skis, cramming every piece of gear we cared about into my Dodge Ram.
A month of skiing corn and ripping loamy singletrack was every bit as fun as we hoped, but we most certainly were not traveling light. This made proper storage organization crucial to a successful trip.
If you're building out a truck—or any adventure vehicle—here are a few rock-solid gear choices that any skier will dig.
Decked Drawer System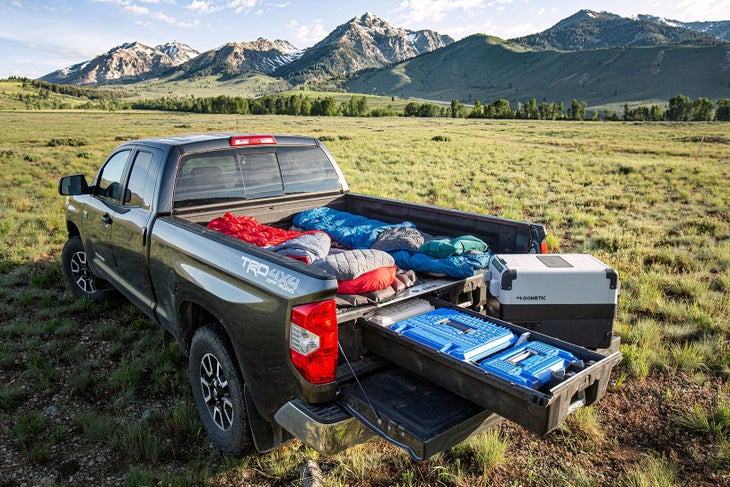 I never knew I needed this tailgate set up, and now I don't think I could live without it.
The Decked Drawer System was originally built to keep tools organized in a work truck, but it's an ideal setup for any skier or adventure-seeker who loves to hit the road with loose plans and tons of gear. The system comes custom fit to whatever truck model and bed size you have, with two full bed length drawers to accommodate gear of all sizes.
The D-Box and Crossbox, which come with the drawer system, are the perfect size for my camp kitchen. I pack the larger one with all my pots, pans, and kitchen accessories, while I use the smaller box for pantry items. There was more than enough space for my sleeping bag, along with all the bits and bobs that usually roll around the back of my truck like my first aid kit, camp chair, lantern, camp stove, and extra ski gear. Four extra compartments above the wheel wells add a bit of extra storage that I stuffed with ski straps, cleaning supplies, and bike tools.
The best part is, once everything is packed away, I have a flat surface to slide skis on top of. If you typically sleep in the bed of your truck, the Decked system provides a perfectly flat surface to set up your bed. When you close up the truck bed, everything is locked and out of sight, providing an extra level of security. The 2,000-pound payload also means you can haul your sled on the back.
It takes about two full hours to install, but it's super straightforward—think big IKEA dresser—and doesn't require anything but an adjustable wrench, hammer, and a few different sized sockets.
This system was truly the hero of my spring ski trip. It made such a huge difference in the ease while traveling to not have to crawl into the back and sort through a disaster of gear every time we needed something. Plus, having everything we need to camp already stowed in the truck bed makes it easy to skip town at an hour's notice in typical skier fashion. [Prices vary; decked.com]
REI Co-op Flash Trail Seat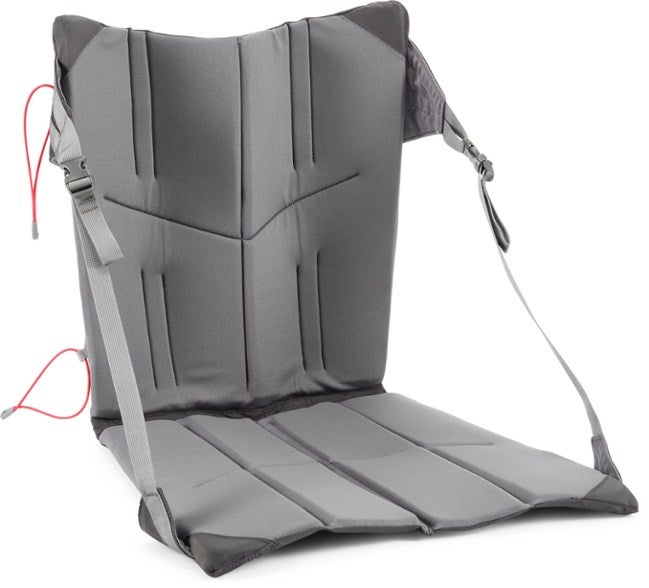 This chair is pretty minimalist, but I've found it to be the best addition to truck life since it stows right inside my Decked Drawers and is the perfect little seat for sitting on my tailgate. It folds up really small for easy storage, and the side connector straps make it easy to adjust the height. I also find myself using the Flash Trail Seat quite a bit in the winter since a free-standing foldable camp chair always makes my butt cold if we're tailgating in February. Kicking back on my tailgate with this chair and a down blanket is my favorite way to close out a day of skiing. [MSRP: $45; REI.com]
Take Your Love of Adventure to the Next Level and Join Outside+ Today!
Goal Zero Yeti 1500X Portable Power Station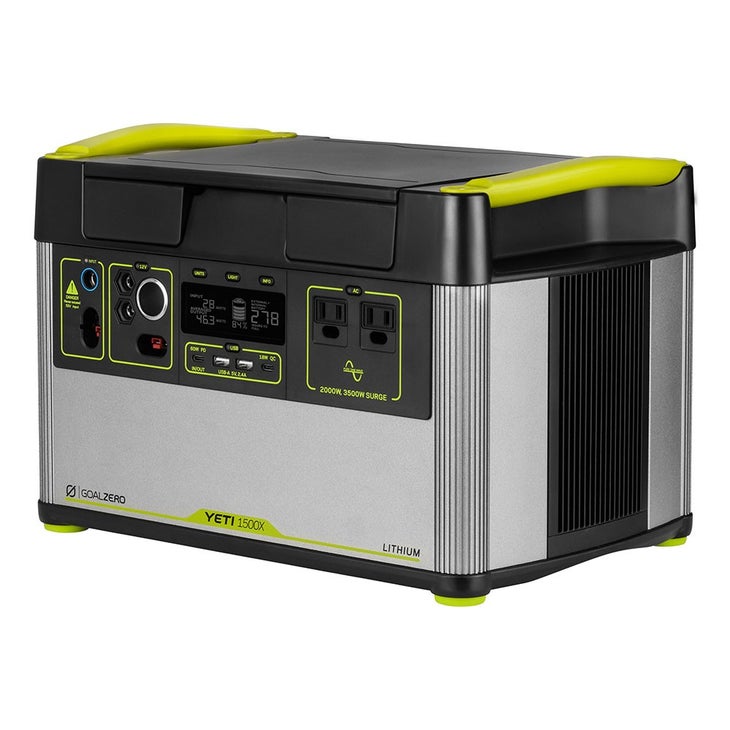 On a long road trip, driving time is often sufficient for recharging phones and headlamps, but bigger devices need a little more juice. Plus, if I'm in one place for a while, it's hard to get a full charge without killing the battery in my truck. That's why Goal Zero's Yeti 1500X Portable Power Station was our ticket to freedom off the grid.
It took us over two weeks of skiing and biking to run through the battery while using it to charge headlamps, phones, and GPS devices. It allowed us to drive all over the Pacific Northwest while working remotely thanks to constant power for laptops (yes, we are those people). We also used the Yeti 1500X Power Station to power a small space heater while camping at Mount Baker and Mount Hood, as well as a mini toaster that brought a little luxury to rest day breakfasts.
Related: All-Weather Ski Gear Tested in Oregon
Even with the handles, it's a little clunky and awkward to lift. But once I warmed up to the idea of toting around a 50-pound lithium battery, it provided a ton of freedom for big adventures. Plus, if you're trying to get a little strength training in on the road, you can do a lot with this 50-pound box. I'm kidding… kind of.
Options for recharging the Yeti are a wall plug at home (takes a full night or about 14 hours), from the car with a Yeti-specific car charging cable, or with the Boulder 100 Solar Panel Briefcase, which we used to charge the Yeti when stopped for long periods of time. While the 1500X was great for its long run time, I think most skiers could get away with the 500X if you're using it for lighter-duty applications. [MSRP: $2,000; GoalZero.com]
Thule HideAway Awning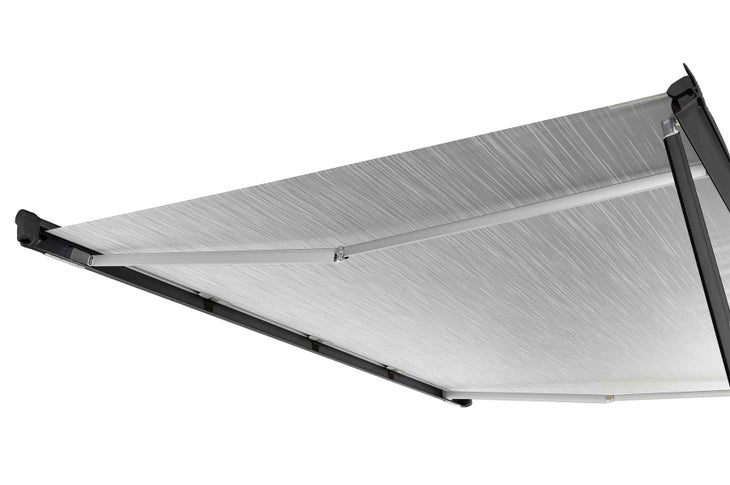 The Thule HideAway Awning is a sleek addition to a truck build-out, with options to attach it to a roof rack or straight to a topper. I've been using the 8.5 x 6.5-foot size (it also comes in a 10-foot length) and it's spacious enough to keep three to four chairs, a cooler, and a small table sheltered from the sun. This awning has come in clutch on hot days after a bike ride or long spring ski tour. The lightweight aluminum design is easy for one person to deploy with the separate hand crank, and the legs pop out and adjust to fit uneven surfaces.
I even accidentally left it up on a windy day in the desert and it stood its ground perfectly. I don't recommend you do this, but it's a testament to the awning's stability. [MSRP: $900; Thule.com]
Front Runner Wolf Pack Boxes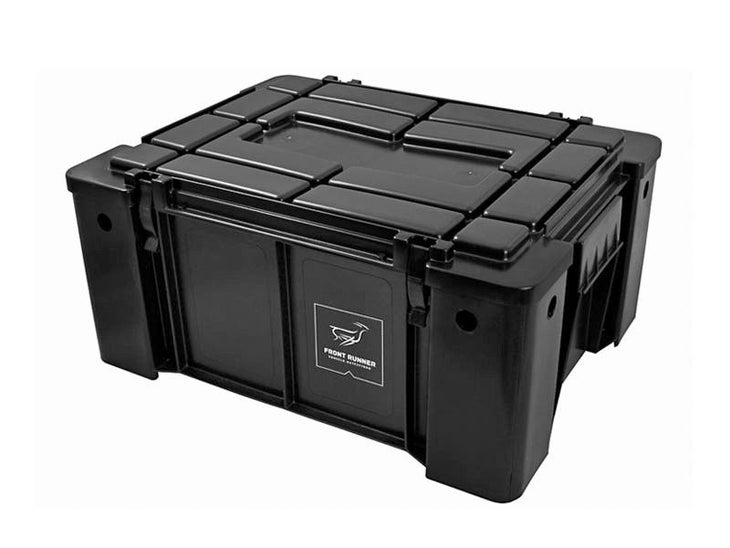 The Wolf Pack Boxes have been in my rotation for a few years now, and they're a super solid and affordable addition to any adventure vehicle. The high-strength plastic is burly but not overly heavy, and integrated handles make hauling easy. Whether or not you also go with the Decked drawers, I've found them to be a great place to stash everything from cookware to jumper cables to extra gloves and tools, for easy access and a less cluttered feel in the bed.
The stackable design makes packing easy, designed to stow in a truck bed, trunk, or strap on to a roof rack. Stacking two on top of each proved to be a great makeshift seat when I forgot my camp chair a few times, and I'll leave them on the tailgate sometimes to give me an extra boost while climbing into my rooftop camper. The organization labels (sold separately) proved handy when I had more than one box since, well, they obviously all look the same, but you could get away with duct tape and a Sharpie if you don't want to buy the labels separately. [MSRP: $41; FrontRunnerOutfitters.com]
More Gear to Get Out There: The Best Backcountry Skis of the Year