I Suffer From Chronically Cold Toes While Skiing. These 6 Fixes Actually Work.
Don't let frosty toes derail your ski day. Try these solutions instead.
Heading out the door? Read this article on the new Outside+ app available now on iOS devices for members! Download the app.
There are few things that can end a ski day the way cold toes can. I like to think I'm pretty tough, but numb toes and the screaming barfies I know will follow make me want to straight-line to the lodge and peel my boots off stat.
Like many women (and some men), I have some pretty serious circulation issues related to Raynauds and Chilblains. As a result, I've spent years exhausting any option I come across to fight cold toes. After much trial and error, I've found a mix of on-snow solutions and lifestyle shifts that have helped me spend less time shivering in pain and more time skiing. Here are a few things that have worked for me and some of my ski partners.
Overboots
Compared to the exorbitant price of heated socks and other garments, I've found neoprene boot covers to be one of the most cost-effective ways to keep my toes warm when I'm skiing, both inbounds and in the backcountry. They're not exactly sexy, but they're a quick and easy solution. Similar to booties that road cyclists wear, overboots are just a layer of reinforced neoprene that stretches over the toes and top of your boot. I've mostly used Snüx Overboots and really like how easy they are to take on and off; if it's really cold in the morning, I can start with them on, then peel them off midday if I'm getting warm. It's surprising how much warmth they hold even if I'm not generating much heat, and they become downright toasty if I wear them while I'm skinning. 
Heated garments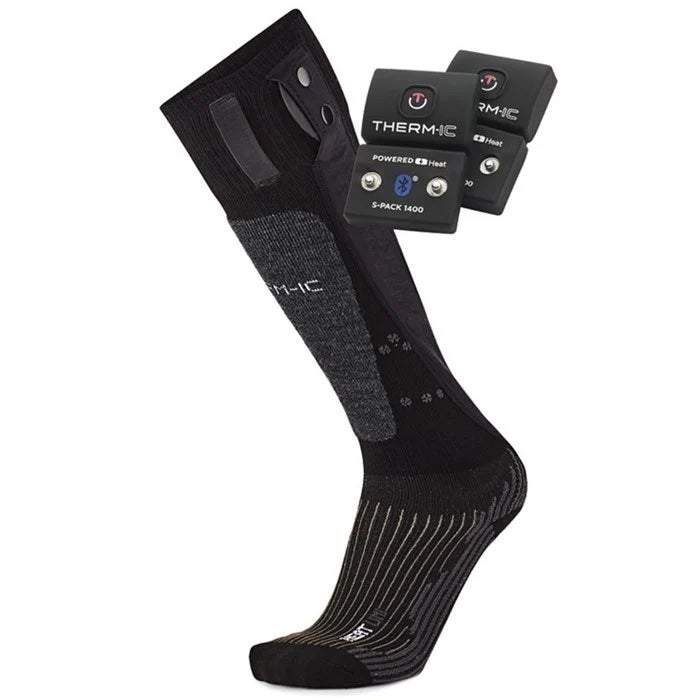 The most common route to keeping extremities warm, boot heaters and electric socks have come to the rescue on some brutally cold days. Both are more of a financial splurge, and the batteries typically don't last all day (sometimes they die in exceptionally cold temps), but if you're doing a lot of standing around, electric socks or boot heaters are the way to go. I've had good luck with Therm-ic heated socks and boots, which I've used mostly during avalanche courses where there's more standing than skiing. Socks can be great since you can use them with multiple types of boots; but if you're skiing several days in a row, it's nice to have a boot-heating element so you can swap out clean socks.
Compression socks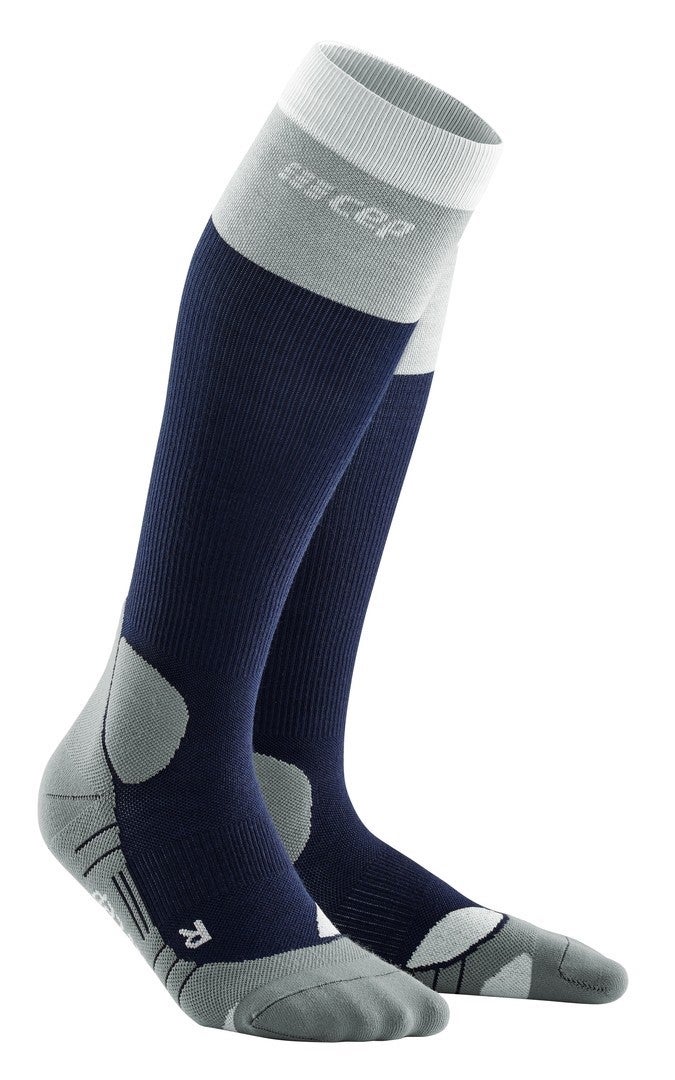 Using medical grade compression ski socks (not just socks that are tight) has helped with my circulation problems, ultimately helping my feel regulate temperature a little better. Often, cold feet and toes are caused by poor circulation, so getting a little extra boost from compression socks helps take the edge off when your feet get cold. The effect is not as dramatic as wearing heated socks, but it's a low investment for something that can positively impact your ski day. I'm a big fan of the CEP Ultralight Compression Socks for long days on the mountain, both in the resort and backcountry. The only downside is that it's hard to make a true compression garment with only merino, so there's a fair amount of synthetic fibers in compression socks (for me and many others, the tradeoff is worth it, at least on chilly days). 
Extra socks, always
Sweaty feet become cold feet. While some folks can get away with putting on their ski socks at home, I've found that holding off on putting my socks on until the minute I'm about to slide my boots on is crucial for not starting the day with sweaty, and by extension, cold feet. Similarly, having a pair of dry socks to put back on at the end of the day is just as important so I can avoid hanging out in damp, cold socks while I après.
Keeping the core warm
If you don't have enough layers keeping your core warm, your fingers and toes will be the first to know. This one is probably pretty obvious, but throwing on an extra vest or jacket even when your upper body feels comfortable will help your extremities stay warm.
Acupuncture
I started seeing an acupuncturist for a handful of chronic health issues, and I was surprised at how well this more holistic approach helped my circulation throughout the season. I go infrequently (maybe every other month), but acupuncture has helped my toes regulate temperature better overall with less frequent episodes of extreme cold.
More Gear Advice
How tight should new ski boots be?
These are the warmest gloves I've ever tried
Why ski techs don't want you to sharpen your base edges