Ski Tuning Tips
There's a lot more to tuning than you think. Here are some pro tips from the master, Dave Brennan.
Heading out the door? Read this article on the new Outside+ app available now on iOS devices for members! Download the app.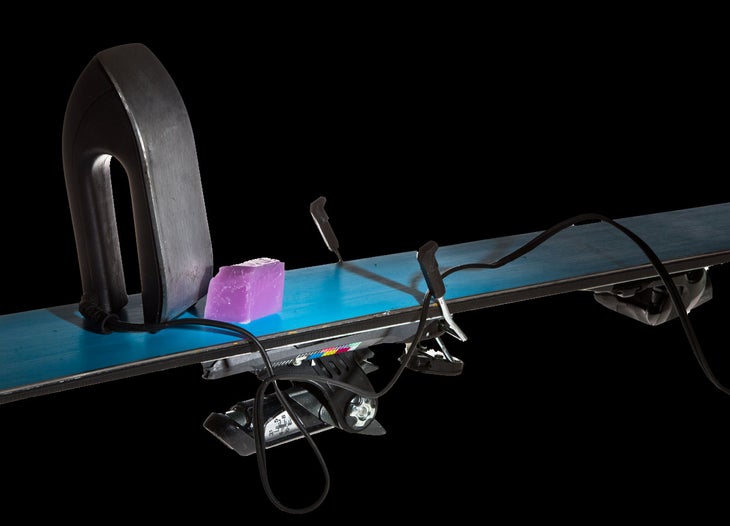 Dave Brennan started out in the ski business when he was 14, working at his family friends' ski shop. He eventually went on to ski patrol, instruct, and race, and then started his own shop, Jackson Hole Ski and Sport. From there, he got recruited into the manufacturing and product development side by Marker, Fischer, Dynafit, and Dynastar, among others. Now, he's running a company he founded called Race Tech, doing curriculum for USSA, and running the to-the-trade tuning portion of Ski Mechanics Workshop for Snowsports Industries America (SIA). In short, this guy knows what he's doing. Here are his cliff notes to get you started:
Like any piece of performance equipment, the care and feeding of alpine skis is crucial to optimizing and maintaining their design characteristics. For most of us, skis represent a substantial investment, which is expected to yield a return that keeps smiles on our faces and endorphins flowing through our veins.
That said, let's start by breaking a couple of major, pervasive myths:
New skis can be skied right off the rack without tuning them.
Ski tuning consists of sharpening edges and waxing bases.
Wrong, on both counts!
New Skis: Just like a new car requires "dealer prep" to correct those little issues with vehicles just off the assembly line, skis also require some level of "dealer prep" specific to the skier.
The majority of brands are producing skis during the summer months—most in foreign countries. Those skis are eventually shipped to the U.S. in containers, stored in warehouses, then trucked to your local ski shop, where they sit for weeks before hitting the snow.
Time, variances in temperature and humidity combined with the numerous channels of distribution can cause materials in skis to expand, shrink, and possibly change shape. Though typically minor, these changes can and often do affect the designed performance of the skis.
However, not to worry. Your local authorized dealer is capable of making all the necessary adjustments in their back shop. You just need to commit to having this work performed. Without this service work, you could be getting a lower return on your investment than you deserve.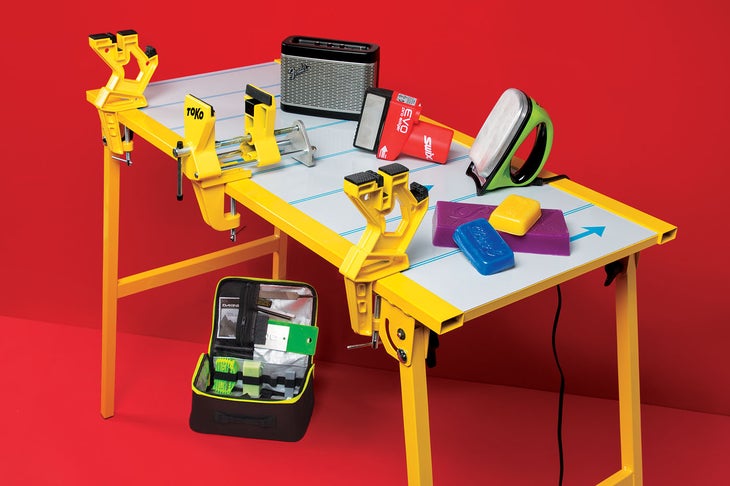 Ski Tuning: Maximizing the performance of new skis or regaining the liveliness and power in used skis requires a great deal more than sharpening edges and waxing the bases, which, using the car analogy once again, is akin to changing the oil and rotating the tires and then expecting a significant improvement in handling performance. Try a suspension change, valve and timing adjustments if you're looking for that. And it's the same with skis.
Below is a list of tuning procedures that can and will adjust a ski's performance – new or used – specifically to a skier's ability level and style. Some of this work should and can only be performed by a trained technician at a ski specialty shop having the knowledge and skill to effectively operate the most sophisticated (and very expensive!) professional tuning machinery available today.
There are two timing phases of significance when it comes to the tuning of alpine skis: preseason and in-season.
Preseason: Service work that should be performed by a trained technician at an alpine ski specialty shop at the start of every season:
Release Check: Have your boot/binding compatibility inspected you start your season. This is a must if you've changed anything in your system—boots, bindings or skis.
Blank Ski: This is a process where skis go through a series of multiple programmed grinds in an automated machine to create a perfectly flat and smooth ski base and is typically used for skis with high mileage or new race skis. This process is used before setting base bevel, edge angle and base structure.
Base Bevel: The angle of the base edge compared to the base material is called base bevel and is the single most important aspect of tuning. Why? Because base bevel determines the quickness of the edge engagement—the radius or sidecut of the ski—and the snow surface. In other words, base bevel determines how the ski turns. Once established, there is no need to change base bevel or sharpen base edges during the season. Regardless of how good you think you are, hand filing base edges, even with file guides, will, over time, increase the base bevel, which will decrease the quickness of edge engagement.
(Side) Edge Angle: Sometimes referred to as side-edge bevel, the edge angle is the angle of the side edge in relationship to 90 degrees—or a square edge. Edge angle determines how powerful the ski feels during the turn. Some mistake this feeling of power for edge-hold. Power has more to do with edge angle and, to a degree, the balance between base bevel and edge angle rather than edge sharpness alone. If you feel like your edges aren't holding but are sharp, check your edge angle and base bevel, they likely need to be adjusted for your skill set and style.
Base Structure: Ski bases are made using a process called sintering, where carbon-based molecules are compressed into one another to create an amorphous structure—one that has air spaces or pores within the structure—designed, in the case of skis, to hold wax. In simple terms, the porous surface of this sintered base material can be altered to adjust for the temperature and humidity content of the snow surface. Base structure changes may sound like it should be reserved for racers, but if your home hill is in New England and you plan to take a trip to the Rockies during the season, you may want to have your base structure changed from wet to dry snow conditions.
Hot Box: Wax penetration into the bases is dependent on two actions: heat and pressure (scraping, brushing/buffing). The hot box addresses one of those actions through a prolonged exposure to heat. The skis receive a thick coat of wax, applied by iron or hot wax machine, then they are placed into an oven-like structure or specialized bag to go through several cycles of heating and re-waxing before they are scraped and then brushed or buffed out. A word of caution, prolonged heat can cause damage to the ski's laminates and core. Both temperature and duration are closely controlled and monitored. Do not attempt this at home!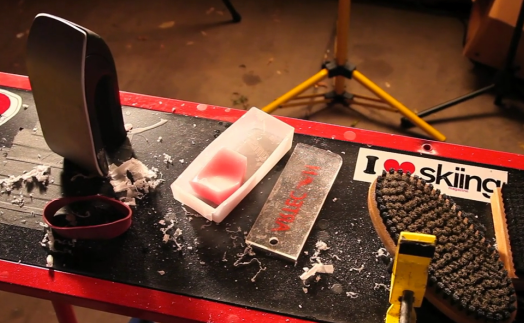 In-Season: Tuning and waxing you can do on your own during the season.
Maintain (Side) Edge Angle: Only average mechanical skills are needed to maintain edge angle. Once established by the professional ski technician, all that is required for equipment are a file guide matching the established edge angle, a file, diamond stones of different coarseness, a ceramic, and gummy stone. The mechanics of edge angle tuning, though specific, are relatively easy. As with any mechanical procedures, safety precautions are strongly advised and the use of protective eyewear, gloves, and approved mask are highly recommended.
Wax Maintenance: Wax selection and application is a mystery to many, but it shouldn't be. Wax selection is dependent on two environmental factors: temperature and humidity (moisture content in the snow). Keep it simple, as most waxes come in broad, overlapping temperature ranges. As for humidity or moisture content, think dry—hydrocarbon or CH—or wet—fluorocarbon or LF (there is also an HF, high fluorocarbon for very wet conditions). So, pick the temperature range and CH or LF and you have it. Cold waxes are usually hard and should be dripped on using an iron. Warm waxes are soft and, if applied at room temperature, can be rubbed on. In either case, ironing, scraping and brushing should follow the application process. At a minimum, you should clean and wax your skis after every three days of skiing. While waxing, make sure the area is well ventilated and that protective eyewear, gloves and an approved mask are used. Another word of caution, invest in a good digital iron with a thick soleplate and follow manufacturer's instructions for specific iron temperatures to avoid breaking down the wax and/or damaging the ski bases, laminates, or core.
Remember, to optimize your ski's performance match the base bevel and edge angle to your skill set and style. And give your investment (skis) the care and feeding you deserve!
Copyright SNOWtech-USA, LLC 2017. All rights reserved.