This New Ski Boot Bag Won't Make You Look Like a Douchebag
The brand formerly known as Douchebags just released the new Db Duplex duffel that happens to comfortably hold your ski boots and more.
Photo: Jay Dash/Courtesy of Db
Heading out the door? Read this article on the new Outside+ app available now on iOS devices for members! Download the app.
Some skiers come out of the womb with their ski boot bags ready to go. They live out of them during day trips, overnighters, and pretty much the rest of their winter lives. Other skiers—usually exhibitionist-types—prefer to hang their naked ski boots precariously on the shoulder straps of their backpacks whenever they are going somewhere.
I used to be in that second group. I thought boot bags were a waste of money, and besides, carrying around my ski boots announced to everyone at the Denver airport, ski area parking lot, or ski area hotel lobby that I am, obviously, a skier (just in case they couldn't tell by my ski brand logo shirt and awkwardly long ski bag).
As I got older, I got tired of dealing with my free-hanging boots that insisted on bumping into my sides, my elbows, and the foreheads of people sitting in their assigned seats patiently waiting for the airplane to finish loading. I finally got a ski boot bag and, since then, haven't had to beg for forgiveness from strangers who just had their wireframe glasses broken by my toe lugs.
But my entry into the world of ski boot bags has come with its own slew of problems. Most of these bags have some sort of awkward divider to keep the boots separate from everything else. So while the ski boots stay happy in their spacious waterproofed condominium, the rest of the ski gear is crammed into a special black hole where neck gaiters and gloves get backstage passes to Narnia and don't return until the ski trip is over.
Related: Meet the Brand That's Bagging Ocean Microplastics, One Duffel at a Time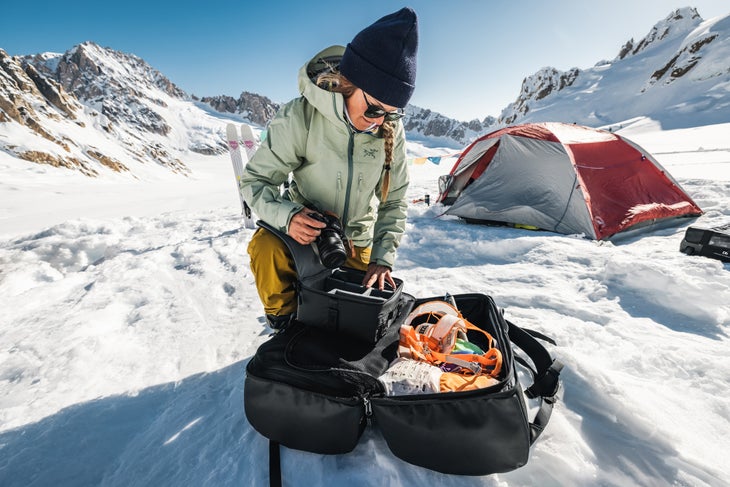 Db—the Norwegian brand formerly known as Douchebags and co-founded by legendary skier-turned-influencer Jon Olsson—just released a new duffel bag that is actually a sweet ski boot bag. The Db Duplex uses a central divider to keep the two large compartments separate but also incorporates a slew of mesh pockets and reinforcements to make it easy to keep things that are not ski boots organized and prevent anything from escaping to a different dimension.
The Db Duplex is not marketed as a ski boot bag, instead, it's called an "adventure duffel," which—so I am told—is a critical part of a Norwegian uniform for summer vacations. But the compartments on either side of the Duplex are perfect for a pair of ski boots. The side without ski boots can hold a full outerwear kit, midlayers, and baselayers, while the numerous mesh pockets can take care of goggles and gloves. The 70-liter and 90-liter models have enough room to comfortably fit a ski helmet, and, if you've been practicing your Marie Kondo-style organizing and storage abilities during quarantine, the 50-liter can hold a brain bucket, too.
Carrying more luggage? Check out The Best Ski Bags for Storm Chasers and Bucket List Skiers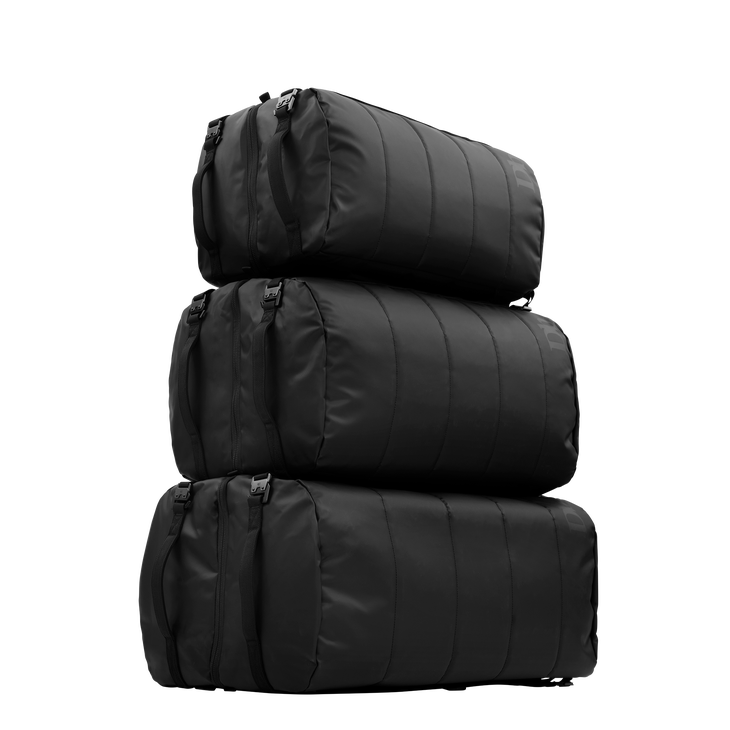 "What sets The Duplex apart is the organization factor—gone are the days of digging deep in your bag for a pair of underwear and not being able to find it," says pro skier Michelle Parker on Db's website. "And the split feature makes it easy to dial in your gear and travel seamlessly between adventures."
Thanks to the reinforcements built into the exterior lining in critical locations, the bag is still utilitarian and comfortable when only carrying ski boots on one side with nothing else inside.
While the engineering and storage level of the Db Duplex is pretty awesome, it isn't quite perfect. The exterior lining is built to be durable, but the interior lining isn't waterproof, so making sure your boots are dried off at the end of the ski day is important. Also, despite being categorized as a duffel bag, the Duplex is actually a backpack. Incorporating some sort of strap that allows the user to carry it like a duffel bag for future generations would be a nice option.
The Duplex does incorporate Db's signature Hook Up system, making it easy to attach to a Db Snow Roller or other Db wheeled luggage option. This makes the Duplex a mandatory addition to anyone who has already joined Db's expansive luggage universe.
I'd love to tell you that I'm taking the bag to Ski Portillo next month for testing, but, thanks to Covid restrictions, I will have to wait a bit longer before I can test the Db Duplex's performance on a long haul flight and in the field. But I do plan to use it for some car camping trips this summer as it's versatile enough for that, too.
Perhaps I'll head to one of these American summer skiing locations to get some turns in while I'm at it.
Shop for the new Db Duplex on Db's Website. Also coming soon to Backcountry | evo