Why Deer Valley's Lift Was Approved After Park City's Were Rejected
The Park City Planning Commission unanimously approved Deer Valley's new Burns Express, but here's why it's not favoritism or backlash.
Heading out the door? Read this article on the new Outside+ app available now on iOS devices for members! Download the app.
Deer Valley's Burns Express expansion was just unanimously approved by the same planning board that shot down Park City's two-lift upgrades last week. And while that might sound like favorites are being played, a deeper dive into the facts proves that that's not really the case.
The Burns Express lift was announced in February, part of a massive package of $344 million infrastructure investments by DV parent company Alterra Mountain Co. at five of its resorts. The lift will expand beginner access at the resort, connecting the Snow Park base area, which is the main feeder to the rest of the mountain as well as the ski school base, to Little Baldy Mountain. The goal is to get beginners up and out of Snow Park more easily and give ski school better access to more teaching terrain.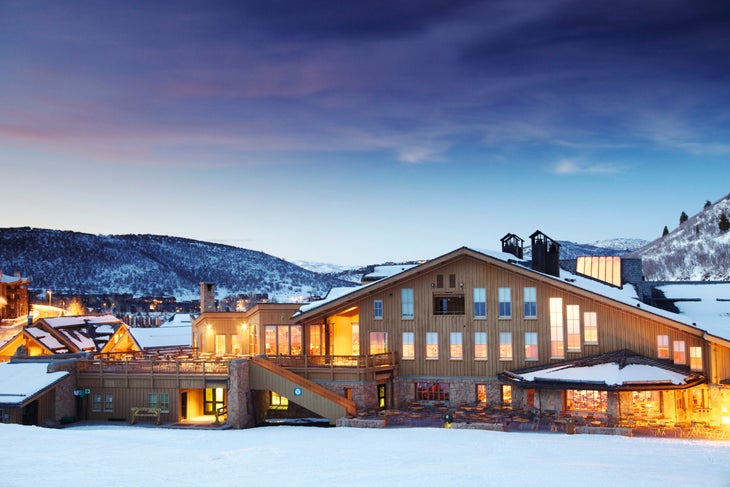 The improvements at Park City that Vail announced last September, and were officially rejected by the planning commission last week, are the replacement of the 25-year-old Silverlode six-seater, which is a common congestion point at the lower elevations of the Park City base, with an eight-person lift that will increase lift capacity by 20 percent; and swapping out the beginner Eagle and Eaglet lifts for a high-speed six-pack, with the aim of easing lift lines at another traditionally congested area that serves ski school and novice skiers.
So why were PCMR's upgrades nixed but Deer Valley's approved? It comes down to a few issues around how Park City's projects were initially approved, the numbers that Vail Resorts put forth as to how the lifts would affect ski traffic, and other tangentials that have plagued PCMR, such as opening limited terrain, crowding, and parking, which have not been major issues at Deer Valley.
"No favorites. DV is abiding by the code. Vail isn't," tweeted Angela Moschetta, who is one of the Park City residents who brought the appeal of the Park City lifts, after the DV approval came down. "It's literally that simple. Same as with their MPDs [Master Design Plan] at their respective bases. DV submitted a plan that doesn't seek a single exception to the LMC [Land Management Code] or what's approved in their DA [Development Agreement]. Vail's developer [is] seeking MANY exceptions."
"I'll keep shouting this from the rooftops. @Deer_Valley has built goodwill in the community," one Twitter user posted. "They had all their lifts and restaurants open by Christmas. They made a ton of snow."
PCMR's upgrades—read the backstory here—were actually initially approved under a conditional-use permit, but a group of Park City locals filed an appeal arguing that a permit should never have been granted because the resulting skier traffic would exceed the resort's Comfortable Carrying Capacity (CCC). Vail countered that lift upgrades improve skier flow, but don't increase numbers, with Park City Resort CEO and Vice President Deirdra Walsh stating that "chairlift tourism does not exist." VR was asked to provide insight into how they came to their CCC numbers, which are much lower than new numbers presented to the planning committee from the local who filed the appeal.
Long story short, the planning commission wasn't satisfied with Vail's explanation, so the two lift upgrades will not be happening in time for the 2022-'23 ski season. It's unclear whether or not Vail will still introduce paid parking on the Park City side of the resort, where massive issues with overflow lots, packed shuttle busses, and bottlenecked road plagued skiers last season. Regardless, that solution is seen as way too little to make a real impact.
"Figure out parking first. Figure out staffing first. You can't even maintain and open all lifts and terrain parks as it is," wrote one skier in response to PCMR's statement of disappointment over the vetoed lifts. "Continue to work with the city to allocate and subsidize affordable housing. Vail's business model has destroyed skiing culture. Rebuild first."
As for the Deer Valley approval, the resort is still well within its CCC numbers thanks largely to the restrictions on resort access through the Ikon Pass. What's more, Deer Valley actually decreased its Ikon Pass access for the coming season, making the Burns approval not as controversial as what Vail is asking for at PCMR.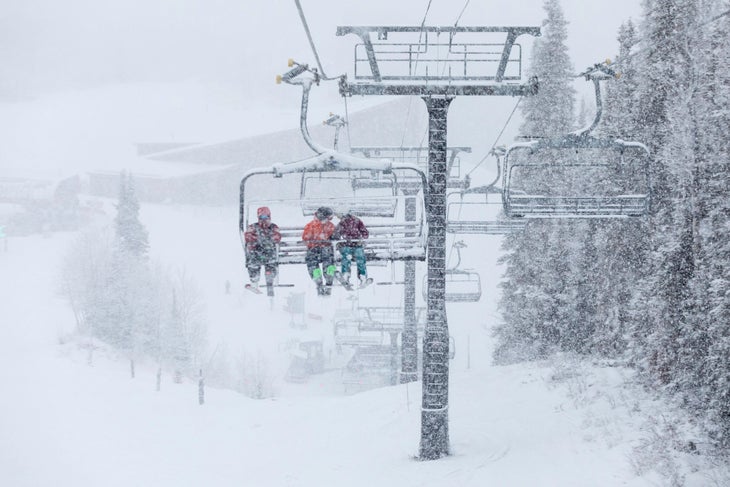 Deer Valley is leaving the Base Pass for the 2022-'23 season, which means that skiers have to upgrade to the Base Plus, which is currently $200 more than the Base Pass, or buy the full Ikon Pass. Either way, you only get five days at Deer Valley on the Base Plus and seven days on the full pass. VR's Epic and Epic Local passes, on the other hand, provide unlimited access (Epic) and unlimited with holiday blackouts (Epic Local) at Park City. So you can see why Deer Valley's upgrade requests might be more appetizing to the planning committee, which is made up of people who live in the Park City area and deal personally with grid-locked traffic and a crowded town.
Is there some level of backlash toward Vail going on after many seasons of what locals feel is unchecked growth and corporate greed overrunning their town? Likely. While it's easy to skim the issues and wonder how two lift upgrades on a massive mountain—the largest in the U.S.—could be worth a pushback of this level, you have to consider the quality of life issues that locals claim have only gotten worse over the last several years.
While the temperature toward Vail on social media remains fairly cool, the company does have its supporters, including longtime Park City local and ski industry veteran Tom Kelly, who flat-out disagrees with the points laid out in the appeal.
"There are some members of our community who are angry, and they have large voices," said Kelly, who's lived in the area for 34 years and skied 40 days last season between PCMR and Deer Valley. "I just don't agree with the case that's being made. Park City has put together a very prudent plan and they want to execute it, and it will improve the skier experience. Now the mountain will not be able to put these plans in place and that negatively impacts me as a local."
Kelly, who's a huge advocate for public transportation and takes the bus regularly from his home in Silver Creek, about seven miles from the ski resort, said that he's angry and disappointed that the community couldn't come to an agreement on a way to let VR move forward with the two lift upgrades. 
"We've been a ski town for half a century. It replaced mining, it's our lifeblood. All of the benefits we enjoy stem from the success of the ski resorts and what they mean to the community," he stated. "It saddens me that the ski area chose to invest 20 million on these upgrades—they didn't have to—and the lifts will sit in a parking lot all winter."
The saga is far from over, as the planning commission has—or will soon have—several more projects in front of it, including massive new base area proposals at both PCMR and Deer Valley.
It seems as though VR best take seriously some of the ideas that have been bandied about over the last couple of years, including letting Epic Pass holders designate a home mountain where they get preferred access, re-introducing a reservation program to keep crowds in check, or even selling fewer Epic Passes.
Or, stated Moschetta, "they could start by opening all terrain and limiting skiers to number allowed so 125 percent of capacity isn't sharing 60 percent of [the] mountain. They'd have to pay living wages and decentralize snowmaking/grooming. Increased lift capacity amid [the] current situation is like adding stairs to [an] overcrowded building."
Until then, as one skier stated on social media earlier this week, "The real losers in this petty war are people who love to ski."