How a Municipal Ski Area Became a Microcosm of National Partisanship
Anti-government politicians have set their sights on dismantling a beloved and profitable ski area in New Hampshire.
Photo: Courtesy of Gunstock Mountain Resort
Heading out the door? Read this article on the new Outside+ app available now on iOS devices for members! Download the app.
You might have never heard of a little ski hill called Gunstock Mountain Resort in central New Hampshire, but there's a strange political controversy playing out there that will determine the fate of this government-owned ski area—and perhaps other municipally owned mountains, as well. Why should you care about a 227-acre ski hill you'll probably never visit? Because at the heart of this convoluted story are skiers just like us who don't deserve to lose access to their home hill.
A couple weeks ago, Gunstock's entire management team suddenly resigned. While it wasn't a complete surprise—relations between the management team and the Gunstock Area Commission, which oversees the resort, had been on the decline for a while—it did force the ski area to abruptly shut down its popular summer operations. Ultimately, the action revealed just how deep the schism between Gunstock management and the commission really is.
Former general manager Tom Day and his executive team tendered their resignations after being excluded from their traditional seats at the table for a Gunstock Area Commission meeting called to address the strained relations between the two parties. "It was a power play," said Gunstock Area Commission member Gary Kiedaisch.
That meeting followed months of tension between Gunstock executives and a group of commissioners who openly challenged the role of the management team (as well as allegedly interfered with the resort's day-to-day operations, including criticizing ski instructors in front of customers). Kiedaisch, the former CEO and president of Stowe Mountain Resort in Vermont, also resigned to protest the commission's actions, but rescinded his resignation less than a week later.
It's a messy situation with a baffling question at the heart of it: Why would the commissioners supervising a county-owned ski area sabotage that area's management team, despite the fact that the hill was profitable and making good on the taxpayers' investment? That's the question that Day, Kiedaisch, and many of the resort's longtime fans are grappling with. 
There's no easy answer here, not without jumping down a rabbit hole of political conspiracy theories, clashing personalities, and dueling charges of financial impropriety.
The mass resignations sparked a stunning rebuke of the Gunstock Area Commission from New Hampshire's Republican governor, Chris Sununu, whose family owns Waterville Valley Resort.
"What has been happening over the last year surrounding the Gunstock Area Commission's inability and unwillingness to work collaboratively with the management team at Gunstock is deeply concerning," said Sununu.
Sununu specifically called out state representatives Mike Sylvia, Norm Silber, and Gregg Hough (all Republicans), and the remaining members of the Gunstock Area Commission, for having "lost the trust of the citizens of Belknap County." He targeted the state reps for their bad decisions, and called for their removal. "Until they are replaced with good people who recognize the wonderful asset that Gunstock is, the county will continue to suffer."
Sylvia, a self-proclaimed Free Stater and chairman of the Belknap County delegation, has repeatedly campaigned on the libertarian ideal of the less government, the better. Silber, a tax attorney who moved to New Hampshire from Florida, is a "Free Stater who is for minimal government," said Kiedaisch. ("Free Stater," a termed originally coined for anti-slavery states like Kansas, has been adopted by a strident group of libertarians, drawing on New Hampshire's motto of "Live free or die." The Free State Project, first launched in 2001, advocates for reducing the role of government to "the protection of life, liberty, and property," according to the group's mission statement.)
"Silber decided that Gunstock shouldn't be a government-run entity,' said Kiedaisch. "In 2016, before I was on the commission, he started barking that Gunstock should not be run by the county, that it should be privatized and leased."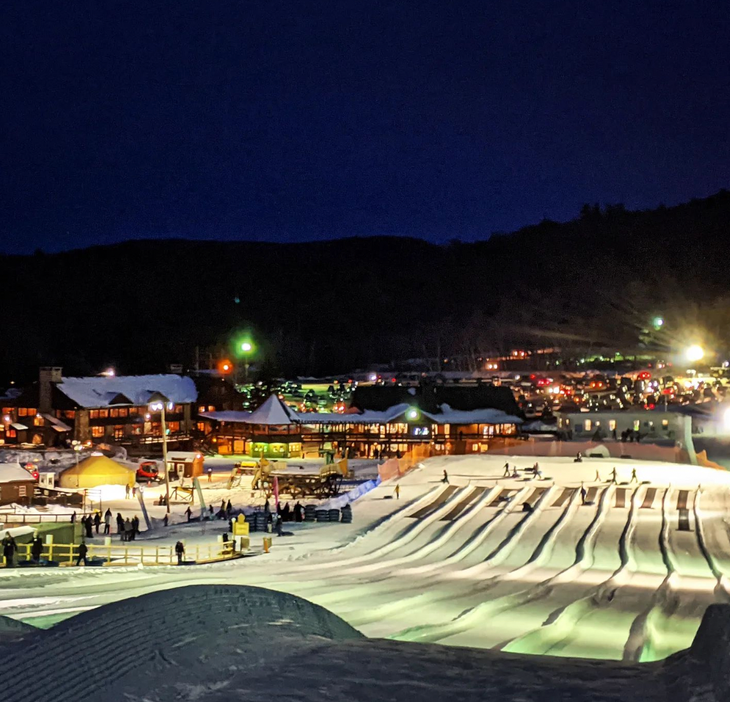 There's an unmistakable irony of "small government" advocates undermining Gunstock. The Belknap Mountain Recreation Area, as Gunstock was originally known, was launched during the Great Depression, when widespread unemployment prompted President Franklin D. Roosevelt to create the Works Progress Administration to fund state and local projects. The federal government matched every local dollar raised with six dollars, and Gunstock opened in 1936 with a lodge, a chairlift, four rope tows, and four miles of terrain. The local contribution to the three-year project? A mere $70,000.
More recently, Kiedaisch lured Day, a former Waterville Valley executive, out of retirement in 2019 to implement a capital plan to resuscitate a tired and struggling Gunstock. Day, his team, and the commission, said Kiedaisch, put together a "brilliant master plan" to run Gunstock "professionally as a quasi-government entity and a for-profit business." The resort has shown strong signs of a resurgence, posting profits of $9 million and $8 million respectively in the past two years. 
However, in the ensuing years, Kiedaisch lost his collaborators on the commission. The five Gunstock Area Commissioners are appointed by the Belknap County legislative delegation, which currently consists of 18 Republicans. New members Peter Ness and David Strang, at the bidding of "minimal government" proponents on the Belknap County delegation, locked horns with Day and his team, said Kiedaisch. Ness has since resigned from from the board, and Strang is under pressure to do the same. 
"Now you've got a board of commissioners, three who believe they run the mountain, that they call the shots," he said. "They killed the capital budget. They killed the master plan."
The losers in all of this? Skiers, outdoor-lovers, and all the community members who enjoy the ski area's summer and winter offerings.
The day after resigning, giving two weeks' notice, Day and his executives were escorted from their offices by the county sheriff. Commissioners then abruptly curtailed most of the resort's summer offerings. That action, said Kiedaisch, underscores attempts by "Free Staters" to sink the resort by any means necessary. 
"The endgame is that they wanted to disrupt operations of the mountain so they could justify saying it should be leased, that we shouldn't be running it ourselves," said Kiedaisch. "They want to get government out of operating the business."
That's an ominous sign for Gunstock. Despite the stated beliefs of Sununu and a growing number of Belknap County taxpayers to remove the commissioners hindering the resort's operations, Kiedaisch isn't optimistic. "That ain't going to happen," he said, adding that Day and members of his team are amenable to returning, but only if Ness and Strang are removed.
The community, to put it succinctly, is pissed. Calls for Sylvia's and Silber's resignations are growing on social media, as well as inciting voters to oust them during the upcoming September primaries. "Remember folks the key is to come hard and vote in the primaries," wrote Gunstock supporter Ned Crystal. "September 13th is the only way we can change the whole Commission by voting for more reasonable, responsible and non-extremist delegates."
Gunstock commissioners, following the resignations, released a statement that they were "developing plans to ensure Gunstock's continued operations as seamlessly as possible."
"The GAC's objectives are to remain open, continue employment of valuable staff, provide guests with exceptional experiences and fulfill the GAC's obligations to the taxpayers by securing financial stability of the Gunstock Mountain Resort," read the release. 
However, Gunstock's remaining managers issued their own statement contradicting the commissioners, saying: "Due to our concerns for the safety of our guests, Gunstock's reputation to deliver high-quality products and services, and the continued success of the organization, it is our assertion that the Adventure Park operations cannot resume until we have a qualified, competent senior management team in place." 
Plus, ski area managers know that summer can make or break your winter. That's when repairs and improvements, such as the installation of new lifts or lodge upgrades, get done. Sadly, Gunstock appears destined for either the scrap heap or the auction block.
And that's what's so easy to forget in this ongoing mess: the skiers. The season pass holders, the families teaching their kids to ski at their local hill, the instructors, lifties, ticket scanners, and food servers who make their livelihoods here. Then add the neighboring businesses, which will also suffer if Gunstock stumbles.
"We renewed our season passes as soon as we could because of how well the mountain was run last year," wrote one Gunstock pass holder via Facebook. "It's time for the GAC to go. Let the management team that was in charge run the mountain properly as they have done. Privatization will ruin the mountain forever. Just look at what Vail did to Sunapee, Attitash, and destroyed Wildcat."
It might be too late. 
"Here's the challenge," said Kiedaisch. "If Jesus himself came off the cross, stepping into Ness's shoes and walking into Tom's office, he wouldn't be able to pull together a management team and the 150 seasonal employees we need this winter. Ness doesn't have people in place now to oversee and supervise the work that has to be done in the summer to get ready for winter."
As for the true end game of the commissioners' "power play"? It's anybody's guess, said Kiedaisch. Sununu has already stated that the actions of the Belknap County delegation and the Gunstock commission don't mesh with the Libertarian values espoused by many Free Staters.
"I think that a few individuals have maligned the Free State movement,' said Sununu in published reports. "I don't have any problem with the Free State movement. Those are Libertarians. Those are folks that moved here in the last 20 years as part of an opportunity for a more limited government and less government in their lives. I am all for that." 
But Kiedaisch says the commission's current agenda goes far beyond that standard. And, most evidently, they've failed to fully explain their actions.
"What's in it for Silber, and why has he been hammering on this agenda since 2016," asked Kiedaisch. "He still continues to move in that direction, saying Gunstock should be leased. If you follow the money, what's in it for him?"
That question, like many in the Gunstock saga, has yet to be answered.
This is a developing news story, and will be updated as needed.