The Rise of the Indie Resorts
As the Ikon-v-Epic race continues, Monarch Mountain runs on the independent ticket.
Heading out the door? Read this article on the new Outside+ app available now on iOS devices for members! Download the app.
While driving from Boulder to Crested Butte for a weekend of mountain biking, I spied something big on U.S. Route 50. Something out of the ordinary. Something bold. It was Monarch Mountain's new billboard: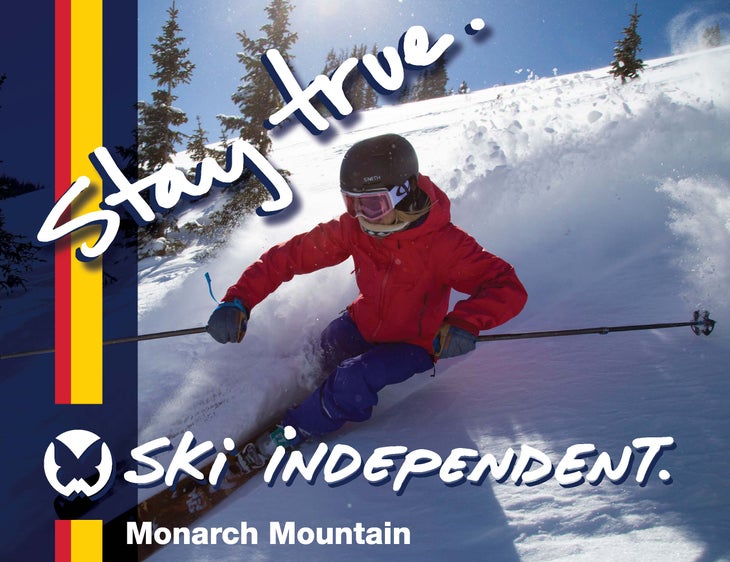 Still reeling from the news of Vail Resorts' most recent round of acquisitions, including Crested Butte, I was gob smacked by the cheekiness of the giant ad. While Vail Resorts and Alterra Mountain Company are snapping up resorts left and right (and to be fair, many resorts across the country are scrambling to get on the Epic or Ikon tickets), here was little, tucked away Monarch Mountain, leveraging their independence.
"We don't have corporate headquarters to answer to, so we can be a little cheeky and get away with it," says Hayley Houlihan, Monarch Mountain's marketing coordinator.
While the billboard must feel like a slap in the face to Crested Buttians who inevitably have to drive past it on their way to and from the Denver metro area, Monarch's new messaging isn't a comment on Vail Resorts' acquisition of Crested Butte, Houlihan explains.
"'Ski Independent' is a moniker we latched on to early last season, before anything happened with Crested Butte. We wanted to refine the brand, and asked ourselves, 'What makes us different?' We obviously can't compete with some of the giants financially, or acreage- or terrain-wise. What makes us who we are is that we are this small, independent ski area. We're really more of a family," says Houlihan. "Ski Independent is a message that also aligns with our all-natural approach [to running the resort]. We don't make snow, we rely on Mother Nature."
Will this marketing strategy actually work in Monarch's favor? While locals of small, formerly-independent resorts recently tagged with the Epic or Ikon label may lament the loss of their independence, aren't they also secretly happy that they'll have access to more resorts? Crested Butte's adult season pass, for example, is currently on sale for $729, while the adult Epic Pass, which now includes unlimited, unrestricted access to Crested Butte and 18 other major resorts across the country, is currently not much more expensive at $899. Despite this, Houlihan believes a lot of skiers will stand by the underdogs.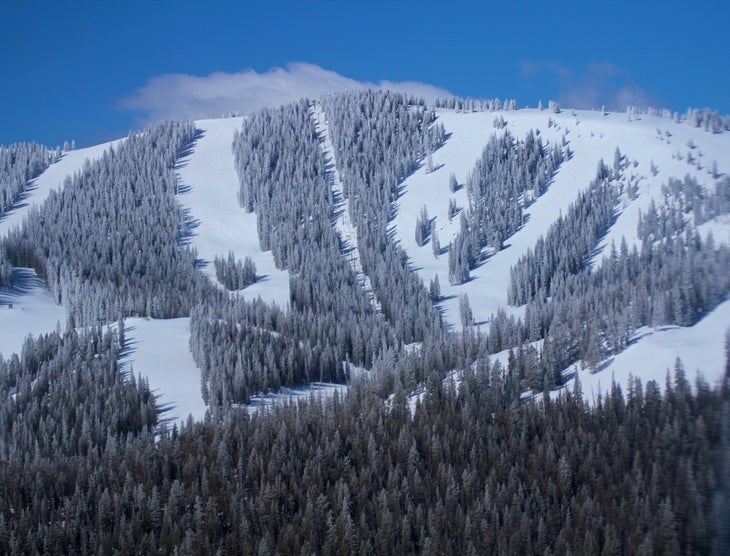 "I really think there is already a movement towards supporting some of the smaller guys—not just [Monarch] but Loveland, Cooper and Silverton—all of our buddies who are in the same boat," says Houlihan. "I think there's already been a shift, especially for local Colorado folks who are just tired of the traffic and the lift lines. [Monarch Mountain] has been this hidden gem and best kept secret for a long time. Hopefully we'll see more new faces come out this year, faces who in the past just drove by."
To attract more new faces this coming season, Monarch Mountain has joined the Powder Alliance, a group of 20 independently operated ski resorts across North America offering season pass holders of member resorts up to 57 free days at partner ski areas. That includes Monarch's local "buddy in the same boat" Loveland, Colo., as well as resorts further afield, like Angel Fire Resort in New Mexico, Bridger Bowl in Montana, Kiroro in Japan, Marmot Basin in Canada, and La Parva in Chile. Monarch's adult season pass, which now includes access (with some restrictions) to these other Powder Alliance resorts, is currently on sale for $459, roughly half the cost of Crested Butte's season pass and the Epic Pass.
"We're so excited that we're going to be able to offer [Powder Alliance benefits] to our season pass holders at no extra cost," says Houlihan. "We can put our money where our mouth is and let them know that we just want everyone to learn to love the sport and explore all the wonderful independent [resorts] that are banding together. And I'm hoping, obviously, that people who have grown up skiing at Angel Fire will be excited that we've been added to the Powder Alliance and will make the trip over [to Monarch]."
In the face of conglomerates like Vail Resorts and Alterra, independently owned and operated resorts have little choice but to form their own alliance in order to survive. "Little ski areas are really the lifeblood of their little communities," says Houlihan. "We have to have each other's backs." But for Monarch, joining the Powder Alliance is not only about survival—it's also about principle.
"We're going to stay independent. We have 17 shareholders, most of them are locals and all are avid skiers. They're not in it for the money. We do this for the love of skiing," says Houlihan. "We need to keep independent resorts going to help boost creative innovation [in the industry] and help keep skiing affordable."
Indie ski brands have done the very thing in the realm of ski manufacturing. Can indie resorts follow suit?