Up to 10 Feet of Snow Headed for California as Stay-at-Home Orders Lift
Winds reaching 80 to 100 miles per hour, as well as high avalanche danger and snow totals, could keep ski areas from operating
Heading out the door? Read this article on the new Outside+ app available now on iOS devices for members! Download the app.
Aimee Doran is going to have a busy next few days. The sponsored skier from Olympic Valley, California, works part-time as what she jokingly calls a "snow removal specialist." She shovels snow for a property manager near the base of Squaw Valley ski area, clearing the sidewalks of local businesses, the post office, and homes in the valley. With a predicted three to six feet of snow about to hit the Lake Tahoe region in the season's biggest storm yet, Doran is prepping for some long hours.
"I start shoveling at 5:30 in the morning when it's still dark. Then I go skiing as soon as the lifts open," Doran says. "Usually with Tahoe's big storm cycles, it doesn't stop snowing, so after skiing, I'll go shovel all those properties all over again. When I finally get home, I have to shovel my own deck."
The Sierra has had an underwhelming start to the winter so far, with just 50 percent of average snowfall. But this storm is expected to bring an atmospheric river of moisture and precipitation, with cold temperatures that will bring snow levels down to around 3,000 feet in elevation, accompanied by high winds.
"As far as total snowfall for the Tahoe area, we're looking at three to six feet of snow between now and Friday, which isn't totally uncommon for big Tahoe storms," says Bryan Allegretto, California snow forecaster for OpenSnow.com. "In the southern regions, ski areas like Mammoth or Dodge Ridge could see upwards of 10 feet of snow for the three-day total. Those spots are right in the bullseye of the storm."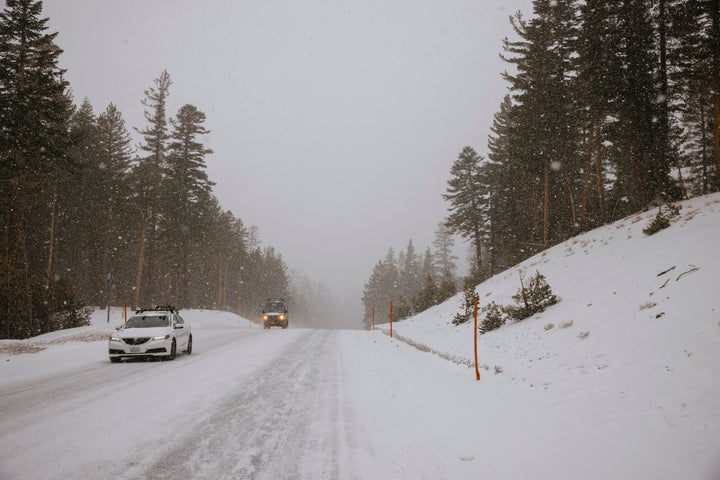 Allegretto says he expects the upper mountains of California's ski resorts to be shut down due to winds reaching 80 to 100 miles per hour, as well as high avalanche danger due to wind loading and snowfall totals. "It's a pretty typical Sierra storm, which means we'll likely see delayed openings for avalanche control," Allegretto says.
California has been under regional stay-at-home orders since early December due to high numbers of COVID-19 cases and limited capacity in area hospitals. On Monday, the last-remaining stay-at-home orders across the state were lifted, now enabling certain businesses to reopen and limited travel to resume.
"It is more important than ever to plan ahead when traveling to Mammoth, not only in a covid world to understand the changing policies and procedures in the county and for the various businesses, but even more so during extreme weather," says Lauren Burke, communications director at Mammoth, adding that guests should be prepared to spend the majority of their time outdoors in extreme weather.
"High winds, dangerous road conditions, and closures are likely. The good news is that a storm like this will set up our base for a long, classic Mammoth winter season," says Burke.
Ski regions including Mammoth and the Tahoe area are still in the designated purple tier, indicating a widespread risk level for the virus. Lodging and short-term rentals are now open in both regions, with some restrictions.
"With the possibility of hazardous road conditions, delayed and limited mountain operations, and no indoor capacity to shelter from the weather, we urge you to frequently check our app or website for updates before coming to visit us," says Liesl Hepburn, public relations director at Squaw Valley Alpine Meadows. "Expect delayed and potentially limited openings due to both blizzard conditions and covid-19 protocols. Our critical operations like avalanche hazard mitigation, on-mountain transportation, lift maintenance, snow removal, lift de-icing and building/re-building mountain access roads will take longer because of covid-19 protocols."
Caltrans, the California Highway Patrol, and the National Weather Service strongly discourage travel over the next few days until this storm is expected to pass on Friday. "This is sizing up to be the biggest storm of the season, with several feet of snow and wind gusts up to 100 miles per hour at higher elevations, creating whiteout conditions," says Steve Nelson, public information officer for Caltrans District 3 in the Lake Tahoe Basin.
"Motorists who do decide to travel during this storm can expect chain controls on Interstate 80 and Highway 50 and long delays." Find the latest road conditions and advisories here.
As for Doran, she's excited to finally ski some powder. "I've gone to the grocery store, stocked up on everything I need," Doran says. "I'm going to bed early tonight."