What the Experts Say About This Winter's 'Triple Dip La Niña' Snowfall
How do we think about the future of snowfall in the face of climate change and can we predict the weather this winter?
Heading out the door? Read this article on the new Outside+ app available now on iOS devices for members! Download the app.
If you, like me, occupy some particularly dorky corners of the internet, you might have heard the phrase "triple dip La Niña" floating around. NOAA's latest forecast says there's a 91 percent chance of a La Niña at the beginning of the season, tapering off to a 54 percent chance by March. The snow nerds are buzzing because La Niña, which is technically "the cool phase of the El Niño-Southern Oscillation (ENSO) climate pattern" has historically meant that the Northwest got hammered by snow. This will be the third year in a row, and that triple dip has only happened twice since 1950.  
But historic weather hasn't been a great predictor of the future lately. Where I live, in southwest Colorado, La Niña should spell out another sparse winter and a dry fall, which so far hasn't been true.
Snowy years are getting wonky. I spent last winter in the Northwest, where a second straight season of La Niña should have been deep. But instead, it felt like a boom and bust cycle: a big storm, followed by a long dry cycle, or a series of snowfalls that came in hot and rainy. Climate change has sent our predictive senses cockeyed.
As skiers, we tend to be obsessive about weather predictions, and La Niña has historically been a clue, a way to predict the winter. But in the face of the past few weird years, do the signs we've previously used even matter anymore? And what should we be looking at instead? 
To start, maybe we should talk about what it means to be an El Niño or La Niña year.  What does it conjure besides a thrashy, spittle-mouthed Chris Farley meme (just my old millennial self? Ok.)?
Scientists stress that La Niña is not a storm that hits a specific area at a given time. Instead, it's a change in global atmospheric circulation that affects weather around the world.
 According to the fine folks at NOAA, La Niña and El Niño are opposite sides of the El Niño-Southern Oscillation (ENSO) cycle, a natural climate pattern defined by opposing warm and cool phases of oceanic and atmospheric conditions in the Pacific. They want to make it clear that neither of those is a specific storm that has specific places at specific times, instead, they're changes in the global atmospheric circulation.
Depending on which way the trade winds blow, they can pull up cold water from deep in the pacific, a process called upwelling. When the water is warm, in an El Niño year, the jet stream tends south, bringing moisture to the southern part of the U.S. In La Niña years, cold sea surface temperatures push the jet stream, and its associated moisture north.  
NOAA says ENSO is one of the most significant climate patterns on earth. It has a huge impact on temperature and precipitation, across the globe, and it can be predicted in advance, unlike some other common weather phenomena.
It's a worldwide phenomenon, but it hits particularly hard in North America where we're directly in the path of that variable jet stream. And NOAA also says it's often felt most significantly in the winter, so if you're a skier, the patterns can have an impact.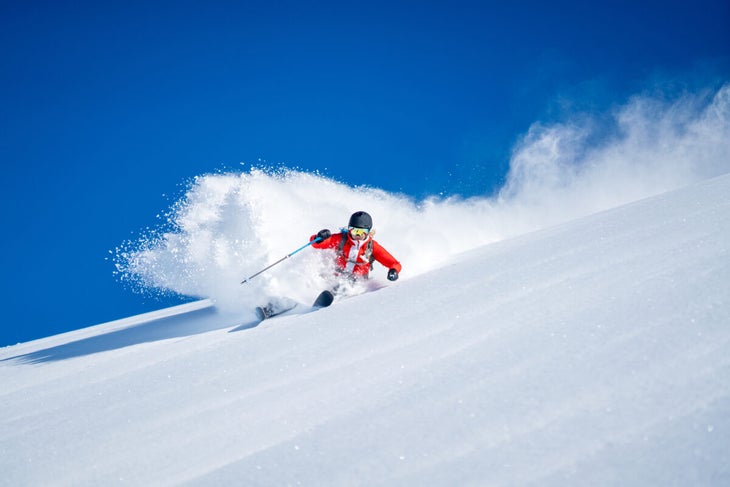 "It can be helpful, depending on where you're located," says Ben Hatchett, an assistant research professor in the Division of Atmospheric Sciences at the Desert Research Institute in Reno. "The far Pacific Northwest and the deep Pacific Southwest have the strongest la Niña signals. El Niño stacks the deck in favor of California and Arizona, and those years tend to have bigger storms in a statistical sense, but El Niño can be a bust."
Those boom and bust years are becoming more variable. Like all weather patterns in the face of climate change, Hatchett says those ENSO cycles are getting weirder, and its weirdness is getting harder to track. "The story going forward is that everything we used to expect is kind of getting overwhelmed by a new world of climate change," he says. 'One robust finding of climate science is that things are going to get more variable. Big storms could get bigger, but we could lose more of those smaller refresh days."
That's important to climate scientists who aren't just skiers like Hatchett is. The most recent IPCC report found that extreme El Niño and La Niña events have been happening more frequently since 1950, but that there's a lot of noise in that signal. For instance, ocean temperatures have become much more variable. Ambient temperatures have risen, but there's also more cold water circulating from melting ice sheets. And there are other contributing factors, like different parts of the ocean warming at different rates. "Frequency and strength have fluctuated, so the hard part is that predicting what's going to happen over the next century from paleo-climatic models," says Jim Steenburgh an atmospheric science professor at the University of Utah, and author of Secrets of the Greatest Snow on Earth. "These things have happened, we don't completely understand why, and computer models for prediction are all over the place."
Steenburgh is also a big skier (find him on Twitter at @professorpowder) and he says that ENSO cycles can be a clue to how the winter might stack up, but that there are other, more critical climate factors that are impacting our future snowpack.
"There's nothing that correlates directly with snowpack with the exception of climate change," Steenberg says. He says the dice are loaded for increased temperatures, lower elevation rain, and more variability. That can mean more melt-freeze cycles, persistent dry spells, and shorter seasons, as warming events happen earlier and later in the season. "Global warming isn't an equal opportunity offender," he says. "Some regions and some areas are going to suffer more than others. High elevation places might do better for snow, but then there will be more pressure on those high places" 
Hatchett says he's paying more attention to smaller-scale changes, too, like how slope aspect and angle impact snow quality in a warming world. "From a skier perspective it's really interesting to see how all these changing environmental variables can be used to figure out where the snow is going to be good," he says. "They can be as broad and simple as the transition between snow and rain. Or a place where the corn doesn't freeze as hard or as much in the spring. 
So in the fact of that, what do the experts say about how this season, with its triple dip La Niña is going to play out? "If you want to go skiing and buy a ski pass, you probably should," is Hatchett's advice. Steenburgh agrees, but they both say we have to be prepared for more variable winters, La Niña or not. "We can take our historic knowledge and understand it,' Hatchett says. "But now we have to put on our glasses of confusion because everything we used to think doesn't really hold up."