Newbs in the Backcountry
This never-ever dons her first pair of skins and discovers the joys of uphill travel.
Heading out the door? Read this article on the new Outside+ app available now on iOS devices for members! Download the app.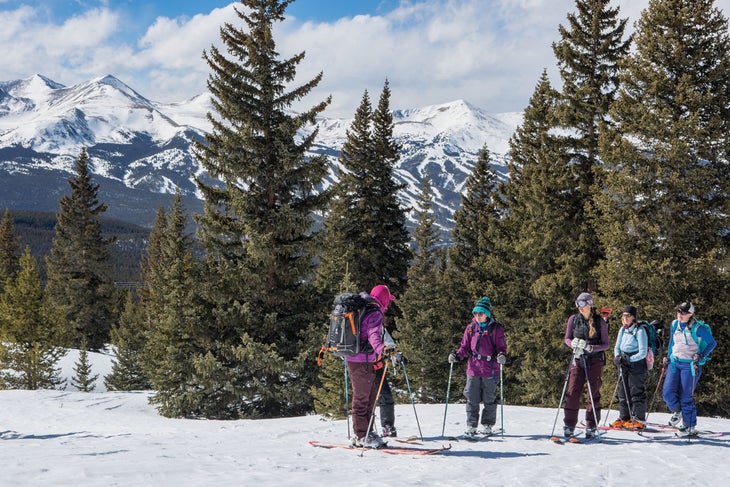 At the very real expense of my reputation and self-esteem, I share this nugget from my first foray into the backcountry: At the base of the skin track, as our small group stopped to put our skins on their skis, I put mine on upside down. What's worse, I didn't even notice for the first few minutes of skinning uphill until my instructor noticed that I working harder than I ought to be.
Embarrassing, I know.
Then again, that's why I signed on for this Beginner Backcountry Ski Tour course in the first place. Everyone has to start somewhere, right? And as it turns out, this one-and-a-half-day course offered by Backcountry Babes is just the right place—upside-down skins and all.
As you might have guessed, Backcountry Babes is an all-women-owned, -run, and-taught guiding operation founded in 1997 to ensure women a place to learn and challenge themselves in an encouraging environment. The outfit offers about 20 camps and clinics every winter, from far-flung backcountry adventures in Iceland and Japan to my beginner how-to course just a couple hours from the SKI offices on the Baldy Mountain trailhead outside of Breckenridge, Colo.
Quick Clinic: All About Angles
The course doesn't start at the trailhead, however. The previous evening we meet in a room above the local ice rink to learn how to use all the equipment in our packs (transceiver, probe, beacon, and shovel), how to dress for tomorrow (hello, layers), review the weather forecast, and make a touring plan. There are eight women in our group, but only a couple are never-evers like me. The most common demographic seems to be women in their late 20s to early 30s who ventured into the backcountry with boyfriends/husbands/friends, took some unnecessary risks, got lucky, now want to learn how to do things right—and for themselves.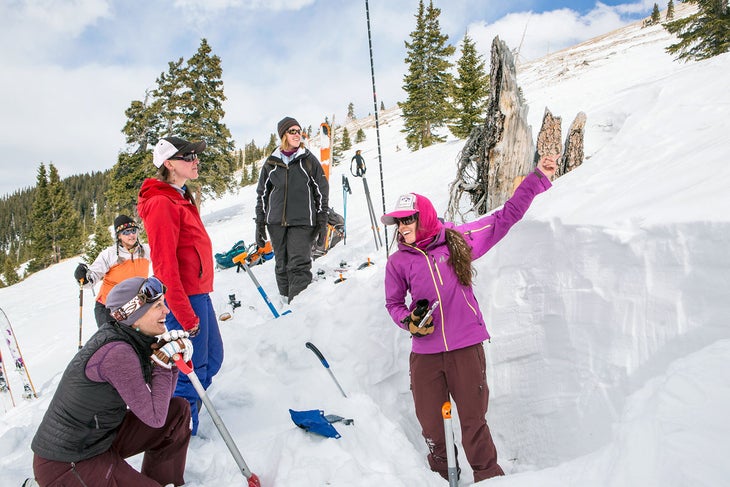 Our guide, Eryka Thorley, takes us through the paces, and after a couple hours, I feel confident—and excited—about tomorrow's on-trail experience. I arrive at the trailhead stuffed with a good breakfast and layered in various sweat-wicking and insulating materials. Skins on—right-side up—we head up the skin track on this mild, sunny day in early March.
My first thoughts as I get going uphill: How have I never done this before? This is right up my alley. On my mountain or road bike, I'm the one that prefers the hills, usually terrified of the speed on the way down. I run regularly and high-intensity interval training is my favorite type of workout (which is to say, pain is my friend). Halfway up I'm at a comfortable breathing rate, feeling the high of the endorphins and wishing I hadn't worn so much damn clothing. We stop for lunch next to an abandoned mine and eagerly refuel.
Get the Gear: Gear of the Year 2019 – Backcountry
The second half of the skin takes us out of the trees into an open field with amazing views of the ski area across the valley. We stop to dig a snow pit and examine the different layers of snowpack, trying to identify the weaker layers that are more prone to sliding. Then we zig and zag our way to the summit just in time to see the clouds starting to gather to the east—just as our forecasting the night before warned. The downhill takes us about 45 minutes (compared to four-plus hours on the way up), and while it's enjoyable and all, getting there really is half the fun—at least for this new backcountry enthusiast
Backcountry Babes Beginner Backcountry Ski Tour
Originally published in the January/February 2019 Double Issue Print Edition of SKI Magazine. Don't miss an issue and SUBSCRIBE.