Europe's Snow Crisis Doesn't Bode Well for the Future of World Cup Ski Racing
It's no longer a matter of if climate change will affect how the World Cup circuit operates, but how much.
Heading out the door? Read this article on the new Outside+ app available now on iOS devices for members! Download the app.
Across the pond, history is in the making on the World Cup front, and we're not just talking about Mikaela Shiffrin, who's on track to smash the record for all-time World Cup wins this season. We're talking about Europe's record-breaking heat wave that's taken global headlines by storm and prompted meteorologists and climatologists to ring the climate change alarm more violently than ever before. It's also prompted the cancellation of multiple professional snowsports events, including alpine World Cup races.
In what has been called, "the most extreme event ever seen in European climatology," January temperatures have reached historic highs in multiple countries across the continent. Seven northern countries saw record high temps on New Year's Day—up to 67 degrees (Fahrenheit) in some cities. The skiing hub of Innsbruck, Austria, welcomed the new year with a balmy 54 degrees and highs in the mid-40s are predicted throughout the beginning of January. Multiple ski resorts in the French, Swiss, and German Alps have yet to open, and are not expected to this season.
Thankfully, forecasters predict cold weather moving south from the arctic will improve Europe's predicament over the next couple of weeks. But in the meantime, strips of white cascading through fields of green is imagery that's cause for concern.
During the 2022 Beijing Winter Olympics, such imagery drew global attention to the delicate relationship between climate change and snow sports. Media outlets speculated what reliance on artificial snow would mean for the future of winter sports, athlete safety, and the planet's well-being.
According to a recent report from the Institute for Snow and Avalance Research SLF, a sector of the Swiss Federal Institute for Forest, Snow and Landscape Research, a green Christmas in the Alps is about to become increasingly common. Without the reduction of carbon emissions, the Swiss Plateau's natural snowpack could shrink up to 70 percent by the end of the century. Only ski resorts located above 2,5000 meters (about 8,200 feet) will have enough natural snow to operate.
Snowmaking is a consumptive process, one that requires thousands of gallons of water. And it doesn't always create an ideal surface for skiing. Fortunately for alpine ski racers, artificial snow is a preferred method for course preparation by the International Ski Federation (FIS), as it allows race crews to create a hard, icy surface that can withstand long start lists and simulate fair conditions for as many athletes as possible.
Even though most resorts around the globe are equipped to make their own snow, it's not a reliable backup plan. Without freezing temperatures, the snowmaking process can't begin, which puts extreme pressure on World Cup hosts to create a race course out of nothing. Course crews can do what they can to make up for what mother nature lacks, but mimicking winter conditions is near impossible when regions haven't seen cold enough temperatures for man-made snow to keep.
This weekend, the sights of Adelboden, Switzerland, host of the next men's World Cup races, will show a glimpse into a future without natural snow, as the organizing committee battles to create a viable competitive surface for its classic tech series in the face of 44-degree highs.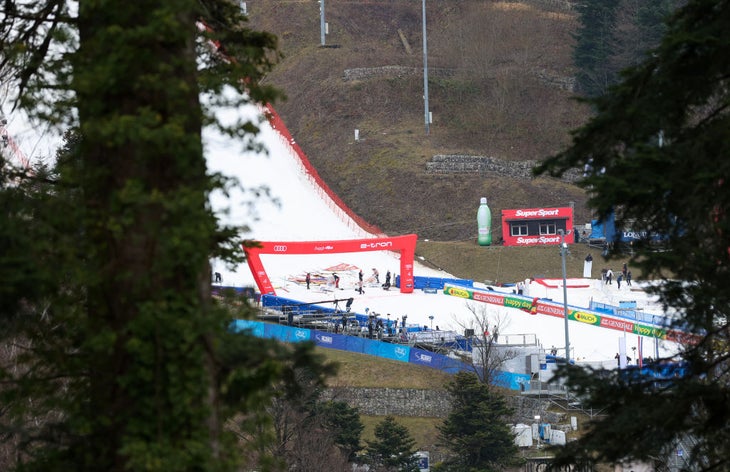 The Zagreb World Cup presented similar issues on Jan. 4. The first of two night slaloms got underway, but not without an extreme effort from the course crew. Then the track did not hold enough for the athletes to compete again on Jan. 5.
Early-season cancellations have plagued the FIS World Cup Tour for years. And as mid-season cancellations become more common as the climate changes, the question shifts from whether climate change will affect the World Cup circuit to how much it will affect the way it operates.
If warming patterns persist, FIS will be forced to consider climate trends when creating the Tour schedule in coming seasons. Athletes and their teams will have to adjust to softer conditions, or struggle to stay at the top.
For racers like the U.S's Luke Winters, soft snow is reminiscent of conditions in the Pacific Northwest where he grew up racing. He was able to push forward from bib 27 to 11th overall in the Jan. 4 night slalom in Garmisch, Germany, as top guys struggled to hang on.
Shiffrin, whose style excels on hardpack, has spent the past couple of years working with her team at Atomic to develop a ski that will respond in soft, wet snow. She attributed her fifth win in Zagreb to good skiing and a dialed-in setup.
Granted, not all ski areas have been as affected by high temperatures as others. The World Cup show will go on. But a lack of consistency across the Alps should put FIS officials on high alert looking towards the 2024 season. Especially when the January leg of the Tour relies so heavily on regions that are clearly struggling in 2023.
"The crew [in Zagreb] did an amazing job, but I think the questions we have to ask ourselves are a little bit bigger than ski racing," Shiffrin commented after her win in on Wednesday. "Temperatures are so warm right now that we can barely host these World Cup races at classic events like Zagreb."
More Ski Racing News
Shiffrin and Moltzan score first double podium for U.S. women's tech team since 1971
Mikaela Shiffrin is on the brink of breaking Lindsey Vonn's World Cup record