Mikaela Shiffrin and Rival Petra Vlhova Continue Their Battle for Reindeer in Finland World Cup Slalom
The Shiffrin vs. Petra Vlhova slalom saga continues with the Slovakian besting Shiffrin in the opening World Cup slalom races in Finland.
Heading out the door? Read this article on the new Outside+ app available now on iOS devices for members! Download the app.
Despite struggling with lingering back stiffness, Mikaela Shiffrin came out of the start gate with guns blazing at the opening World Cup slalom races in Levi, Finland this weekend. But Shiffrin's best effort still wasn't enough to stave off her main slalom rival, Petra Vlhova from Slovakia. Instead, Vlhova managed to secure back-to-back wins in the Levi slalom doubleheader on Saturday and Sunday, while Shiffrin, just 0.31 seconds and 0.47 seconds off Vlhova's pace in each race, had to settle for second place in both events.
Since the traditional grand prize of the Levi World Cup Slalom is a reindeer, Vlhova added two more reindeer to her herd of now five, which is one more than Shiffrin's herd of four, accumulated with victories between 2013 and 2019. Shiffrin and Vlhova have been battling over reindeer since 2014, which was the last year any other skier beside Shiffrin or Vlhova won the Levi slalom.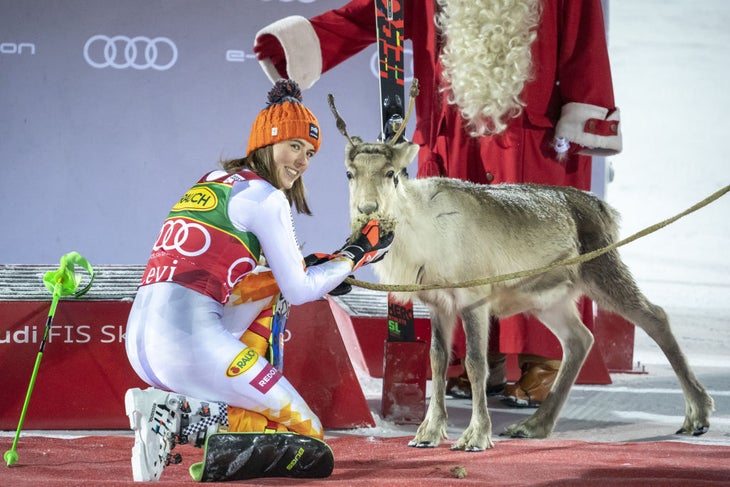 Meanwhile, Germany's Lena Dürr found her first World Cup slalom podium in Saturday's opening slalom race by finishing third—marking the first German podium finish in the women's slalom discipline since 2013—then repeated the feat in Sunday's race.
View full results of the Levi World Cup Slalom here 
What was most notable about this year's first slalom events of the World Cup season was the consistency shown by the top contenders, reflected in the repeat podium order in Saturday's and Sunday's race and especially in Vlhova's performance.
Watch: Vlhova dominates second Levi slalom
Vlhova, who in the past has often struggled to ski two consistently strong slalom runs, dominated both slaloms this weekend. She not only secured the fastest overall time, but clocked the fastest times in all four runs. That kind of consistency, especially in the slalom discipline where courses are reset between runs and even minor mistakes are difficult to recover from, is rare for any racer, and that includes Shiffrin.
While Shiffrin is known for her smooth, consistent skiing and though she did put down strong runs in Levi, she made one or two uncharacteristic errors that led to her crossing the finish line just off Vlhova's pace.
Watch: Shiffrin recovers from mistake in Levi slalom #2
Still, this weekend was hardly a bust for the American, who has now podiumed in all three races she's started in this season (she won the opening GS in Sölden). And while she admittedly didn't ski her best in Levi, she's happy with her start to this World Cup season.
"It's easy to start getting greedy," Shiffrin told U.S. Ski and Snowboard after Saturday's event. "I feel like in order to win races, you really have to earn it. I earned second place today, but I didn't quite earn the win. I got the podium, and that's awesome. It's a nearly perfect start [to the season], especially after the last couple of weeks."
This weekend's results are a testament to the power of training. Vlhova, who competed in the Sölden giant slalom race in late October and finished third, has spent the past couple weeks training in Levi on the venue's race slope.
Shiffrin, on the other hand, flew back to the U.S. after winning the Sölden GS to spend the preparation period training for multiple disciplines at the U.S. Ski Team's official training site at Copper Mountain, Colo.
While she chose to focus exclusively on slalom and GS last season, Shiffrin announced that she will once again compete for the Overall Globe in the 2021-'22 season, which requires her to compete in a number of races in every event—slalom, GS, super-G, and downhill—in order to accumulate enough World Cup points throughout the season to be a contender.
Competing in all four events is notoriously demanding. It means competing nearly every weekend during the heart of the World Cup season and traveling far and wide to get to those events hosted across European and North American venues. It also means splitting training time between multiple events.
During her training period at Copper, Shiffrin and her team aimed for double training sessions in slalom and speed training each day. But because Shiffrin's been dealing with ongoing back pain, a lot of that training plan went out the window.
"I completed about 15 percent of that schedule as expected," Shiffrin said. "I got home [from Sölden] on Oct. 29 and planned to start training right on the 30th with some slalom, then go into double sessions in speed and GS or speed and slalom for the rest of the period, right up until we left for Levi on Nov. 17. I got in two double sessions, instead of the eight or nine we were planning. So that wasn't ideal, but it was still productive, and something is better than nothing, always."
It remains to be seen how Shiffrin will manage her complex training and competition schedule in the coming weeks while getting in enough training and rest to continue to ski at the top of her game. While she's not sure yet which speed events she'll commit to in the coming weeks, she's announced that she plans to start in the Lake Louise races, scheduled for Dec. 3-5, right on the heels of the World Cup slalom and GS stop in Killington, Vt. on Nov. 27-28.
Meanwhile, Shiffrin's not the only one who will have to manage a complicated schedule. Vlhova, last season's Overall World Cup Champion, will undoubtedly be looking to add a consecutive Overall Globe to her shelf this season, which means she'll also need to compete in as many World Cup races as possible.
As it stands now, Shiffrin and Vlhova are tied in the overall World Cup standings, with 260 points each. Slovakia's Andreja Slokar ranks third with 184 points.
From Levi, the World Cup circuit moves to Killington, Vt. for the next women's GS and slalom events on Nov. 27-28. Meanwhile, the men's speed circuit gets underway in Lake Louise, Alb. on Nov. 26-27.