Mikaela Shiffrin Is 'Pushing Her Limits to Keep Up' In Changing World Cup Slalom Landscape
The greatest slalom racer in history acknowledges the competition is fierce and the margin for error very, very tight.
Heading out the door? Read this article on the new Outside+ app available now on iOS devices for members! Download the app.
After a nail-biter of a finale in Lenzerheide, Switzerland, the 2021 World Cup Tour has come to an end, and for only the third time in the last nine seasons, Mikaela Shiffrin did not walk away with a World Cup Crystal Globe.
Shiffrin was ranked third in the slalom standings heading into the final race of the season on March 20 and had a narrow shot at the title—she would need to win the race, and would need Petra Vlhova from Slovakia, the leader in the slalom standings, to finish third or lower.
Related: Slalom Queen Mikaela Shiffrin Faces Uphill Battle at World Cup Finals
After the first run, it looked like the stars could align for Shiffrin. The American sat in third, 0.90 seconds off the pace set by Austria's Katharina Liensberger. Vlhova, meanwhile, slotted into sixth after a conservative first run.
Watch: Mikaela Shiffrin's Slalom Runs at 2021 World Cup Finals
But in the end, 0.90 seconds proved too big of a margin to overcome. Despite risking it all in the second run and nearly missing a gate just before the finish as a result, Shiffrin finished the 2021 season ranked second in the world to Liensberger in the slalom discipline. The Austrian claimed her first World Cup title after a blazing second run that saw her crossing the finish more than a second ahead of the competition.
Watch: Austria's Katharina Liensberger Goes Full Throttle in Slalom Final
Vlhova, the slalom leader heading into the finale, ultimately lost her hold on the Slalom Globe and was forced to settle for third. She did, however, walk away with the World Cup Overall Title thanks to consistently strong finishes across the speed and technical disciplines throughout the season.
While she didn't win any Crystal Globes this season, Shiffrin could still celebrate a highly successful season. Just consider the numbers: four World Championship medals; one World Championship Gold; 10 World Cup podium finishes in 17 World Cup starts, with three World Cup victories. On top of that, she finished the season ranked second in the world in both slalom and GS. All of this during a highly unusual season and after she wasn't even sure if she would be able to rejoin the World Cup Tour this season.
Related: Shiffrin Bags 4 Crystal Globes Afterr Record-Breaking Season
In a press conference on the eve of the World Cup finals, Shiffrin got candid about what it took to power through a season set amid a pandemic, the changing landscape of women's World Cup racing, and how her racing strategy may have to evolve so she can keep up.
It seems like just yesterday that I was doing an interview saying that we would be really lucky to ski this season at all, let alone be able to have a World Cup race season. And if we had one, I wasn't sure if I was going to be ready to race in it. There was definitely a lot of uncertainty, and definitely a lot of self-doubt.
There were just so many things that went absolutely wrong in the preparation period. But what am I going to do, complain about it? It's a pandemic. Everyone is dealing with something right now. My coaches said at the start of this season, 'No, we're not in Europe, and we don't have access to skiing on the glaciers all summer … We're going to be playing catch-up this whole season, and we'll just have to see how that goes and try to bring somewhat of a good attitude toward it.' Since I didn't even expect to be racing this season, getting into the start gate and being able to compete in the World Cup this season was even beyond my expectations in a way.
I've always placed more emphasis on consistency throughout the season than on individual wins or medals. I've learned how important it can be to have a good performance on an Olympic day or for a World Championship race, and how fulfilling it can be to win a medal. But I've still always placed more emphasis on consistency at a high level throughout the season.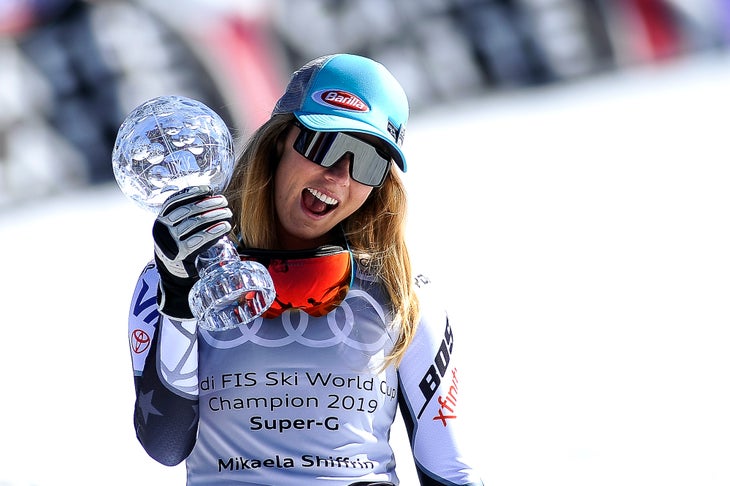 I kind of counted Globes out of this season. I figured it would be a day by day, race by race kind of thing and we'll see what happens. It's not surprising to be in the running for another Slalom Globe. I have a long history with slalom and it's always been the event that's been there for me. In a way it's my event to reset. But it's been interesting this season because there are quite a few girls who are skiing at a very high level. Just faster and quicker than what I feel like we've seen before. And I've definitely been pushing my limits to basically catch up as fast as possible.
The margin for error is smaller. Some of these other women are skiing more consistently and more precise, and not shying away from the speed or quickness of slalom as much as I feel like has been happening over the previous years. That, combined with a trend in course setting where slaloms are set for speed in the fall line, means the slalom event has sort of shifted a little bit, even from the 2018-'19 season. I've had to adjust the way I train slalom. My coaches have adjusted how they're setting courses to throw me off guard and make me a bit more uncomfortable.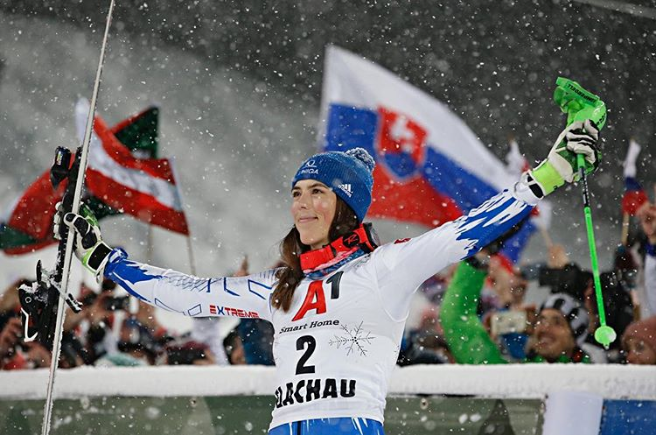 The pace that I have in training is more often than not a lot higher than what I've been able to do in most of the races. But not always. And every now and then I go back to this slower pace, and the problem that I see is that if I have any runs, at all, in slalom where I'm not at my absolute highest pace, it won't be good enough. I can't take a turn to get into it and build my quickness up. It has to be there every single run and I have to be as precise as possible. There's definitely a very, very small margin for error and imprecision.
That's a good thing, it means the whole level of slalom across the board has risen. But I'm still always struggling to bring the training pace into the races and trust that I will actually be able to get to the finish line at that speed. Because sometimes I think, if I go as fast as I can in this particular section, I might not make it past this particular section. And that's maybe more of a mental thing. And the mental side of things has definitely taken a little longer to come back than even the physical side of things this year.
The back injury I have is not that different than what many, if not most, ski racers experience. A lot of people probably have some form of disc degeneration over time. The way I self-evaluate with any injuries is to ask, 'How does it affect how I can race? Can I compete at 100-percent?' And there were several weeks this fall, especially after it happened in Sölden [Austria], when I was wondering if it was going to be an ongoing thing and affect me when it's icy or I hit a bump in a GS course and then I just blow up my back to the point where I have to just lay in bed for 3 days. Then I'm not going to be able to ski.
Any injury that any athlete has can be a threat to their career. Hopefully it's something that I will be able to continue to compete with. When I got it under control through a lot of therapy and rehab it seems like it's been quite manageable this season, and I'm hoping that will continue. I will do everything I can to keep it under my control, but there are just parts of this sport that are undeniably risky.
If I go too many days in a row without good enough rest, then I'm essentially overtraining. And I probably won't know that until two weeks later when I look back at the schedule. So now we're seeing these sorts of patterns and definitely going to take that into account for next season. Not only for the Olympics, but for my longevity in my career as a whole. Because for sure the Olympics is a target, but a bigger target would be able to not only compete at the Olympics, but to be able to compete regularly.
Especially when we consider if I'm going to do more speed races, there are certain things I need to focus on a bit more. Like, what's the travel time to get there, and how can we limit seat time and those kinds of things. Because it's not only for recovery now, but for my ability to race as close to 100 percent as possible. Hopefully I'll be able to manage preparation throughout the summer and the first block of next season to be able to roll through the Olympics without having to adjust the schedule. But we might have to. But that might be something that we play as it comes.
Get to Know Other Big Names on the U.S. Ski Team
Paula Moltzan, the Other U.S. Ski Teamer You Should Watch in Women's Slalom
Meet Bryce Bennett, the Underdog on the U.S. Men's Speed Team