Why Ski Racers Don't Care About World Championship Medals
Sure, the best ski racers in the world care about the results of every race. But one World Championship or Olympic performance doesn't make or break them.
Heading out the door? Read this article on the new Outside+ app available now on iOS devices for members! Download the app.
Alpine ski racers don't care about World Championships. Or the Olympics, for that matter. 
Okay, fine. That's an exaggeration. In reality, these elite athletes care about every race. And, to be fair, competing in historic events like the World Championships or Olympics, which are only held every few years, is a major career milestone. But as careers progress and skills improve, goals change. Maybe one day, instead of being named to the World Championship team, the goal becomes a World Champion title or Olympic gold. 
Winning World and Olympic titles is admirable. It's the culmination of years of hard work, demonstrated in one race, under immense pressure, as the world watches. 
But in the grand scheme of a ski racer's career, high-profile events that happen every two to four years are just another race. Another chance to ski fast, make mistakes, learn and improve, so that one day, maybe, they'll be remembered as one of the best.
So let's edit that first statement: Ski racers do care about World Championships and Olympic results. They just don't measure their careers by them, and neither should you. 
Major events like these are heralded as the pinnacle of sport by the media and the general public. And for some sports, they may be. 
Take soccer, for example, and the FIFA World Cup. Athletes spend years competing against their peers just to make the team roster and compete to qualify. Once they're in, the real competition begins.Make it to the final and win, and you are officially a World Champion, and you may wear that badge of honor proudly for the next four years until the World Cup cycle begins again.
But in other sports, the cumulative results of a season matter more. And despite what popular media may convey, alpine skiing is one of them. 
Ski racing's top prize is the World Cup crystal globe. It's the alpine equivalent of the Stanley Cup, the Vince Lombardi Trophy, or the Larry O'Brien Championship Trophy, awarded to athletes who have proved their dominance, again and again, over the course of an entire season.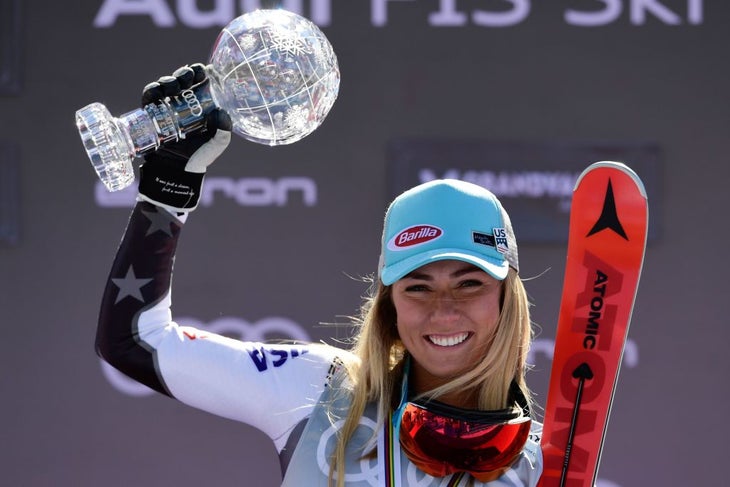 In ski racing, points are accumulated at every World Cup race, then totaled to crown an individual discipline champion at the season's end. Athletes who perform in more than one discipline contend for the overall crystal globe—alpine racing's true mark of excellence, a trophy hoisted by legends like Lindsey Vonn, Bode Miller, and Mikaela Shiffrin. The best of the best. 
And while it's fun to tune in to major sporting events like World Championships and the Olympics as a fan with no real skin in the game, it's almost more satisfying to watch your favorite teams and athletes prevail against all odds and come away with their sport's coveted prize after a hard-fought year. 
Case in point: the 2023 World Cup season. This season has been one of the most exciting times to be a Team USA fan in recent years, and if you haven't been tuning in to the regular season events, you've been missing out.
Shiffrin is on track to become the winningest alpine skier of all time. She's already bested Vonn's World Cup win record of 82 to become skiing's winningest woman of all time. Not to mention the silver medal she scored in Wednesday's super G World Championship sets her up to break yet another ski racing record in her career—most World Championship medals of all time.
Paula Moltzan earned her first slalom World Cup podium in December and is ranked sixth in the world in the discipline when just years ago, she barely made the World Championship team as she juggled her World Cup career and college ski racing pursuits.
In January, Travis Ganong became the first U.S. man to podium in Kitzbühel, the world's most dangerous downhill, since Bode Miller in 2014.
Then there's former U.S. Ski Team member AJ Ginnis, who refused to give up on his career after being cut from the men's slalom team in 2018. He continued on independently, pushing through multiple injuries to become the first athlete to represent his native country of Greece on a World Cup podium when he finished second in Chamonix earlier this month.
Twenty-four-year-old River Radamus continues to lead a young squad of tech athletes toward their podium breakthroughs, narrowly missing the steps on multiple occasions, including a fourth-place finish in alpine combined at the 2023 World Championships, which he can confirm, "does not feel good."
Skiing, particularly ski racing, is a niche, privileged sport, that for most folks in the United States, is hard to invest in, let alone care about when there isn't some kind of major event worth covering. That doesn't make the accomplishments of these athletes any less significant. And fairweather coverage of the sport doesn't help.
Sure, Shiffrin's 2023 World Championship run didn't get off to a great start. She was disqualified in the slalom portion of alpine combined on Monday, a race that is now only held at "showcase" events. And because slalom is her specialty, headlines, while less extreme, still echoed those of the Beijing Olympics when she walked away medal-less.
Related: The commentary on Mikaela Shiffrin's performance has turned toxic
Fast forward to Wednesday and her silver-medal-winning performance in super-G, and Shiffrin's back in "good standing." When just days ago the media was questioning her ability to compete under pressure, now it compares her success to that of LeBron James, who just broke Kareem Abdul-Jabbar's all-time NBA points record.
We would all do well to remember that in a sport of margins, impacted by snowpack, weather, and hundreds of other variable factors, an athlete's ability to perform consistently—let alone win—is a feat within itself. 
A handful of races may attract media attention in the United States once every couple of years; that doesn't mean those races are the be-all-end-all of an athlete's career.
Just like LeBron James rewrote NBA history in a regular season game, Shiffrin will rewrite ski racing history during a "regular season" race. History will be made whether her home nation is paying attention or not. As for the rest of Team USA, they'll keep plugging away, race after race, knowing it's the "in-betweens" where alpine skiing greatness is made.