Is There Anything Left For Shiffrin to Win at World Cup Finals This Week?
The American has clinched the overall and a couple discipline titles, but there's still plenty at stake in Andorra.
Heading out the door? Read this article on the new Outside+ app available now on iOS devices for members! Download the app.
At the end of World Cup Finals this week, Mikaela Shiffrin and Marco Odermatt will have quite a few JOSKA Kristall globes to pack into their luggage. They each won another World Cup overall title—the fifth for the American, third for the Swiss. And they wrapped up two discipline titles apiece: slalom and giant slalom for Shiffrin, super-G and giant slalom for Odermatt.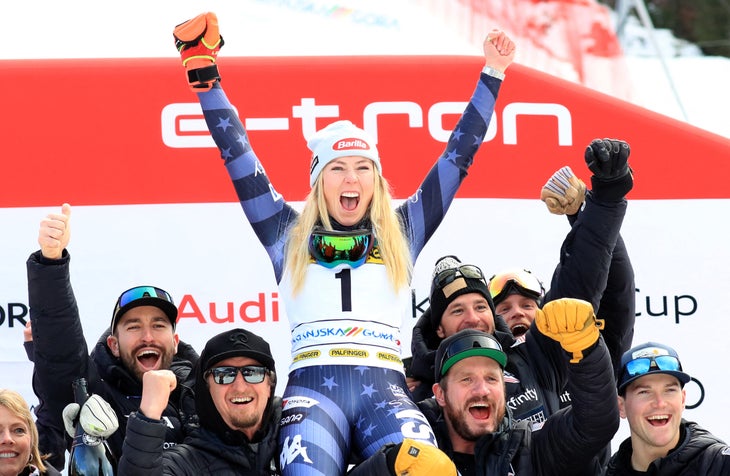 For Odermatt, it's his first super-G title and third in GS. Shiffrin, who turned 28 on Monday, clinched her seventh slalom title earlier this season, and fittingly, the day she tied Ingemar Stenmark's World Cup win record (last Saturday), she met her season goal of winning her second GS title.
     Also Read: Mikaela Shiffrin Hires Female Coach to Lead Team Shiffrin
Other alpine disciplines have already been decided ahead of World Cup Finals, as well.  At the Aspen downhill in early March, Shiffrin's boyfriend, Aleksander Aamodt Kilde, wrapped up his third downhill title—winning six of the nine World Cup downhills to date this season. And Sofia Goggia will carry her fourth downhill title back to Italy at season's end.
So what's left to win—or to prove—at World Cup Finals this week in Andorra?
Quite a bit, in fact. 
Overall Titles
Although the overall titles have already been settled, point totals have not. Shiffrin enters World Cup Finals with 2,028 points—176 points shy of the 2,204 points she won in 2019. It was that season that she won a record 17 World Cup races; this season, she's won 13, and counting. Shiffrin is planning on competing in the super-G, slalom, and GS at Finals. With a couple of wins, she could easily surpass her former points high mark.
Tina Maze holds the all-time points record with 2,414 won in 2012-2013.
With her goals met for the season (the GS title and regaining the SL title), and Stenmark's record eclipsed (which, she says, was never a goal), will she have the motivation to keep her foot on the gas? If Sunday's slalom in Åre, Sweden, is any indication, yes.
"I still felt nervous, even after everything, and there was no reason to feel nervous anymore," Shiffrin said after winning the Åre slalom. "For me, that's a sign that I have no lack of motivation, even when the results goal isn't there. It's the skiing that I want to do, and every day I wake up, and I want to do it again and again. So that's not done yet. That's stronger than ever."
And she's currently skiing the best slalom of her life.
In the men's overall, Odermatt currently has 1,826 World Cup points. Like Shiffrin, the 25-year-old Swiss will likely compete in three events at Finals — downhill, super-G, and GS. If he earns 175 more points, he will surpass the men's over-two-decade-old record of 2,000 points set by the great Hermann Maier in the 1999/2000 season.
Most Titles?
For anyone wondering who holds the record for most overall World Cup titles, that honor belongs to retired Austrian tech-skiing master Marcel Hirscher, who won eight consecutive titles from 2012 to 2019. Next in line is Annemarie Moser-Pröll; the Austrian won six between 1971 and 1979. With five overall titles, Shiffrin is tied for third with Marc Girardelli, who won his between 1985 and 1993.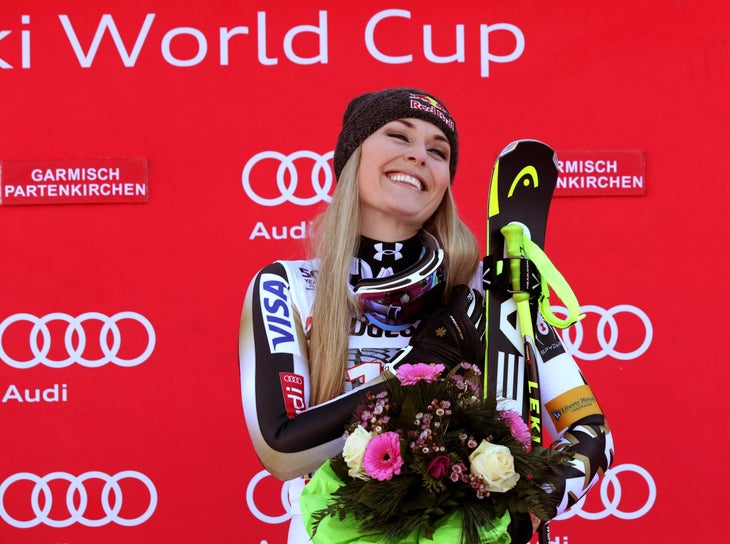 With seven slalom titles, Shiffrin sits only one behind Lindsey Vonn in the list of most discipline titles. Vonn all but owned the downhill title between 2008 and 2016, winning it eight times.
As for who has the most total crystal globes in their trophy cabinets—both big (for the overall title) and small (discipline titles)? Hirscher and Vonn have the fullest shelves, with 20 each. Stenmark has 19 (three overall, 16 discipline titles), Moser-Pröll 18, and Shiffrin and Girardelli each with 15.
Men's Slalom
While Shiffrin and Odermatt have sucked most of the oxygen from ski racing this season, men's slalom has been an interesting horse race. Lucas Braathen, Henrik Kristoffersen (the reigning world slalom champion), and Daniel Yule have each won two World Cup slaloms this season, with Braathen leading his more senior Norwegian teammate by only 32 points, and Kristoffersen another 33 points ahead of Yule, from Switzerland.
Only 22 years old, Braathen already has 11 World Cup podiums and five wins on his résumé and will be the man to watch in the coming years. Should he win the slalom at Finals (or even finish second), he would win his first World Cup title. If Kristoffersen wins, Braathen would have to finish third or lower for the older Norwegian to claim his fourth slalom title.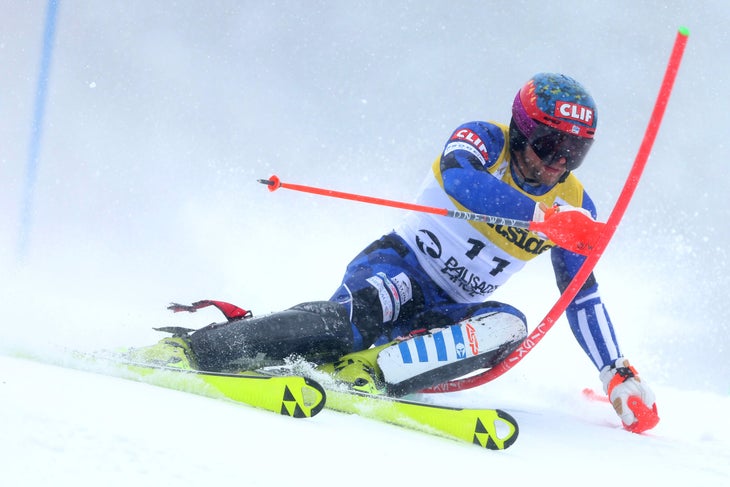 And then there's up-and-comer AJ Ginnis, a Greek-American who finished second to Kristoffersen at world champs. Although Ginnis, 28, is far back in the slalom rankings, a podium finish at Finals would be a win in perseverance for the skier who once raced for the U.S. Ski Team.
Women's Super-G
If men's slalom is like a horse race, then women's super-G will be similar to one of those track sprints where the winner is decided in a photo finish.
In seven super-Gs so far this season, seven different women have won (including Shiffrin). So the rankings have changed after almost every race. First, Switzerland's Corinne Suter led the standings, then Italy's Elena Curtoni. Then last year's super-G title winner Federica Brignone climbed into the picture, along with reigning Olympic super-G gold medalist Lara Gut-Behrami.
Going into Thursday's super-G at Finals, Curtoni is back in the lead, a mere 19 points ahead of Gut-Behrami, with Austria's Cornelia Huetter just six points back, and Norway's Ragnhild Mowinkel just one point behind Huetter.
Although it takes a degree in math to figure out who needs to finish where for the title to be decided, if any of these four women win, one of them will claim it.
As for Shiffrin, even if she wins the super-G at Finals, she is not in the running for the discipline title. She only raced four of the seven super-Gs to date, and even if she won on Thursday, she will end the season about 80 points shy of the leaders.
But the super-G title was not Shiffrin's goal this season. Maybe it will be next season…