Hadley Hammer's Stew
Ski bums, stick with us here. Bourguignon sounds fancy, but it's an easy warming stew that you get to set on fire. Who doesn't love that?
Heading out the door? Read this article on the new Outside+ app available now on iOS devices for members! Download the app.
I started cooking because my mom, the most incredible woman I've ever met, refused to take part in any 'domestic duties.' When I realized that I wanted more than ramen for dinner, I had to figure out how to cook for myself. I love the meditative state I get in when I cook, and I love, love, love providing a yummy warm meal for friends and family.
Ingredients
1 Tb. olive oil
4 slices bacon or pancetta
2½ lbs. elk (chuck or some other tough, hardy cut), cut into cubes
1 lb. carrots, cut into 1-inch chunks
2 yellow onions, sliced
salt and pepper
2 big cloves garlic, minced
½ cup cognac or brandy
1 bottle red wine
2½ cups beef broth
1 Tb. tomato paste
1 tsp. fresh thyme leaves
4 Tbs. unsalted room-temp butter
3 Tbs. flour
1 lb. frozen pearl onions
1 lb. mushrooms, sliced
½ cup parsley
big loaf of good bread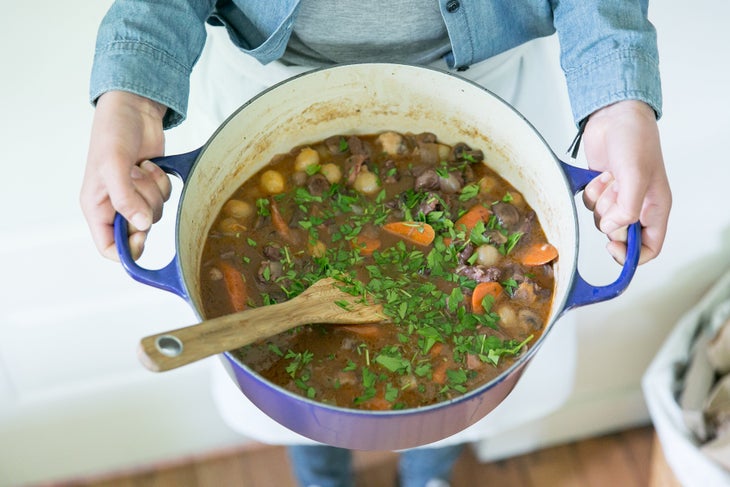 Instructions:
Preheat oven to 250 degrees. On stovetop, heat olive oil in Dutch oven, then add bacon and cook till lightly brown, remove with slotted spoon, and set aside. Dry elk cubes and season with salt and pepper. In batches, sear elk cubes three to five minutes, then remove and set aside. Add carrots, onions, salt, and pepper to the remaining fat and cook till onions are lightly browned. Add garlic, cook for one minute. This is when you get to play with fire, er, flambé the veggies. Make sure your stove is clear of flammables—including your face—and add cognac, stand back, and light alcohol with long match or lighter. Put seared elk, cooked bacon, and any juices back into pot and cover with wine and beef broth. Add thyme and tomato paste. Bring to a simmer on stovetop, cover pot, and place in oven for an hour and a half. When everything is tender place back on stove at a simmer. Cook flour into two tablespoons butter until lightly browned, and stir into stew. Add pearl onions. Sauté mushrooms in two tablespoons butter until browned. Add to stew and simmer for 15 minutes. Serve with bread and wine.