How to Bash Bumps
Master flexion and extension, and you'll master the moguls.
Heading out the door? Read this article on the new Outside+ app available now on iOS devices for members! Download the app.
Skiing moguls is fundamentally different than skiing groomers because of the three-dimensional nature of bumps. On groomers we move in a one-dimensional environment, where grooming machines lay down a perfect carpet and we only have to manage turning left and right while moving side to side. But when we get into moguls, we suddenly find ourselves in a three-dimensional space, where we still have to think bout moving side to side, but now we also have to deal with moving up and down to navigate the piles of snow. That added dimension makes skiing bumps a playful puzzle that can be perplexing. 
The key to solving this puzzle is learning to adapt to the changing terrain on the fly. While there are a number of skills that go into this, the one that will make life in the bumps a whole lot easier is learning to use your legs as shock absorbers. Think of moguls as a series of mountains and valleys. The goal is to ski those mountains and valleys while keeping your head as level as possible so that your upper body remains stable and you don't get thrown off balance. The only way to make that happen is to flex and extend your legs to help you absorb the transition from mountain to valley.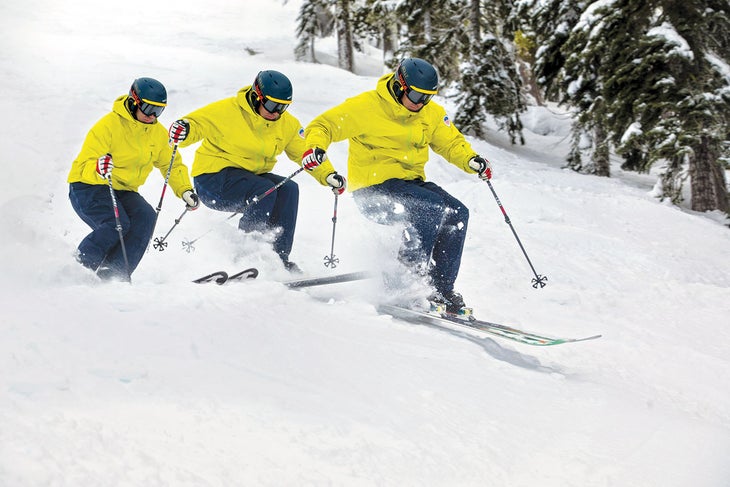 Flex

As you approach the mogul and the snow begins to rise, flex the ankles and knees. 

Absorb

At the top of the mogul, absorb your flexed legs towards your chest.

Extend

After you've crested the mogul, lengthen your legs to extend them into the valley between bumps. 
Flexing and extending your legs to absorb the terrain will help you keep your skis on the snow, allowing you to steer your skis around and over the moguls. When you can combine these three pieces, the puzzle of mogul skiing will come together. 
Additional Mogul Tip: The Cat Track Drill
Michael Rogan, SKI's co-director of Instruction, is the Alpine Team Captain of the Professional Ski Instructors of America – and a jedi master of moguls. 
Reading about how to ski moguls is one thing. Watching and learning from the pros takes it to an entirely different level. SKI Magazine partnered with AIM AdventureU and the Professional Ski Instructors of America to produce the online course How to Ski Bumps, featuring Michael Rogan and pro big-mountain skier Marcus Caston. Click here to learn more about the course.
From the January/February 2019 Double Issue of SKI Magazine. Want to get great articles like this in print? Subscribe here.