To Strengthen Your Skiing Next Season, Identify Your Weaknesses Now
If you're serious about improving your skiing, your work starts today.
Heading out the door? Read this article on the new Outside+ app available now on iOS devices for members! Download the app.
Stuck in a skills rut? Check out SKI's online education courses on Outside Learn, home to hundreds of video tutorials. Get expert tips on how to level up from industry pros like Glen Plake, Wendy Fischer, Daron Rahlves, and more. 
As winter turns into spring, it's time to take stock of your season and start preparing for next year.
There is a saying that you learn to golf in the winter and ski in the summer. While sentiments of this quote make sense to me, I prefer this idea: Answers are found in the mountain snow, but the questions are found in the summer sand. If you keep skiing in the back of your mind during the off-season, questions about how you can improve your ski technique will come to the forefront if you learn to let them. It can happen while daydreaming about skiing, participating in other sports, at work, and even the most unexpected places.
Related: 5 Places You Can Earn Your Turns in July (That Aren't in South America)
If you're serious about improving your skiing, don't wait until the snow starts flying again.
Watch: Ready to up your skills for next season? Check out SKI's How to Break Through online course
The summer months are a great time to reflect on what you accomplished last ski season, and what you hope to improve upon next season. Start by writing reflections down in a notebook or recording notes on your smart device. Be honest so that you can create a real picture of who you are as a skier. This exercise will lead you to your questions about the development of your skiing skills, and it's the best way to establish where you are and what your goals on the slopes could be.
To get started, answer the questions below related to your skiing last season. Then, use these thoughts to formulate your skiing goals for next season.
Reflections On Last Season
The goal here is to understand what you do well and not so well. At this point there is no such thing as right or wrong or too much information.
1. I ended the season as:
Novice – I ski green runs with my skis mostly parallel.  Speed control and turn variety are my goals. I am in discovery mode.
Intermediate – I ski greens and blues with parallel turns and confidence. I am starting to refine my skidded turns to have more control.  I wish I knew what my ski poles are used for. I want to explore.
Advanced – I ski all groomed terrain with confidence and can make a variety of turn shapes; I'm still working on how to tip my skis on edge to carve and how to tackle ungroomed terrain with confidence and style. I like to adventure.
Expert – I can decide what kind of turn I make on all groomed runs and I can ski ungroomed terrain with rhythm and style.  I want to be more creative with my skiing tactics. I see the mountain as a playground.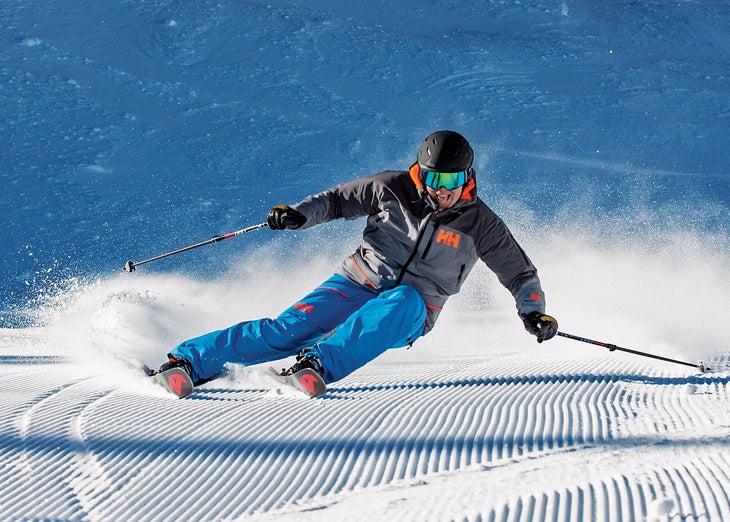 2. I am most comfortable on:
Groomed runs – I feel stable and confident on smooth and consistent surfaces; I get nervous when I have to navigate around clumps of snow. Skiing off-trail is exhausting.
Ungroomed terrain – I prefer to ski the back bowls, moguls, and glades, even when the snow is choppy. Groomers are boring. Groomers make me nervous because I just can't get my edges to grip on hardpack.
Both – I'm happy on groomers and off-trail and feel I have the skills to tackle both with ease.
Neither – I'm still working on skiing groomed terrain with confidence and don't feel ready to tackle the off-piste yet.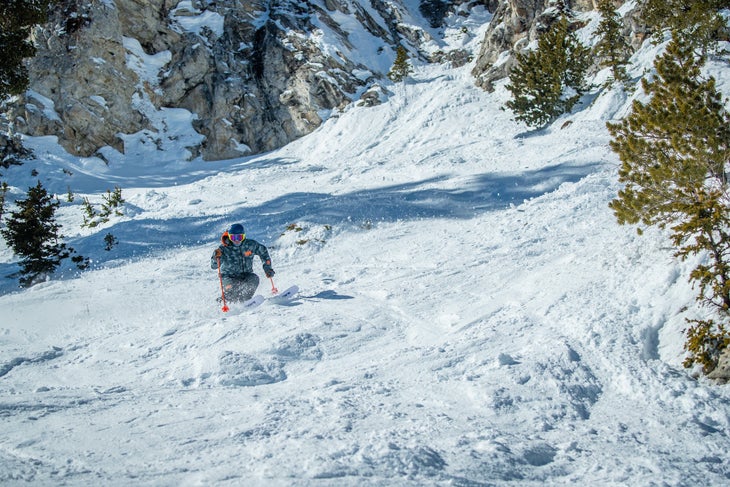 3. I am most comfortable performing:
Medium-radius turns – I like making round turns and turning my skis all the way across the fall line between each turn. I like this type of turn because it allows me to maintain a moderate, consistent speed down the slope.
Large turns – If space permits, I like to open it up and ski from one edge of the trail to the other. Speed excites me.
Short turns – I love dynamic skiing and like the challenge of making as many turns as possible down a slope.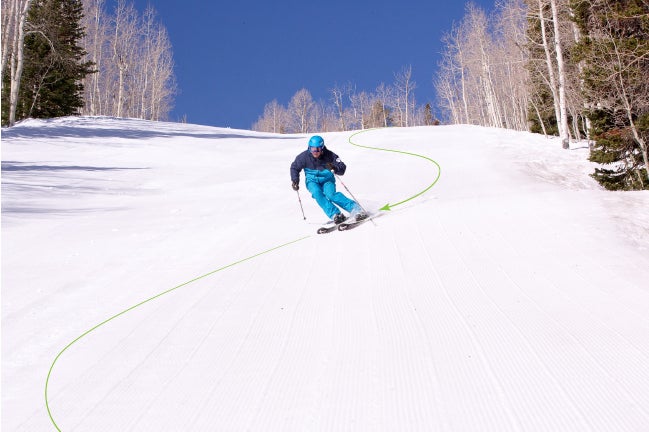 On that topic: How to become a smart, tactical skier on any terrain
4. I am most comfortable skiing:
Slow – I'm afraid of picking up too much speed and getting out of control. Slower speeds allow me to make cleaner, more controlled movements.
Medium speed – I aim to maintain a consistent, moderate speed down the length of the slope.
Fast – I like skiing fast because I can and/or because it requires less effort.
5. I felt out of my depth on/in:
Hard snow/ice – I don't feel comfortable turning on hard, slick patches of snow. I feel like I lose control.
Crud – I have a hard time staying balanced over my skis in crud. I find it difficult to complete turns in heavy snow, and skiing crud just exhausts me.
Bumps – I'm not clear on where or when to turn in moguls. I find it difficult to link turns together in moguls.
Powder – Skiing powder throws me off balance. I find myself getting bogged down in the snow, which makes it difficult and exhausting to turn my skis.
Steeps – I don't know how to manage my speed on steeper terrain. I'm afraid I will get going too fast on steep slopes.
Glades – I find it difficult to link turns through trees. I feel like I can turn my skis quickly enough.
Goal Setting
Use your reflections from the section above to zero in on one or two specific goals you want to achieve on the slopes next season. 
I want to learn how to ski:
New types of terrain (e.g. steeps, chutes, moguls, trees)
Difficult snow conditions (e.g. hardpack, crud, ice, powder, mashed potatoes, spring slush)
With different turn shapes and sizes
More confidently
More efficiently
With more precision
Faster
With better control
Using my edges (carving)
These reflections and goals are just general suggestions, and the more specific you can be, the more likely you'll be able to zero in on a goal that's focused and achievable. While this all might seem daunting at first, it won't stay that way. If you are committed to improving in skiing, you need to embrace the process to reap the rewards. That is why summer is so important: We need this downtime to find the questions in the sand, so that, come winter, we can find the answers in the snow.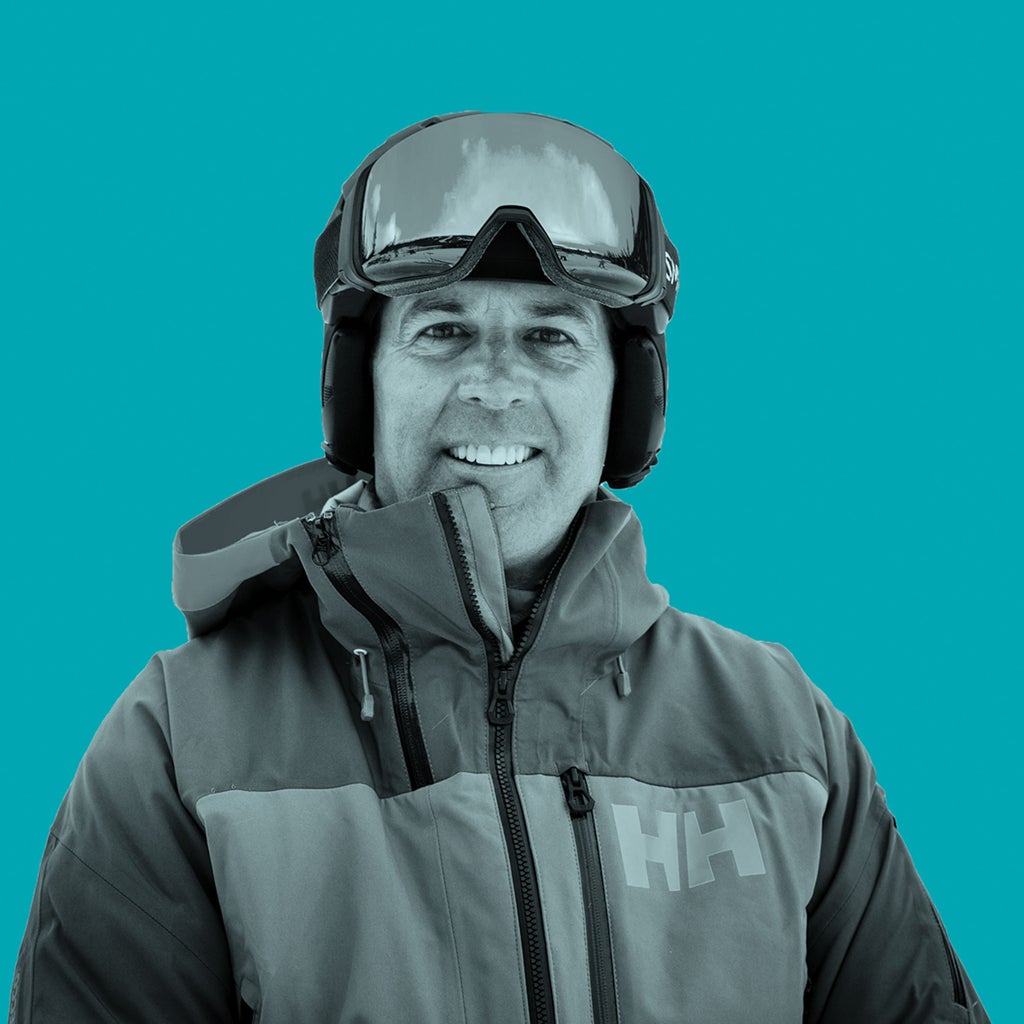 Michael Rogan is head coach of the PSIA Alpine Team and a Special Project Coach for the U.S. Ski Team. In other words, he's the guy who teaches Olympians how to ski and teaches ski instructors how to teach skiing. Looking for more pro tips from Rogan? Check out SKI's How to Break Through online education course featuring dozens of video tutorials.