4 Tips to Maximize Float and Fun In Powder
Learn how to save your energy for the fun stuff with these pro tips from PSIA instructor Ann Schorling.
Every winter, devoted skiers closely watch the weather, get up early, and wait in long lines before lifts open just to ski powder. For many skiers, a great powder day can be one of the defining days of the ski season, or even the highlight of the year.
Some skiers, on the other hand, find deep snow challenging, exhausting, and avoid skiing in untracked snow altogether. For folks who haven't yet figured out how to adapt their skiing to softer snow, skiing in powder can feel impossible. As it turns out, powder requires different skiing strategies than groomed or firm snow, so adding a few tactics to your bag of tricks can make a huge difference. If you find yourself staying inside when the snow falls, or seeking out groomed snow when the resort reports six inches of fluff, the following tips can help you find the joy on a powder day.
Most common powder skiing problem: You get bogged down and have to work too hard to make turns.
Solution: Learn how to maximize flotation. When skiing powder, you're no longer just making turns left and right on top of the snow but making turns in powder. Every movement in powder will be easier when skis are closer to the surface of the snow, so try the tactics below to maximize flotation.
4 Tips to Improve Your Powder Skiing Technique
1. Adjust Your Turn Shape
Every skier learns to turn across the hill for speed control. But in powder, speed and momentum are your friends and prevent you from sinking into the snow. Think of a jet boat—when a jet boat speeds up, it sits higher in the water, and when it slows down, it sinks lower. To maintain speed between turns in powder, adjust your turn shape to make more open turns down the hill rather than across the fall line.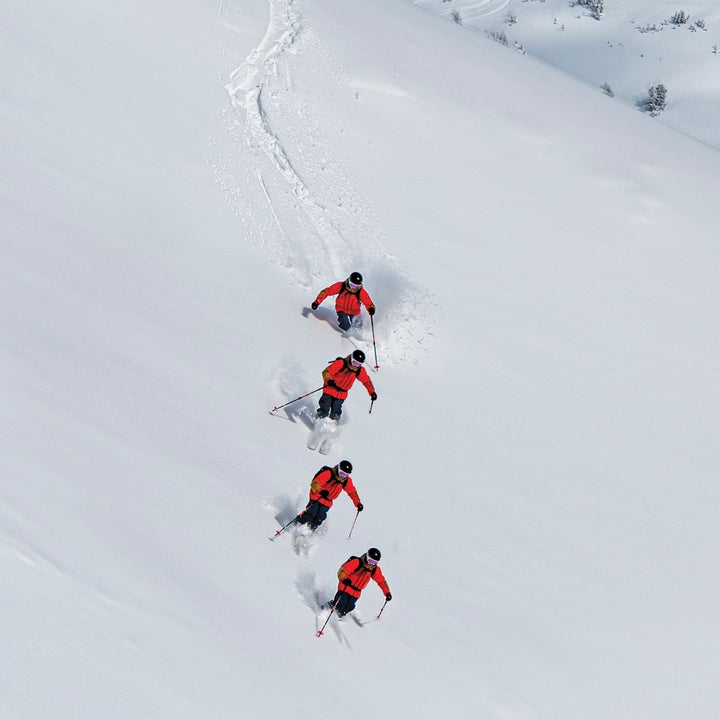 2. Bounce
In particularly deep or heavy snow, you may need to add a little bounce to your turns. Popping out of the snow between turns can make it easier to change edges and direction. It also lets your skis and gravity do the work during the rest of the turn.
Watch: How to bounce in powder
3. Adapt Your Stance
On groomers, we want to pressure the skis' edges to grip the snow; but in soft snow, we need to spread pressure more evenly over our skis to keep them from diving into the snow. You'll float best if your upper body is balanced right over your feet. Keep your skis closer together to create a larger platform, like a raft.
4. Be Patient
Soft snow won't react to your skis the same way groomed snow does, so everything happens more slowly in powder. If you push on powder, you'll only sink deeper and work harder. Instead, move downhill more than across to take advantage of gravity, and wait until you feel some pressure underfoot before making your next turn.
---
Ann Schorling is currently a member of the prestigious Professional Ski Instructors of America Alpine Demo Team. When she's not traveling the world on skis, you'll find her coaching steeps camps and training other instructors at Jackson Hole, Wyo.
More Powder Skiing Tips
No, you're not supposed to lean back in powder
10 skis that will help you milk a powder day
If you're not having fun in powder, you're doing it wrong