We Could All Be Expert Skiers If We Learned to Embrace Fear. Here's How.
Extreme skiing legend Kristen Ulmer is on a mission to teach us that fear is not to be conquered, but befriended.
Heading out the door? Read this article on the new Outside+ app available now on iOS devices for members! Download the app.
In the 1990s, Kristen Ulmer was considered the best female extreme skier in the world. That's just consensus—there weren't really any competitions or metrics to judge that back then. She became famous in adventure sports films for jumping 70-foot cliffs and finding radically dynamic lines through risky terrain. She even successfully skied Wyoming's Grand Teton, a true feat even today.
For 12 years, she was in a class by herself. Then in 2003, she abruptly quit filming and left her sponsors after she had an epiphany at Burning Man.
"I thought I was in love with skiing, but really, I was in love with the place it took me emotionally and mentally," Ulmer says. "I realized I could get there without having to risk my life."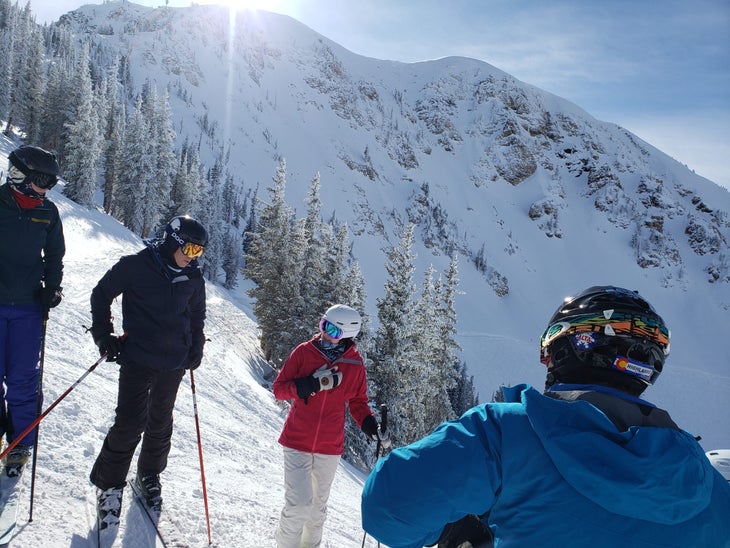 Almost immediately, she set out to create ski camps that focused on mindset. "I started the camps because I wanted to attend them," she says. "I felt like I had learned nothing from my ski career except the gratification of my massive ego and hedonism."
She found a Zen master and in 10 minutes learned more than she had in 15 years as a pro athlete. "I realized I was addicted to my intimacy with fear and the state that it took me to—a sharp, intuitive, super-athletic, reactive state."
Ulmer spent the next 15 years studying Zen and adopted a new title: Fear Expert. Now she's known for revolutionizing the way skiers think about fear in her Art of Fear ski clinics. Her method is apparently so effective that her three-day camps at Alta sell out before she advertises them.
Level Up: Struggling on Steeps and in the Bumps? Here's a Pro Tip.
Before you sign up, know this: She doesn't teach skiers to conquer or suppress their fear. For $1,449, Ulmer helps skiers learn to stop fighting fear and instead develop an inclusive relationship with it.
"Whenever you try to control or manage fear, it just winds up controlling you," Ulmer says.
According to camp participant Brigit Shotts, 51, that understanding alone dramatically improved the way she skis. "I've been skiing all my life, but I basically topped out at intermediate runs," says Shotts. "I've always been very cautious. I never wanted to get hurt."
Without a single tip from Ulmer about technique (Ulmer doesn't even ski with the group— although she is on the mountain during the camp), Shotts became a confident black-diamond skier in just two days. "I was skiing like I should have been skiing all my life," she says.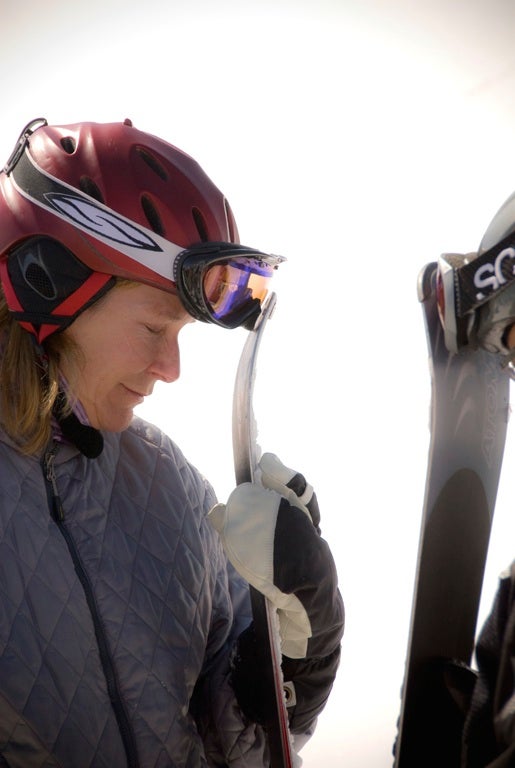 Ulmer's abstract methodology is hard to explain, Shotts says. Ulmer agrees. "I don't get people to jump off cliffs," she explains. "I try to get people to flow with their fear."
"Fear is supposed to flow like water through a hose through your body," Ulmer explains. "If it's showing up as fearful thoughts, anxiety, depression or anger, that's not fear's fault. It's caused by your reaction to fear. The moment we trap fear in our bodies, it starts re-circulating and acting in all kinds of crazy ways."
Learn to unkink the hose, Ulmer says, and you'll be able to tap into the power of fear.
"Fear is actually kind of wonderful because it's what causes the flow state in skiing," says Ulmer. "It can show up as excitement, as focus. It's like you're Batman, fear is Robin, and you two are stronger together than apart."
Here, Ulmer shares her top tips for learning to work with fear, instead of against it.
How to Change your Relationship with Fear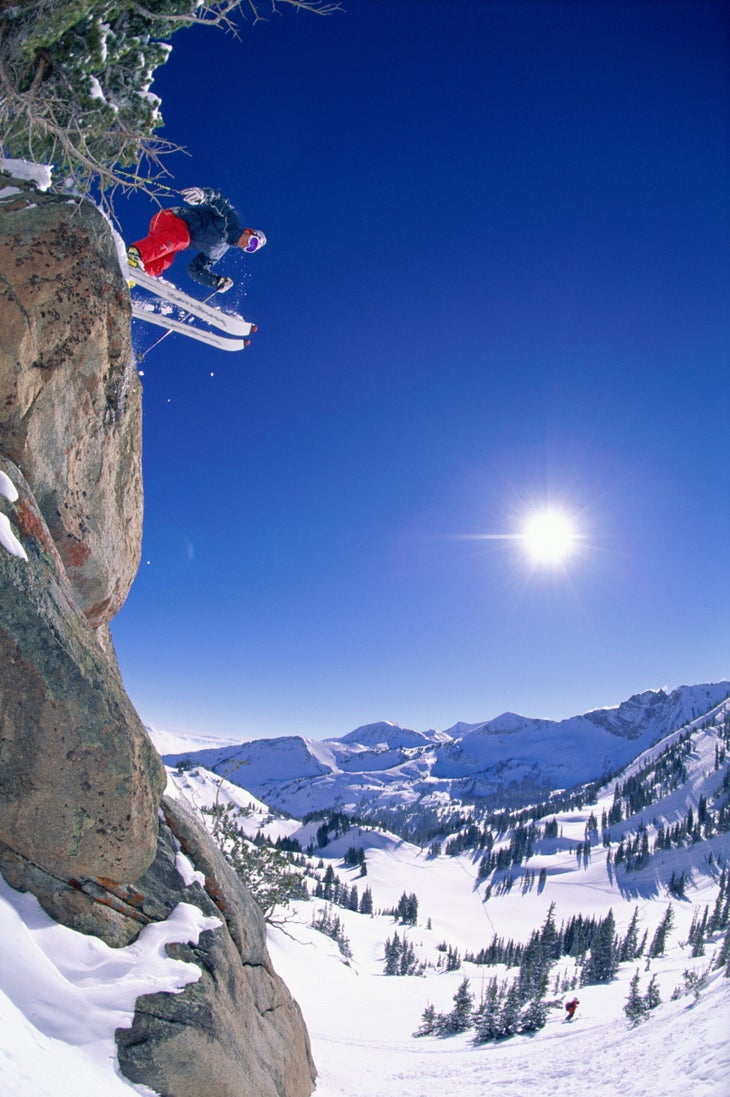 Know that Fear is Good
"Fear doesn't hold anybody back from doing anything," Ulmer says. "We get that wrong. What holds people back on the mountain is their unwillingness to feel fear, which is very different. The awful feeling we associate with fear isn't fear itself. It's our resistance to feeling fear. Fear is only good."
Think of Fear as a Person
"See fear as a person that lives in your body," Ulmer suggests. "Ask yourself what kind of relationship you have with that person that lives in your body. How do you treat it? Do you ignore it? Avoid it? Are you in denial of it? Are you trying to get rid of it? Are you in your head trying to understand it? Do you try to replace it with calm? If you're not having a healthy, flowing, inclusive relationship with your fear, you're going to struggle with the feeling of fear. Have some awareness."
Reframe Your Fear
"Be willing to feel fear, make friends with fear, and rearrange your relationship with fear so you can be remarkable," says Ulmer. "Start speaking about it in a positive, inclusive way and things will naturally start to shift. If you'd normally say, 'I don't want fear to control my life.' Change to, 'I don't want to let my avoidance of fear control my life.' If you're saying, 'I don't want to feel afraid,' change to, 'I am willing to feel afraid.' Fear is not a problem to be solved. It's a resource to be tapped. Fear is here to help you be more sharp and focused."
Feel the Fear
"Stop thinking about fear," Ulmer advises, and instead "learn how to feel it. Get out of your head and look for it in your body. Where does your fear live? What does it feel like? From 1-10, how strong is it? Then feel your resistance to it. From 1-10, how strong is your resistance?"
"Suffering is discomfort multiplied by resistance," Ulmer explains. "It's really hard to lower that discomfort number, so don't lower the discomfort. I teach people how to lower the resistance without repressing it."
When you shift from feeling resistance to fear to developing an intimacy with it, according to Ulmer, it will improve your skiing.