How to Turn Your Kid Into a Better Skier Than You
Let your grom take the lead, and you'll both learn new tricks and become better skiers for it.
Heading out the door? Read this article on the new Outside+ app available now on iOS devices for members! Download the app.
I've been skiing for so long, I don't remember ever not skiing—or what it was like to learn how to ski. I've been an expert skier for decades, but a recent outing with my 8-year-old son Gunnar brought me to a realization: After all these years, my skiing has become one-dimensional.
I know what, how, and where I like to ski. But when you do the same thing over time, you limit your ability to expand your horizons. I have over 40 years of experience skiing and nearly 30 years as a professional ski instructor. And what does all this experience mean to my 8-year old?
Nothing.
Gunnar has his own definitions of successful skiing and doesn't really care about my experience. At first I was frustrated by his trail choices, interests, and decisions. I'd say, "No, let's not ski the bunny lift; you can ski black diamonds!" He'd answer: "Come on Dad!" He has his reasons, and he rarely leaves dissatisfied or unfulfilled.
Gunnar's ski habits have led me to a realization: He's becoming a complete skier in ways that I am not. Here's how.
Related: How to start your kids skiing
He skis backwards.
This pretty much says it all. It's so simple, yet so completely foreign to old-schoolers. If you want to go back to square one, turn yourself around and put it in reverse. Skiing switch uses the same skills—balancing movements, edging movements, and tipping skis from edge to edge—as going forward. Often, beginner switch skiers (which is me) will use a wedge and advance to parallel. Remember, just like in regular skiing, turn shape equals control.
Peter Novom, PSIA Eastern division examiner and a member of the PSIA national freestyle task force, points out what feels so backwards about skiing backwards.
"If you close your ankle joint, your center of mass ends up behind your base of support," Novom says. When you're skiing switch, you want to be in the back seat, because the car is driving in reverse. Which, for me, means trying to unlearn 40-plus year-old habits.
But Gunnar knows all this. At this point, he doesn't ski fast when he's going backwards. But I'm sure that will change, and all I can hope is that I can still keep up in a few years—skiing frontwards or backwards.
He skis tight trees.
I've heard old-school parents sniff at terrain parks and claim, "when we were that age, we skied in the woods!" Newsflash, parents: Your kids ski the trees, too—trees you may consider unskiable. Remember, your kid is on 100cm skis; you're likely on 150cm-plus. Follow your little grom on their tree line and you may find yourself on a tight "point-'em-or-die" bobsled track. Good luck in there!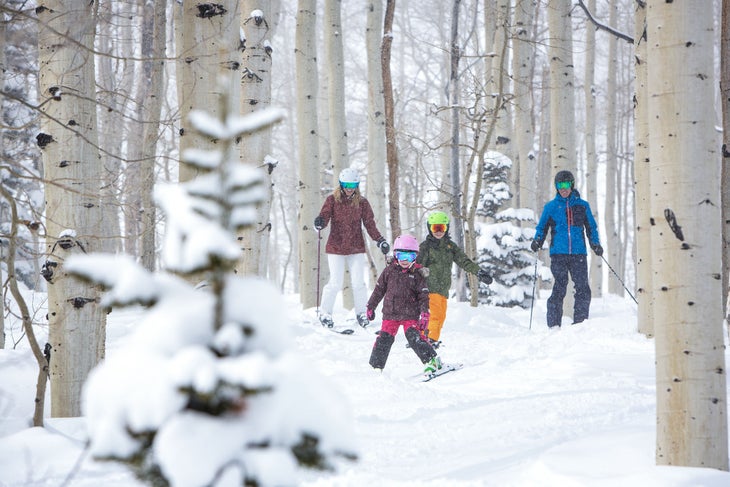 If you put your kids in a ski school lesson, be prepared at lesson's end for them to show you all the secret stashes. If trees aren't your bag, talk to your child's instructor. Twenty-first century resort operators invest heavily in low-angle glades, glade-cutting and trimming, and easily accessible "Family zones." With any luck, your kid will show you one of those zones.
Related: The best family-friendly ski resorts in the West
He practices tricks.
Kids that ski want to learn how to do tricks. Flips and 360s are on TV and they're in the movies. Freeskiing is arguably on more screens than World Cup races. My son can't do a 360… yet. But he will not rest until he lands one. When he's on a backyard trampoline in summer, he imagines he's getting big air. And now, I'm making sure to get my tramp reps too, otherwise I'm sure to get left behind. (But who am I fooling; we all know I'm just postponing the inevitable.)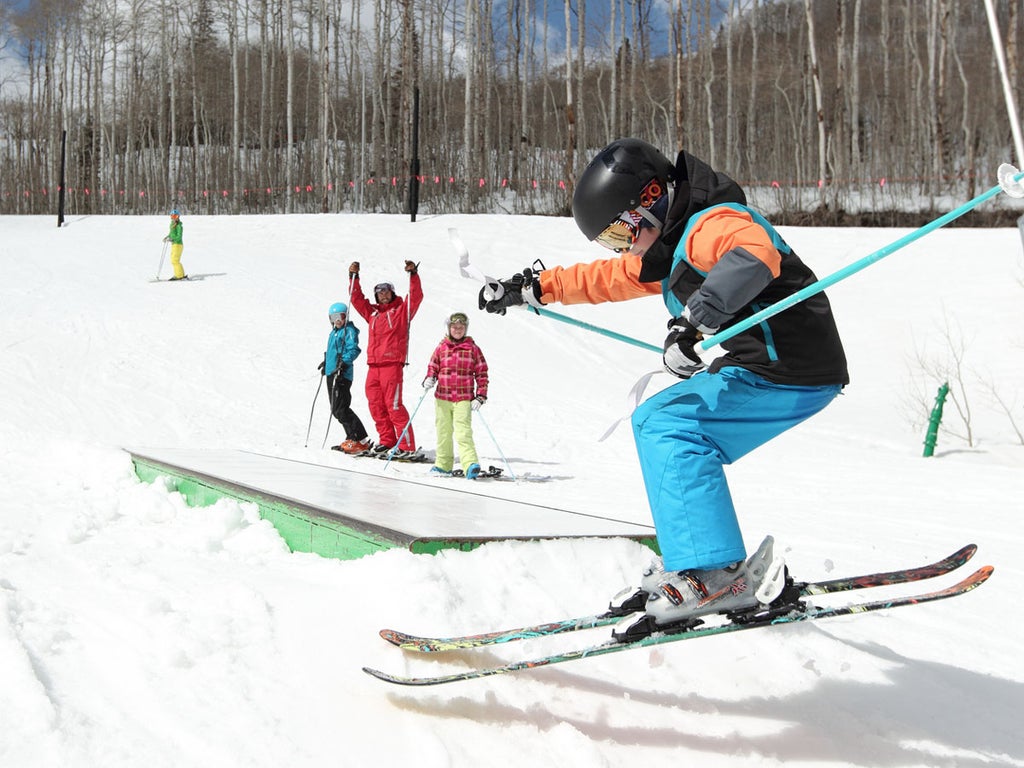 He studies terrain.
My kid knows the mountain. We used to give him coloring books; now we give him trail maps. After a day on the hill, Gunnar comes home and studies that thing! (If he attacks his schoolwork with the same fervor, we'll have an Einstein on our hands.) With a Sharpie, he traces the runs he made that day. His goal: to ski every trail at our home resort this season. He also circles patrol shacks, cool jumps, and parks. And any unnamed woods zones are now named—courtesy of him and his sister. At one time, I thought I knew our home mountain. No longer; my locals' knowledge has been surpassed.
He pays attention to his environment.
Gunnar picks up litter while he skis (granted, he then usually hands the garbage to me to put in my pocket.) Somewhere along the line he learned that human accountability is the only way to sustain our skiing way of life. I agree with him, but my actions don't necessarily support that. I have, more often than not, skied past a wrapper or can on the side of the slope rather than pick it up and return it to a base area garbage can. Litter bugs, take note: if you don't already feel guilty about your actions, just know an 8-year-old is picking up after you.
He eats the snow.
Some parents will say, "Don't eat that; it's disgusting!" People learn using all their senses, so making snowballs, throwing dry powder in the air like confetti, collecting and studying snowflake shapes on mittens, and, yes, eating snow—it's all data collection. The end result: This kid knows snow. And yes, sometimes he decides to eat it.
I've been skiing at a high level for decades, but skiing with my 8-year-old has been a wake-up call. I can thank Gunnar for helping me to understand when I'm skiing inside my box, and for reminding me to ski outside of it on occasion. Because, when I follow my 8-year-old's lead, I learn new tricks of the trade.
---
Mark Aiken is a freelance writer and a ski instructor at Stowe, Vermont. His favorite thing about winter: early morning skinning and fresh tracks before returning to his writing desk. He lives in Richmond, Vermont with his wife, two kids, two dogs, two cats, and nine chickens.
More Tips on Raising Skiers
A Dad's Wisdom for Introducing Youngsters to Backcountry Skiing
3 Tools to Help Young Skiers Learn
How I Stopped Worrying and (Might) Let My Kid Snowboard