6 Tricks to Help You Out of Tight Spots On the Slopes
Yard sales happen. Here's how to dust yourself off and try again.
Heading out the door? Read this article on the new Outside+ app available now on iOS devices for members! Download the app.
Ski instructors and professional skiers spend around 100 days on snow per year, if not more. Safe to say, they've seen and experienced total carnage on the slopes: Yard sales. Skiers walking down the run, their skis tucked under their armpits or dragging behind them. People digging in powder for their lost skis. That guy who's in way over his head, standing above a cliff without a clue what to do next.
$hit happens, and that's especially true in skiing. Whether you're a beginner or an expert, you will inevitably find yourself in one or two precarious positions over the course of your skiing days. Here, the ski pros share their tried-and-true tips for getting out of the most common sticky situations on the hill. You may think you know how to put your skis back on after a yard sale, but the pros know a better way.
Related: 10 Hacks to Make Your Life Easer on the Slopes
1. Getting up after a fall
Use your skeleton to support you and recenter your hips over your feet to prevent overexertion and muscle fatigue.  —Brian Righter, Deer Valley, Utah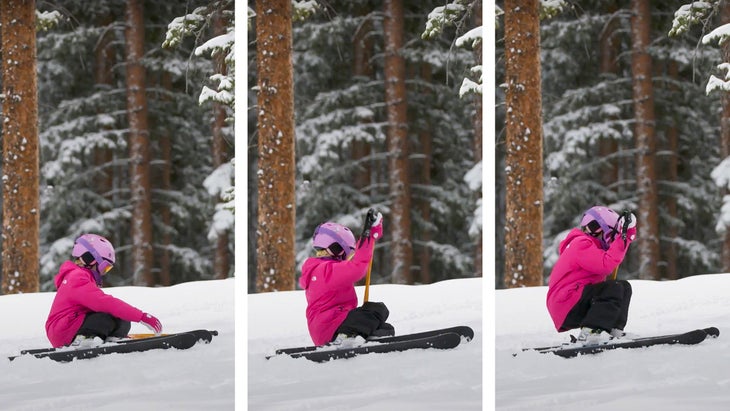 2. Stopping a slide for life
When you fall on firm snow, get your feet downhill of your head, just like on a slide. Turn onto your stomach and dig your toes in. Think about a "cat on the drapes"; claw your feet and hands into the snow. —Kevin Jordan, Aspen Snowmass, Colo.
3. Recovering from a yard sale on steeps
If you pop out of a ski (or both skis) on a steep slope, move your gear to a safe spot at the edge of the run. Place your skis parallel and pointing across the fall line on the slope above you—on steep terrain, always keep your body below your skis so if a ski decides to take off, you're there to stop it. Take your downhill leg and step into the ski closest to you first. If your binding doesn't want to cooperate, use your hand to manually pull the heel piece up to secure your boot. Once you're clicked into the downhill ski, you can shift your weight to stand on top of that ski as you click into your other ski. Just remember to scrape excess snow off the bottom of your boots so you don't eject again.  —Kaylin Richardson, Deer Valley, Utah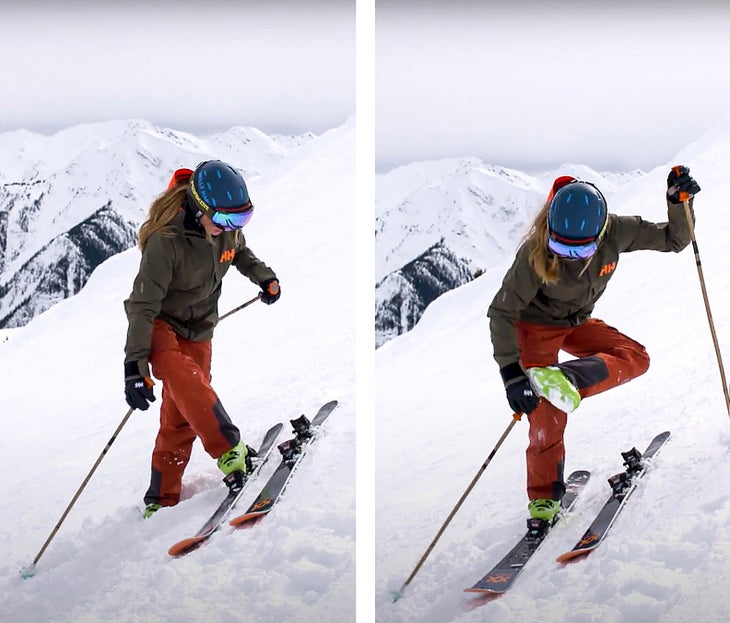 4. Picking yourself up in powder
To put a ski on in deep powder, place the tail of the ski that has come off so that the binding is out of the snow. Now click in your boot and push down so your ski goes from doing a "wheelie" to back into the pow. If both skis come off, put the downhill ski on first and then the uphill. Lost your ski? If you still have the other ski on, take it off and pretend it is a broom. "Sweep" the snow looking for the other ski. Your ski has more surface area than your ski pole.  —K.J.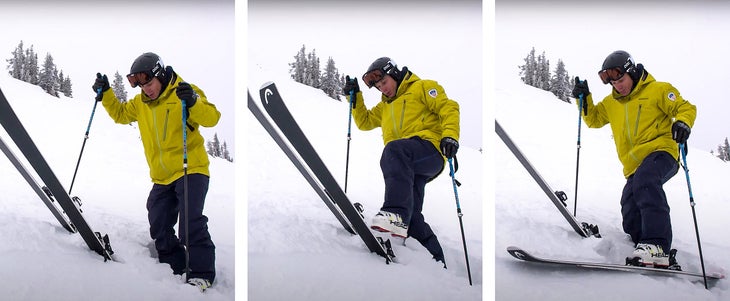 On that topic: If you're not having fun in powder, you're doing it wrong
5. Changing directions when you're cliffed-out
The downhill kick-turn can be a lifesaver when you realize you're in over your head and need to change directions (like when you realize you're standing on top of a cliff band). This maneuver takes a little practice to perform confidently, but it's a tool you need in the tool box if you want to advance to extreme terrain. Practice on flat slopes so you get the hang of it on low consequence terrain.
—K.R.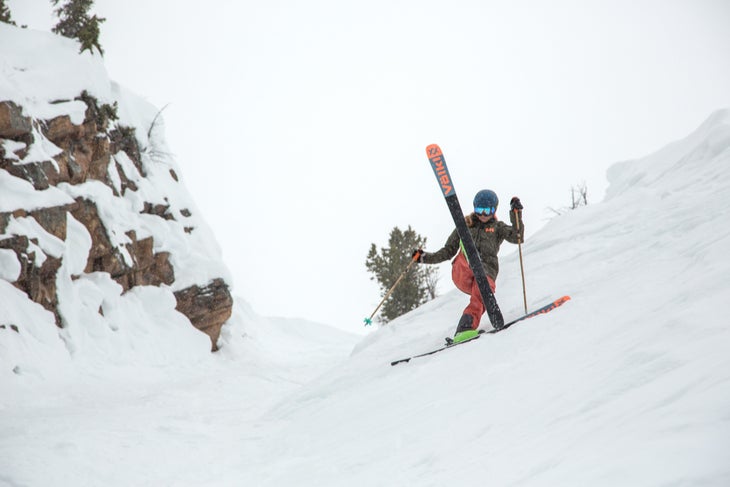 6. Navigating narrow, rocky terrain
The hop turn allows you to navigate difficult, technical terrain like a narrow chute or cliff band. In these situations you may need to be able to execute a tight turn without losing much elevation. This is when the hop turn comes in handy. A solid hop turn requires three things: A stable upper body with shoulders and torso facing down the fall line during turn initiation; an explosive move to pivot your skis in the air; and a strong edge set at the end of the turn to make sure you don't slide down the hill.  —K.R.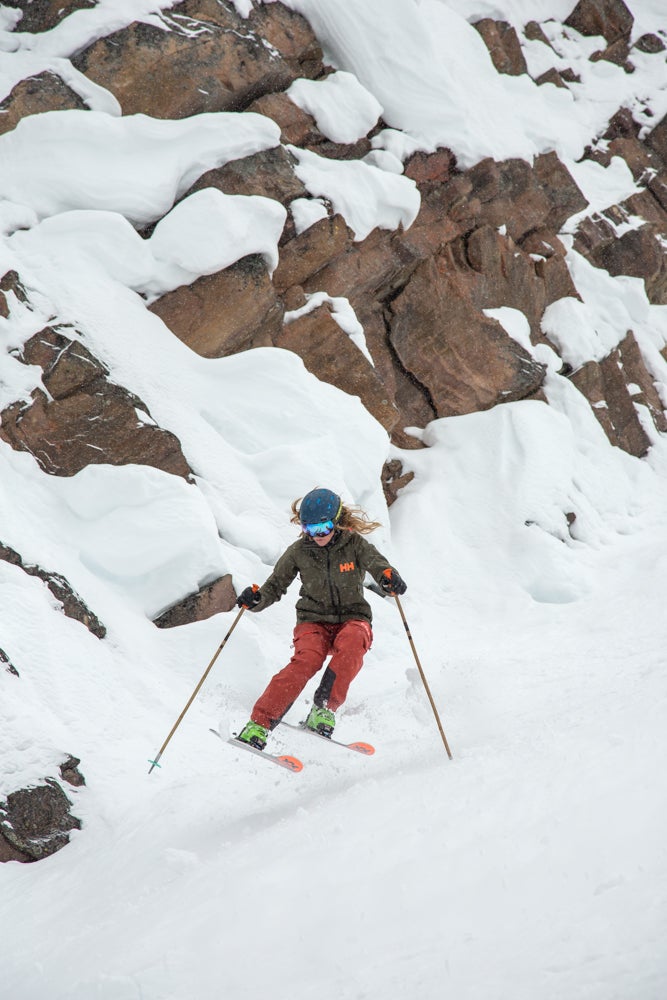 More Tips from the Pros
How to be a smart, tactical skier on any terrain
7 pro tips to help you master the fundamentals, once and for all
This drill will help you find a path through the mogul maze