3 Tips to Help You Find Your Skiing Form Again After Injury
It's 100 percent possible to come back from injury and ski better than ever. Here's how.
Heading out the door? Read this article on the new Outside+ app available now on iOS devices for members! Download the app.
Mike Allison was one of those skiers who could navigate coastal cement or chattery ice like it was Utah's driest and lightest—until the day he straight-lined out of a chute, unexpectedly hit a traverse track, and crashed in a cartoonish blur of powder, body parts, and ski gear that blew out his right ACL.
While getting hurt wasn't predictable, Allison's recovery trajectory was. After a surgeon sewed on a new ligament in his knee, Allison put in his time at physical therapy and in the gym. Within two years of his injury, he was back on snow and had regained enough confidence to shred a groomer. But when I see him on the slopes now, years after his injury, it's obvious he still hasn't found his unflappable form of the past: he avoids the moguls, never jumps off things, and stays home when the snow's heavy or icy.
Also read: Your most pressing ACL injury and recovery questions answered
It's a common story, but not inevitable, says Michael Rogan, a ski instructor and coach of the Professional Ski Instructors of America's alpine team. "Too many skiers accept they will never ski as well as they did before an injury," he says.
They dial back the speed, avoid the situation where the injury occurred, or sit it out when conditions are challenging. They might blame their physical ability or it might be more a subtle mental hesitancy. Both can be overcome.
"It's 100 percent possible to come back better," Rogan says. He has seen it at the highest levels of the sport.
When he's not instructing at Heavenly Ski Resort in California, Rogan has carved out a unique niche helping ski racers return from injury. He's worked with junior national team members and World Cup athletes, like Laurenne Ross, Alice McKennis Duran, Jackie Wiles, and, most recently, Breezy Johnson. After working with Rogan, Johnson returned to the World Cup circuit in 2021 and had her best season ever, including her first ever podium finishes. (Unfortunately, she has since re-injured herself.)
The secret to her successful reboot was more than a lot of hard work and talent.
"It takes focused work to go back into the situation where you got injured and not hold back," Rogan says.
That's just as true for Average Joe Skier.
Whether it's Mike Allison or Johnson, Rogan says the path back starts with the nod to return to snow from a doctor. As soon as Johnson got the okay to click in, she and Rogan started skiing together. They gradually built up stamina and strength with drills designed to build Johnson's confidence in the work done by her surgeons, physical therapists, and herself. At the same time, Rogan tried to address any technique issues, which are often the root cause of the injury.
"Usually we get into trouble skiing because of bad habits," he explains. "After an injury we have this small window to reset default patterns, while also building trust in the injury. It's a wonderful opportunity to take advantage of."
Johnson was recovering from an MCL tear—a common injury in skiers—which impacts stability and lateral movement in the knee. Prior to her injury, she and Rogan recognized that technique-wise, she carved every turn, when sometimes she needed to feather her edges to better manage speed. To work on both post-injury, Rogan prescribed side slips and hockey stops, progressively increasing the challenge as Johnson's confidence grew. They moved from flat slopes to ungroomed terrain, worked on cross-hill traverses in the moguls, then tried it all on one foot, and with Rogan testing her stability by prodding her with a pole.
Related: Learn how to get your skis on edge with these carving drills
"We're finding situations that shake the body a bit in a very controlled manner and steadily increasing the ask on the injury site," Rogan explains.
This is best done with the help of an instructor who understands biodynamics and skiing, but it is possible to do it on your own with focused practice, he says. Start easy, progress slowly, rest, and build up the challenge and demands on the injury. Rogan suggest the following three drills, which are great for activating the muscles, movements, and coordination around the ankle, knee, and hip joints. They also build trust that the injury has healed. It's all essential to a full recovery from a lower body injury, and a good place to start whether you're a World Cup racer or a weekend warrior.
3 Drills to Build Stability and Coordination After a Lower Body Injury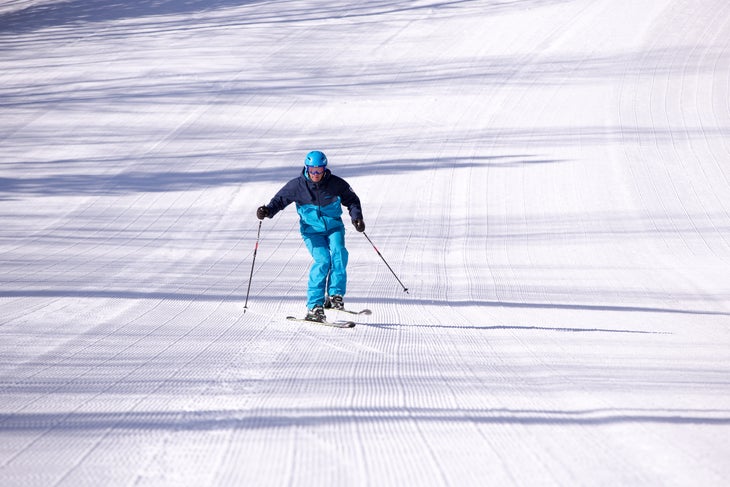 Fore-aft scoots
The basics: While sliding on gentle terrain, slide your skis forward in your stance, until you start to feel the back of your boot against your calf and you're firmly in the back seat. Now slide your feet back, past neutral, to a slight forward-leaning stance. Repeat, moving your feet forward and aft of center, slowly increasing the range.
Progression: Increase the tempo of the back and forth movement. Try it while edging across a groomed slope, then a bumpy slope and eventually over moguls.
Loose-boot slides
The basics: Loosen one or two buckles on your shins to create a little play in the boot. On a blue run, side slip for a yard and then set your edge. Repeat, varying up the speed and distance of the slide, intensity of the edge set, and the direction you face.
Progression: Loosen boots even more. Repeat on one foot only, on harder snow and on steeper slopes. Ski across moguls, edging on one bump and sliding down the next.
Tuck to standing
The basics: On a low-angle slope, stand tall and then drop into a tuck, focusing on bending at the hip first, followed by knees and ankles. Stand back up and repeat. Mix the up and down tempo, holding the tuck for longer periods and pushing the depth of the tuck.
Progression: Add in hops. Move on to doing the drill on one ski only or have a friend ski beside you and randomly push you with their pole or knock your tips.
Ready to level up? Learn how to go from intermediate to advanced in SKI's online course How to Break Through on Outside Learn:
More Instruction Tips
We asked ski instructors for their best skills tips. Here are their top 30.
Are you skidding or carving down the hill? Here's how to tell.
If you're not having fun in powder, you're doing it wrong