Three Classic Beginner Skier Mistakes to Avoid
Don't flub your first few times on the slopes.
Heading out the door? Read this article on the new Outside+ app available now on iOS devices for members! Download the app.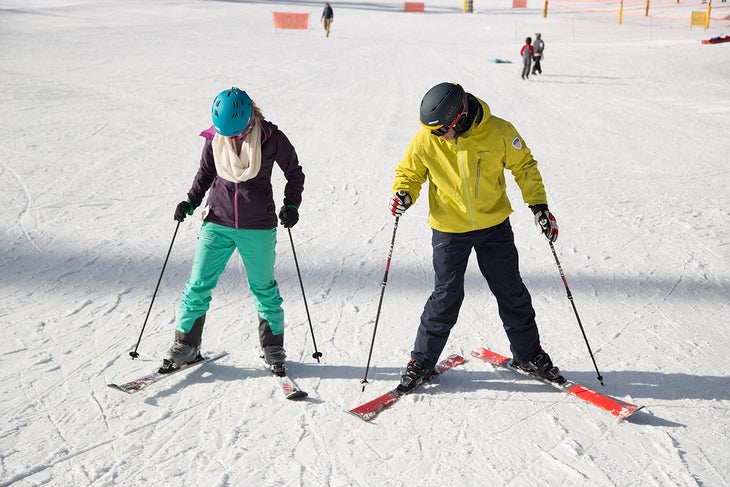 Despite what you've seen on the Olympics or in ski movie clips, skiing isn't as complicated as a beginner might think. But it is as fun as it looks.
If you or someone you know wants to try skiing, do it. But to ensure the the first experience is a good one, avoid these three common mistakes that can ruin a first day on skis. if you make one of these mistakes, well, to quote Thumper the Super Cool Ski Instructor, "you're gonna have a bad time."
Learn everything you need to know as a beginner in SKI Magazine's online course Intro to Skiing.
1. Not Taking A Lesson From A Pro
If you try to learn from a friend or family member, or hop on a chair thinking you can figure it out on your own, you may very well end up scared, frustrated, and possibly even hurt. "Take a lesson," Michael Rogan, Professional Ski Instructors of America team captain and SKI's co-director of instruction says. "If sport comes easy, you can always be more independent—but start with good instruction." Sign up for lessons with a PSIA-certified instructor.
Psst, for you experienced skiers out there: "If you are introducing a friend to skiing, be a real friend and buy him or her a lesson with a certified pro," Eric Lipton, PSIA alpine team member and SKI director of instruction says. "Just because you can ski, doesn't mean you can teach skiing."
Ski resorts across the country offer special deals for first-time skiers, including discounted lift tickets, lessons, and rental equipment. Check your local hill to see what kind of package deals they offer to first-timers.
2. Having the Wrong Attitude
The right attitude—plus curiosity and patience—is the key to success when starting out with skiing. As Rogan explains, people have different levels of athleticism, confidence, and natural ability. And that's OK!
3. Fighting Gravity
Whether you're just learning to slide down the hill or taking a spill, fighting gravity is futile. When it comes to falling, it's safer to let gravity win. In other words, there's no need to extend your arm to break your fall.
When learning to ski, many beginners sit in the backseat—they lean away from the slope with weight in their heels. In this position, however, it's harder to control your boots and skis. (Ideally, you are putting pressure on the front of your boot.)
To prepare for your first (or fifth) day at a ski area, you'll need to know how to dress, which equipment is right for you, and how to use it. Learn all that and more in SKI Magazine and AIM AdventureU's online course Intro to Skiing.