This Skill Separates the Intermediates From the Experts
Upper-lower body separation is the key to carving and skiing the steeps.
Heading out the door? Read this article on the new Outside+ app available now on iOS devices for members! Download the app.
Wondering if you should call yourself an advanced skier or an expert skier? Answer this question: Can you turn your legs independently of your upper body?
Upper-lower body separation is critical in skiing efficiently and effectively on all types of terrain, but it's a highly advanced skill. Even a lot of advanced skiers—those who can get down pretty much any groomed run at the resort and dabble off trail—don't know how to separate what's happening from the hips down from what's happening from the waist up.
Here's why upper-lower body separation matters: It's the key ingredient to carving, as well as skiing steeps, short turns, and moguls. In other words, everything you may be struggling with.
Related: How to break through to the next level in skiing
If you watch professional mogul skiers send it down bump runs or racers like Mikaela Shiffrin tear down a slalom run, you can see this skill in action—these skiers keep their torso stable while their legs work like pistons beneath them.
You don't have to aspire to this level of perfection, but working on allowing your legs to turn more than your upper body in every turn may help you break through to the next level. In this video, professional ski instructor and Head Coach of the PSIA Alpine Team Michael Rogan explains what upper-lower body separation looks like for mere mortals, and how to put this skill into practice.
Watch: Upper-lower body separation and why it matters in skiing
Drills to Practice Upper-Lower Body Separation
Linked Pivot Slips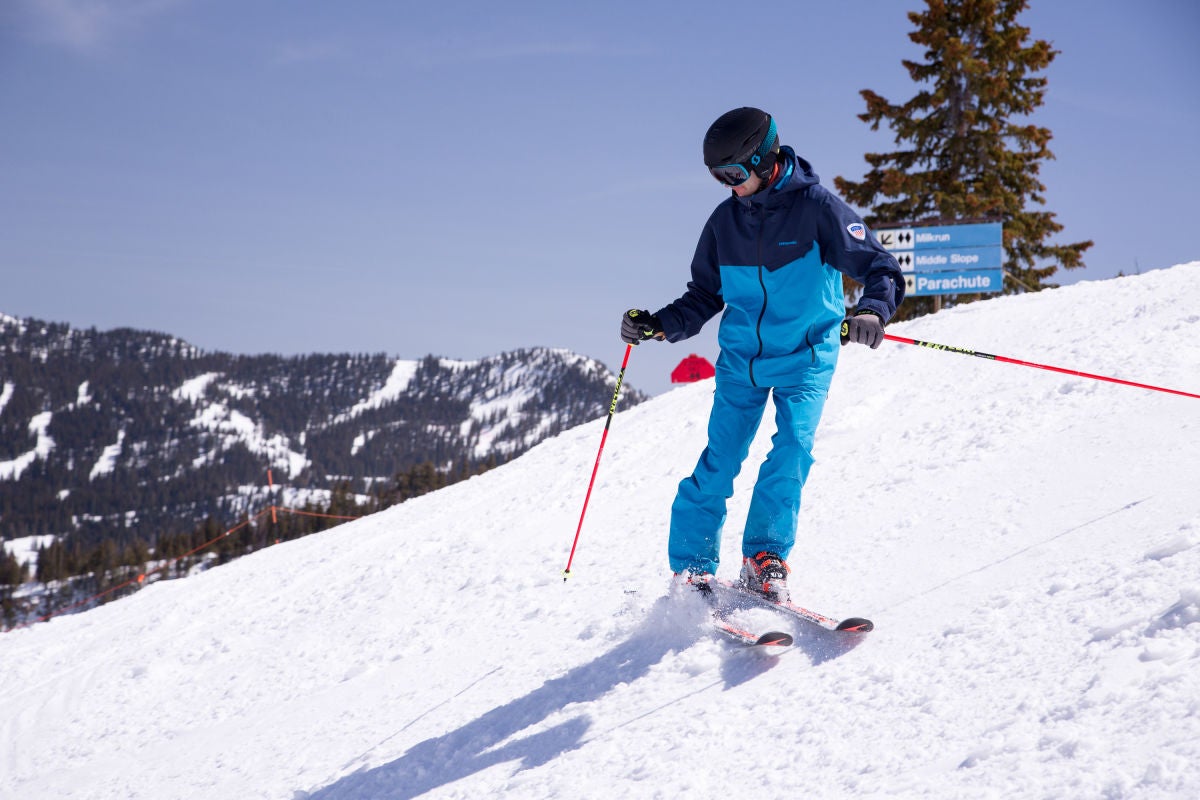 On terrain that you're comfortable with, stand with skis facing across the fall line.
From here, rotate just the upper body so that your jacket zipper, shoulders, hands, and pole grips are facing downhill.
With skis still facing across the hill and torso still facing down the hill, begin sliding downhill within a narrow corridor.
Once you've slid a few feet, pivot legs to turns skis towards the opposite side so that you're sliding downhill with your other ski now downhill.
Focus keeping your torso stable and facing downhill as you pivot your skis beneath you.
Tuck Turns
On very low angle terrain, or a cat track, practice turning in a tuck position.
When you're in a tuck, it's more difficult to turn your upper body with your legs, which helps you isolate your lower body movements.
More Ski Instruction Tips
Learn how to make short turns
Ski the steeps like you mean it
Carving: How to tip 'em and rip 'em