How Old is Too Old When It Comes to Ski Boots?
Here's how to tell if you need a boot upgrade for next season.
Photo: Getty Imagess/Noah Clayton
Heading out the door? Read this article on the new Outside+ app available now on iOS devices for members! Download the app.
Professional ski bootfitter Sam Tischendorf knows pretty much everything there is to know about ski boots and feet. In SKI's Ask the Boot Doctor column, Tischendorf helps O+ members diagnose their specific ski boot issues. Normally, you'd need to a membership to benefit from Tischendorf's expert advise. But because we don't want anyone losing toenails or skiing in pain, this one's on us. 
Q: Do ski boots need to be replaced just because they're old? I'm an advanced skier in my 60s and ski around 15 days a year. I've had the same pair of ski boots for seven years, but I love them and don't want to replace them. They're finally comfortable! —Jill K.
Ski boot technology may not change as fast as ski technology, but ski boots do have a shelf life. Manufacturers say that boots should last about 200 skier days, though ski boot liners tend to pack out well before then, even before the shell begins to lose its integrity. So while you may have only put in around 90 ski days on your boots, it's probably time to upgrade at least the liner, if not the whole boot.
Here's a quick checklist to run through to see if it's time to start shopping for new ski boots.
Do ski boot shells show visible signs of deterioration?
Check toe and heel pieces for wear and tear
Consider the condition of the plastic shells—do they show signs of materials breaking down?
One thing you should do either at the end of the current season or at the start of the next season is get your bindings checked for safety. When you take your skis to the shop for this, the shop tech will check the status of your ski boot toe and heel pieces.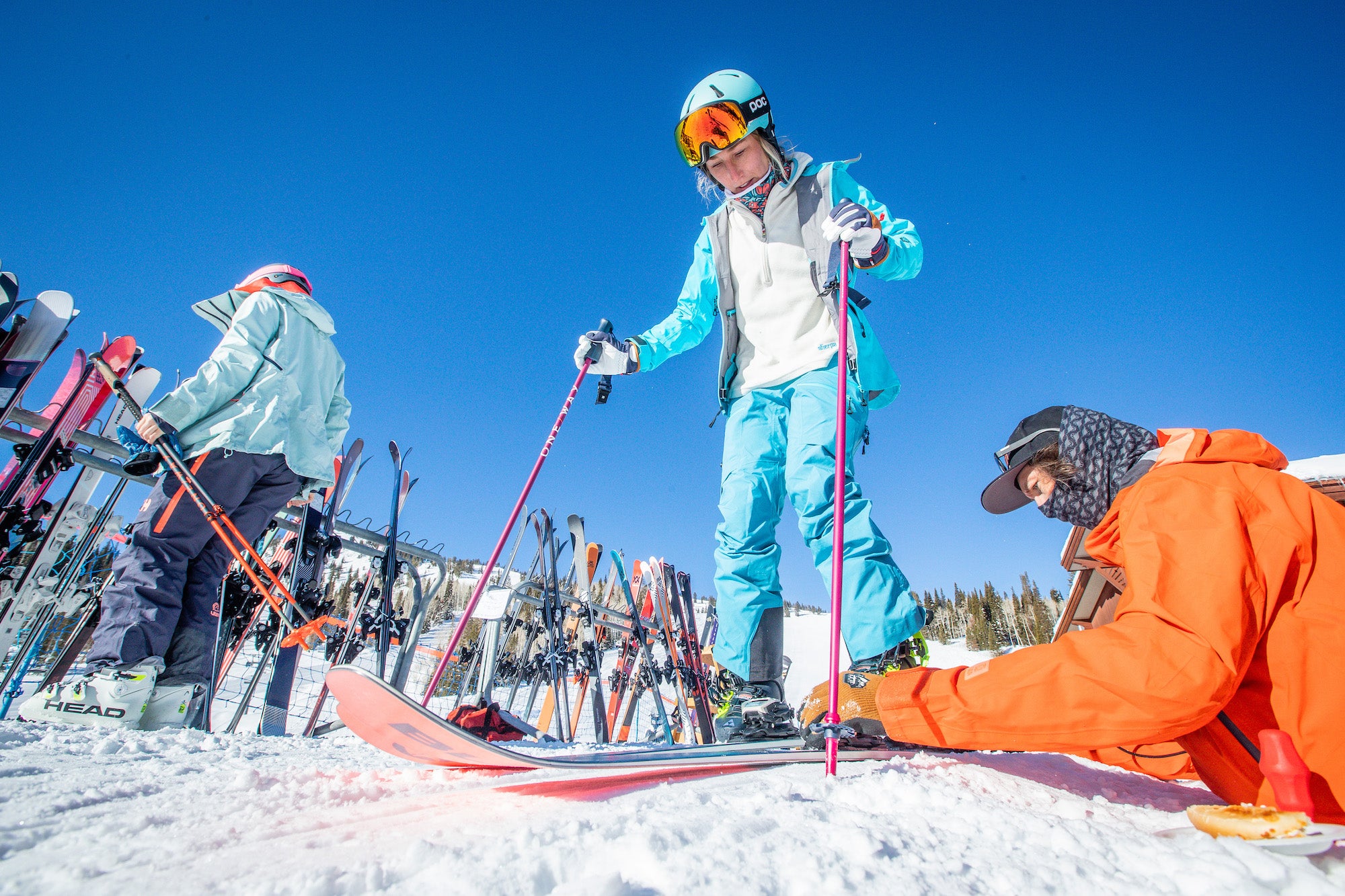 These days, a lot of boots have Gripwalk and Vibram rubber soles, and these do tend to wear a little quicker because that rubber gets left in the parking lot or on the walkways of the base area. So keep an eye on the condition of your toe and heel pieces. If they're rounded from wear and tear, they need to be replaced. If your ski boots are more than a couple years old, it may be difficult to find replacement parts, in which case, you'll have to upgrade to new boots.
Related: Are your ski boots and bindings compatible?
Another thing to consider with older boots: How does the plastic shell look? Is the color quite dull, does it look like they've lost a lot of life? I've seen boots that are four or five years old, which I often think is just far too old from the plastic's standpoint, and you'll see that the color of the shell has started to change. For example, white spots on the plastic may start to yellow. Or the shell has lost its nice glossy finish.
There's that look to the plastic that gives you an indication that things are definitely starting to age out. Cracks in the shell are also telltale signs that your boots are done. Those can't be fixed.
Read more: The best downhill ski boots of 2023
Are liners disintegrating or packed out?
Even if the hard shells of ski boots are still in good shape, the liners may need replacing
You'll know liners are packed out when you have too much room in the boot and your feet are no longer firmly locked in
Aftermarket liners like Intuition, Zipfit, and Palau can extend the life of your ski boots
The foam liners of ski boot are likely to need replacing long before the ski boot shells themselves. Those materials—the EVA and foams within that liner—definitely have a shelf life to them. I once had a lady come into the shop with 15-year-old unused ski boots. When she tried them on, the liners just completely disintegrated. Even though she'd never worn them, the liner material had broken down from just sitting on a shelf over the years.
If there are no visible signs that your liners have reached the end of their lives, you'll know your liner is packed out and needs replacing when you're no longer communicating with your skis as you should be.
Because of how bindings function, the boot and ski are automatically forced to move as one. We want the foot to be part of that. So we need the boot to be an extension of your leg. When we talk about the ideal fit of a ski boot, we use the idea that it should feel like a firm handshake around the foot. The reason we say that is because the boot, the foot, and the ski should all move as one. You shouldn't be moving the ankle, and have a delayed movement of the boot and then the ski.
Read more: How "snug" should new ski boots feel on foot?
If you find that you're starting to curl your toes to fill up space in the boot, or you're pushing down on your heels, or making other awkward movements to make yourself feel set and contained within your boot, that's a huge indicator that it's time to refresh your boot fit, either with a new liner or with a new pair of ski boots.
Similarly, if you're having consistent problems with your boot, like persistently numb feet, shin bang, or your toes are getting banged up, those are indicators that the liner is packing out and needs replacing.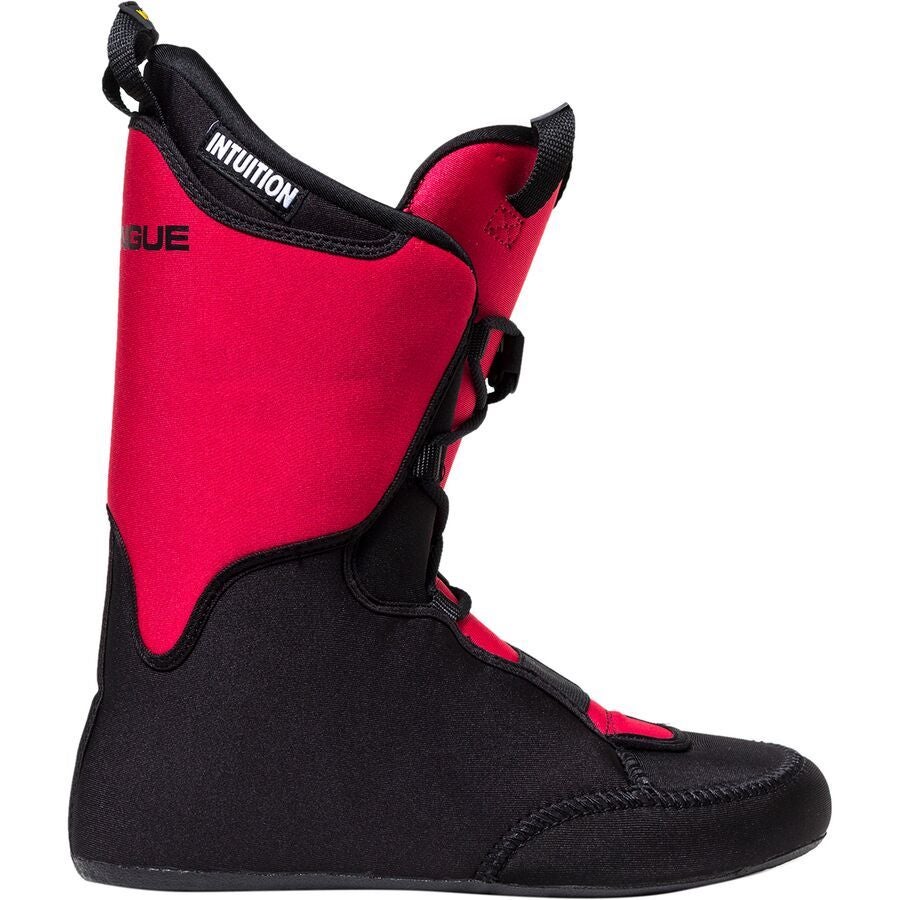 If your ski boot shells are still in great condition, you can get aftermarket liners to prolong the life of your boot. That's an easy enough fix if you don't want to go through the whole process of breaking in a new boot. There are a number of different aftermarket liners available, from Intuition to Zipfit to Palau. Work with a bootfitter and try on a couple of different liners to see which might be the best fit for your foot. It can be dependent on how much space you're trying to take up within the shell.
Related: The benefits of custom ski boot liners 
You will have to have patience going through the bootfitting process again. Wearing in a new liner is like breaking in a new ski boot—it will take you a few days to get used to that new shape and feeling around the foot. It's not going to feel perfect straight away.
Has your skiing improved over time?
If you bought ski boots multiple seasons ago, and your skiing has since improved, you may need to upgrade to a more precise fit
You'll know you've outgrown your boots when you're over-flexing or not getting the precise energy transfer to your skis that you want
Lastly, if your boots are six years old and still in fine condition, you may still want to consider upgrading to new boots if your skiing ability has improved over the years. Even adult skiers can outgrow their ski boots when it comes to ability. If you initially got your boots five or 20 years ago, your skiing may have improved. You may be able to move up to a ski boot that will support a more advanced or aggressive technique.
You'll find you've outgrown your boots if you're washing out in your turns. You'll start to find that your boot fit is just too generous for the precise movements you're starting to feel and notice as you're skiing.
You may also start over-flexing your boot. Say you bought a 90-flex boot six years ago when you were still an intermediate, but since then your skills have advanced and you've become a more aggressive, confident skier. You might now struggle to find that flexed ankle and relaxed knee without overworking your thighs or leaning too far back or forward to ensure that you're evenly pressuring the ski boot.
If you've run through this checklist and decided it's time to either update your liners or upgrade your ski boots, work with a bootfitter to get a fit that will last you for seasons to come.
---
Sam Tischendorf is one of the very few professional female ski bootfitters—or as she likes to say, professional feet ticklers—in the industry. She currently works at Bootdoctors in Telluride, Colo., is a member of the Masterfit University teaching team, and collaborates with Blizzard/Tecnica on the Women To Women gear project.
Section divider
More advice from the Boot Doctor
Are Ski Boots Actually Comfortable? And Do They Perform?
"Comfort" is a sticky term when it comes to ski boots and it's confusing to a lot of people, including bootfitters. Traditionally, comfort ski boots are primarily designed for people who wouldn't ski because of the bear of equipment, i.e. the challenge of putting a ski boot on or how uncomfortable it feels on foot. It's the sort of boot that keeps a skier skiing. Comfort boots offer a more generous fit, which makes them feel more comfortable on foot. But there are also high-volume performance boots out there, and comfort and high-volume performance boots are not one and the same.
Read about the difference here.
Section divider
Can't Get Out of the Backseat? It May Be Your Boots
If you feel like you can't get on top of your skis or you're struggling to engage the front of your skis, it may very well be because you're in a boot that's too stiff and you don't have the force to drive your ski boots—and therefore, your skis.
Learn more about ski boot flex and how it influences your ability to ski here.
How to Find Your Perfect Ski Boot Size
To determine your ski boot size and get the best ski boot fit, go see a bootfitter. A professional will be able to take all kinds of foot measurements to find the right ski boot size for your foot and your style of skiing. If you're not going to visit a bootfitter to help you find the right ski boot size, then the next best way to find your ski boot size is to measure your own foot versus going off your regular shoe size.
Learn how to take your own ski boot measurement here.
Section divider
How to Shop for Boots for Narrow Feet
Anyone with a narrow foot should look for a ski boot advertised as a "low volume" fit (often shortened to LV in the ski boot model name). A low-volume boot is a good place to start, but another factor skiers with narrow feet should consider is their instep height. This measurement determines how much height you need from floor to ceiling in the midfoot of the ski boot.
Learn more about special bootfitting considerations for skiers with narrow feet here.