Military to the Mountain
The High Fives Foundation and Adaptive Training Foundation team up to help wounded war veterans get out on the slopes.
Heading out the door? Read this article on the new Outside+ app available now on iOS devices for members! Download the app.
Nothing quite gets the heart thundering, or stomach plummeting, like standing at the top of your first black diamond ski run. Whether you were four or forty, you'll never quite forget the rush of adrenaline at the initial send, or the pure ecstasy upon skidding to a stop at the bottom of the slope.
Military to the Mountain (M2M) aims to create this experience for those who never thought it would be possible. For these athletes, it's often artificial legs that are strapped into adaptive skis or snowboards, and many of them have just seen snow for their first time only one or two days prior.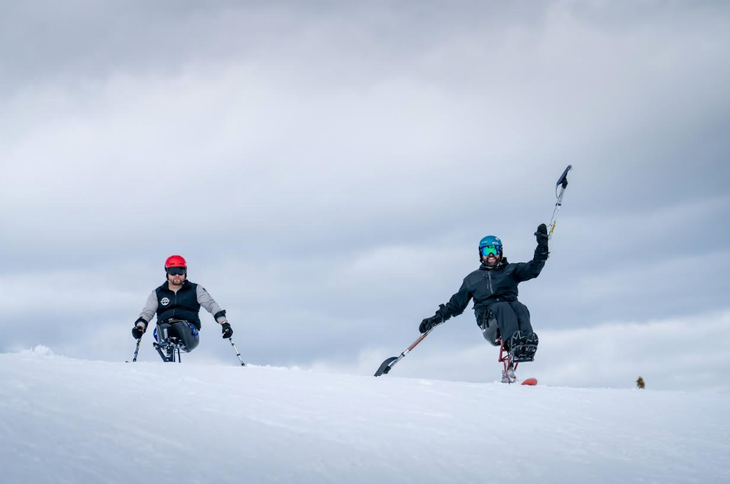 M2M began in 2015, when Roy Tuscany, Executive Director of the High Fives Foundation, met David Vobora, a former NFL linebacker and founder of the Adaptive Training Foundation. After some conversation and initial collaboration, the two created a ten-week program to help wounded military veterans regain their strength and learn to ski adaptively. "When they first start the program, a lot of [the participants] are still trying to learn how to deal with their disabilities," says Tuscany. "By the end of the training, they are physically and mentally strong."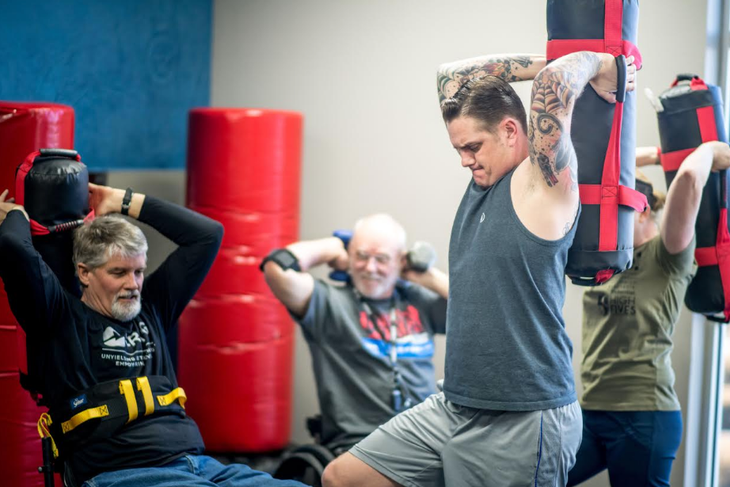 In March 2015, Tuscany and Vobora piloted the program with veteran Jacob Schick, who had lost his right leg in the Iraq War when he drove over a triple-stacked tank mine and blew straight through the top of his vehicle. Schick went through 46 operations, 26 blood transfusions, and severe mental struggles such as PTSD.
Tuscany and Vobora helped Schick through nine weeks of intense physical training, and at the end of the nine weeks, they took him to Squaw Valley Alpine Meadows for a week of adaptive skiing—and it worked. By the end of the nine weeks, Schick was physically and mentally strong enough to conquer the slopes.
The following winter, Tuscany and Vobora expanded their program, providing personalized training for ten veterans who had fallen out of shape since returning from overseas. "The first week was killer for me and I would collapse every day," says Derrick Ross, a veteran and 2018 M2M participant. "By the end of the first week I had lost maybe 15 pounds. I felt this new energy. I wanted to keep doing new things, harder things. It picked me up out of the dirt, gave me some energy and kick started me again." 
Ross explains that the most challenging part of the training process was simply driving to the gym every day. "Every time I drive I get pretty revved up because I'm looking for bombs," he says. "When I was in isolation, I didn't drive for two years." After enrolling in the M2M program, Ross had to face his fear in order to achieve his goal of regaining enough strength to hit the slopes. "Now I'm cool with driving. They give you tips and pointers on how to cope with it and how to keep yourself calm when you're just ready to fight."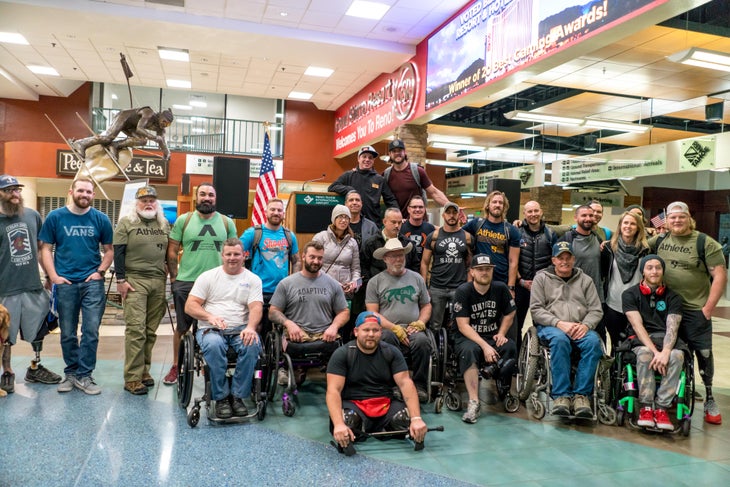 Vobora and Tuscany modeled the nine weeks of intense training after the nine weeks of military boot camp. Day after day, the soldiers push their physical and mental boundaries. At the end of the nine weeks, instead of being deployed overseas, the tribe of veterans traveled to California for a week of skiing at Squaw Valley. "We have an amazing partnership with Squaw Valley," says Tuscany, who explains that the resort donates the proceeds from their military pass directly to M2M so veterans participating in the program don't have to pay a penny.
When the veterans finally arrive at Squaw Valley, many of them never having seen snow before, it's time to put their training to the test. "The best part is when you can put your legs in there, fake legs or real legs, whatever, and get strapped in and go down the mountain and feel that wind in your face," says Phil Quintana, who first participated in 2017.
By the end the ten weeks, the veterans rediscover the sense of camaraderie they felt overseas. "They stop talking like a wounded veterans and start talking like skiers and boarders," says Vobora. "They come up to me and say, 'dude I did not think I could tap into that adrenaline like I was out in the country, ready to go under fire. I did not think I could feel that again.'"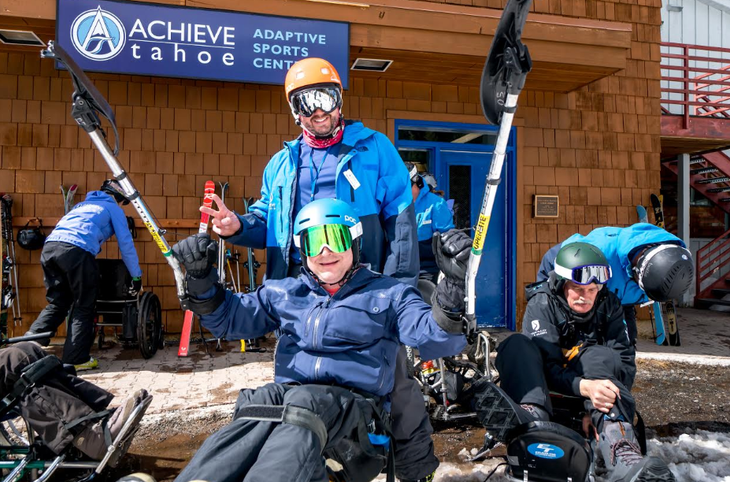 Throughout their week of skiing, the participants push each other to try new things and accomplish feats they never imagined they could. "I found my passion in life again," says Ryan Zimmerer, a 2016 participant who's been involved with the program for the past three winters.
Military to the Mountain gives veterans a chance to experience the rush of adrenaline and energy associated with that first send. It reminds them that their disabilities don't have to prevent them from living life to its fullest. "I got up there and I was like 'oh f–k,' but being a soldier, you can't look weak in front of the boys," says Ross. "Then you send it and everything pays off right then and there. It's one of the most relieving feelings; it gives you an incredible boost of confidence and you're just stoked. So stoked."