6 Energy Snacks to Have On Standby In Case You Hit the Wall
When you spend long days out in the mountains, the question is not if you will bonk, but when.
Heading out the door? Read this article on the new Outside+ app available now on iOS devices for members! Download the app.
On really great days out on the mountains, whether it's a summer summit or a winter pow day, food may be the last thing on your mind. But when you're working for your vert or turns, your body needs fuel, whether you feel hungry in the moment or not. The last thing you want on an epic day out is to suddenly hit a wall, also known as bonking.
Bonking happens when you exercise for sustained periods and your body runs out of glucose, its main source of fuel. That's when your muscles start feeling fatigued, and hangry doesn't even begin to describe a serious bonk.
The best way to avoid feeling fatigued or bonking when you're exercising for periods longer than 90 minutes is to keep replenishing your glucose stores by eating snacks on the go. But not just any snacks—as delicious as Sour Patch Kids and Swedish Fish are, they don't qualify as great fuel sources. Those treats do offer up sugar, but your body needs more than that to keep going. It needs a healthy portion of carbohydrates and protein to function at its best.
Related: How to fuel before, during, and after your workouts
As a general rule, the best pocket snacks for adventures are those that are higher in protein and carbs than sugar. Here, we list our favorites for days spent in the mountains, whether that's on skis, on two wheels, or on your own two feet.
Country Archer Jerky
High protein
No MSG, nitrates, or nitrites
Gluten-free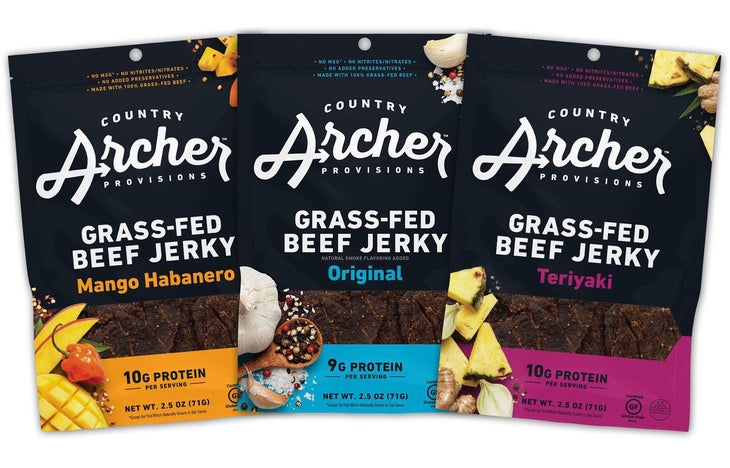 Not for nothing is jerky a trail and ski hill staple. The classic meat snack is packed with protein and one of the few savory options that's easy to carry in a pocket. We love Country Archer's plethora of jerky options because the brand guarantees no MSG, no nitrates or nitrites, and no preservatives in its jerky. And that's kind of hard to find in the meat world. Our current favorite is the Fuego flavor of grass-fed and finished beef jerky, which offers up 9 grams of protein, 8 grams of carbohydrates, and 5 grams of sugar per 70-calorie serving (1 oz.). If you (or your stomach) isn't into spicy foods on-the-go, skip the Fuego and stick to the Original or Teriyaki flavors. [5.99 per 2.5 oz bag]
RX Bars
High protein
Gluten-free
Non-GMO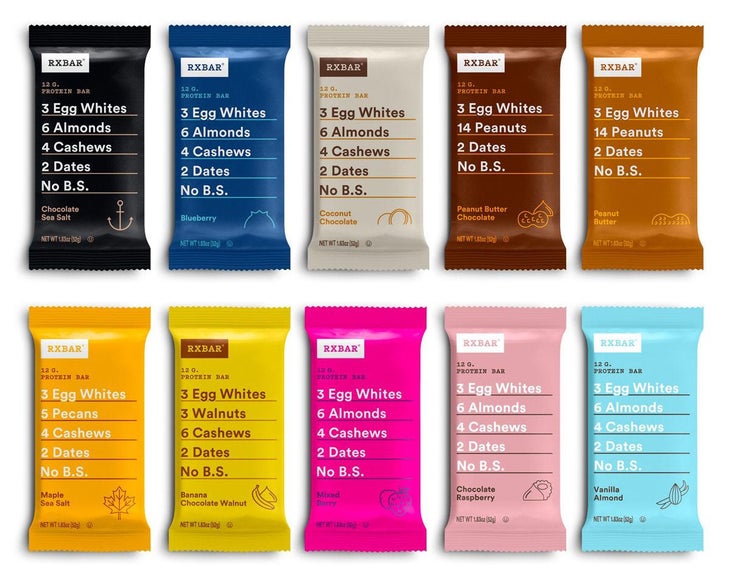 What you see is what you get with RX Bars. Each is made of a few simple, real ingredients that are listed right on the front of the packaging. That means you get zero added sugar and zero ingredients you can't pronounce. RX Bars now come in a variety of flavors, but our fave is still the Chocolate Sea Salt for its cocoa-flavored goodness. This bar made up of egg whites, almonds, cashews, and dates serves up 210 calories, 23 grams of carbs, 12 grams of protein, and 13 grams of sugar and packs an energy punch that's hard to beat. [$26 for box of 12 bars]
PRO Bar Nut Butter
USDA organic
Gluten-free
Non-GMO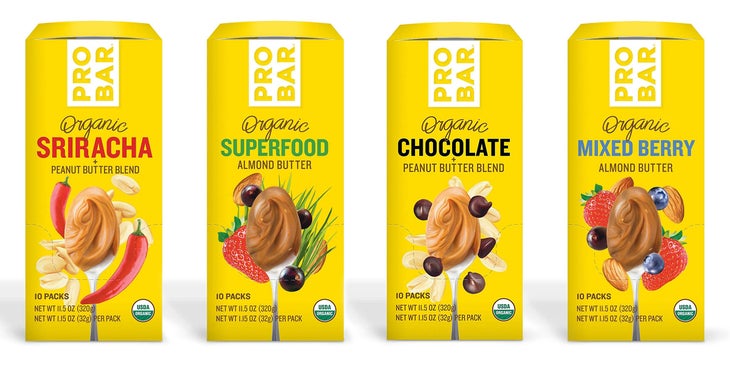 This brand is best known for its meal replacement and protein bars, and as great as those are for long hauls, you don't always need all that. For something a little lighter, we tried the brand's nut butter packs and promptly bought a variety to stuff in our various pockets and packs as emergency snacks (you can never be too prepared for a bonk). The Superfood Almond Butter variety is a go-to for offering up a healthy balance of carbs (9 grams), protein (5 grams), and sugar (4 grams) in a tasty little package. [$20 for a 10-pack]
Taos Bakes
Natural ingredients
No fillers like soy or rice
Gluten-free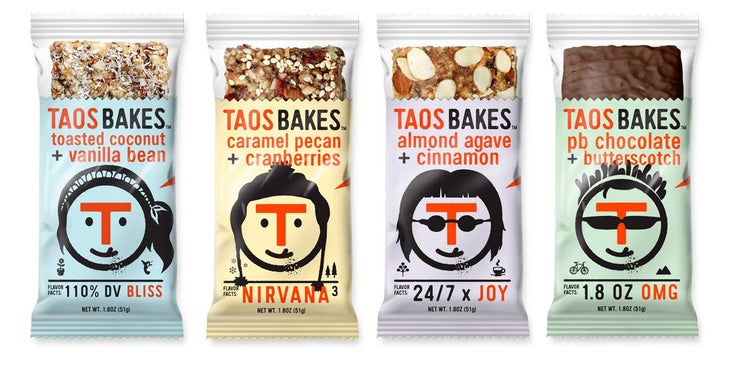 Here's a brand founded by two skiers who know what it takes to fuel-up for mountain adventures. That said, Taos Bakes places as much emphasis on taste as nutrition macros, and as a result, these bars are as delicious as they are smart. All the flavors are delish, but if we had to choose only one to eat for the rest of our lives, it would be the Toasted Coconut and Vanilla Bean. One of these equals 210 calories, 18 grams of carbs, 7 grams of protein, and 12 grams of sugar. The best part about these bars is that they only rely on natural ingredients, a lot of which are locally sourced, and don't include soy, rice, or over-processed sugars. [$16 for pack of 6 bars]
BASE Performance Bars
No artificial ingredients
Certified organic
Non-GMO
Gluten-free, diary-free, soy-free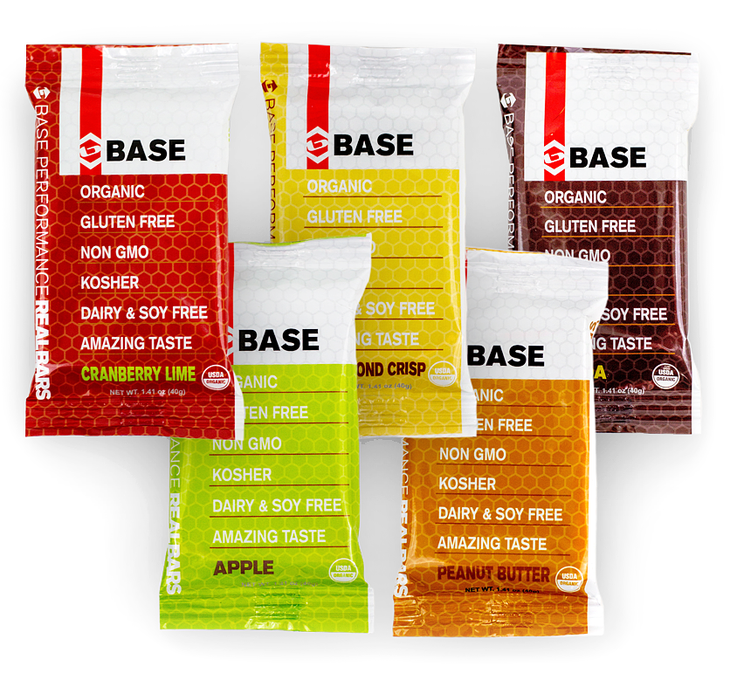 If it's good enough for Iron Man competitors, it's good enough for us. This brand founded by a serious athlete, for athletes of all stripes, makes bars packed with fuel that are also surprisingly tasty. We say that because the two don't always go hand-in-hand. But we're big fans of the BASE Bars, especially the fruity flavors like Apple and Cranberry Lime. The latter serves up 27 grams of carbs including 15 grams of sugars, and 4 grams of protein in a 180-calorie package. Bonus: Zero artificial ingredients. [$30 for a box of 12 bars]
Patagonia Provisions Bars
Certified organic
Non-GMO
Gluten-free
From a certified B-Corp
The food and beverage arm of Patagonia makes and sells treats for outdoor adventurers that uplift more sustainable and regenerative agricultural practices. That's just one of the reasons we love the brand's snack bars. The other is that they're genuinely tasty. Of the variety of flavors, the Organic Mango and Almond Bar is top dog in our opinion. It's a little higher in sugar than the other options on this list (19 grams), but that sugar comes from certified organic Rosa mangoes and no refined sugars. You also get 2 grams of protein and 23 grams of carbs, so overall, a lighter energy option that will get you through micro adventures or give you that much-needed energy boost. [$27 for box of 12 bars]
More Nutrition Hacks for Skiers
Chili or Ramen? A Nutritionist Weighs In On Your Best Ski Lunch Options
Fuel Your Body Like a World Cup Athlete With These Recipes
Alpine Touring Nutrition Tips